Making Short Work of the Long-Stitc...
Saturday, August 5, 2017, 1 – 5pm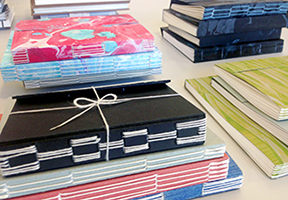 August 5
Saturday, 1:00–5:00
$65, registration required

A multi-signature, non-adhesive binding with exposed sewing on the spine, the long-stitch structure is relatively quick and simple to bind; yet once the basics are learned, limitless creative interpretations are possible. This workshop teaches the basic long-stitch technique and demonstrates how high-quality materials, used thoughtfully, increase the tactile and visual impression of a hand-bound book. Participants incorporate a leather spine, handmade paper covers, hand-colored linen thread, and decorative endsheets to create an elegant variation of the versatile long-stitch binding. Space is limited to 15 participants.
- - - - -
Emily Tipps bio: www.lib.utah.edu… Campus Locations: Marriott Library - J. Willard (M LIB)
Room Name/Number: Book Arts Studio, Level 4
Cost: 65$
Ticket URL: umarket.utah.edu…
Transportation / Parking: Park in the visitor parking lot, west of the library, next to the bookstore., www.lib.utah.edu…
Contact Name: Allison Milham
Contact Phone: 8015859191
Contact Email: bookartsprogram@utah.edu
Campus Wide Event: Yes
More info: lib.utah.edu
Read More!