College Coaching for 21st Century M...
Tuesday, January 27, 2015, 1:30 – 3:30pm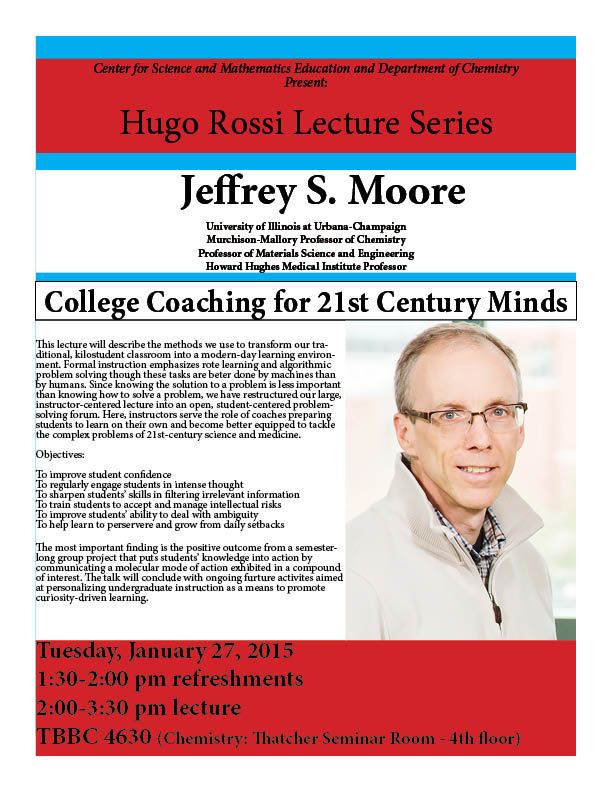 Jeffrey S. Moore: College Coaching for 21st Century Minds:

Jeffrey S. Moore, University of Illinois at Urbana-Champaign, Murchison-Mallory Professor of Chemistry, Professor of Materials Science and Engineering and Howard Hughes Medical Institute Professor, will describe the methods we use in an attempt to transform our traditional, kilostudent classroom into a modern-day learning environment.

 Formal instruction tends to emphasize rote learning and algorithmic problem solving even though these are tasks better done by machines than by humans. Since knowing the solution to a problem is less important than knowing how to solve a problem, we have restructured our large, instructor-centered lecture into an open, student-centered problem-solving forum. Here, instructors serve the role of coaches, preparing students to learn on their own and become better equipped to tackle the complex problems of twenty-first-century science and medicine. Our objectives, which have relevance beyond the classroom, are:


- To improve student confidence

- To regularly engage students in intense thought

- To sharpen students' skills in filtering relevant from irrelevant information

- To train students to accept and manage intellectual risks

- To improve students' ability to deal with ambiguity

- To help students learn to persevere through, and grow from their daily setbacks



The most important finding is the positive outcome from a semester-long group project that puts students' knowledge into action by communicating a molecular mode of action exhibited in a compound of interest.  Notably, learning gains were seen in professional science-based literacy skills. The talk will conclude with ongoing and future activities aimed at personalizing undergraduate instruction as a means to promote curiosity driven learning. Event Calendars: ASUU, Bennion Community Service Center, Career Services, College of Education, College of Engineering, College of Fine Arts, College of Health, College of Humanities, College of Mines and Earth Sciences, College of Science, College of Social & Behavioral Science, College of Social Work, Continuing Education, Equity and Diversity, Housing & Residential Education, International Center, KUED Events, LEAP Program, Marriott Library, MUSE Project, Natural History Museum of Utah, Office of the President, Research Education, U Asia Campus, Undergraduate Studies, University College, University of Utah
Event Categories: Lectures
Campus Locations: Thatcher Building for Biological and Biophysical Chemistry (TBBC)
Room Name/Number: TBBC 4630 (Chemistry's seminar room - 4th floor)
Ongoing Event: No
Campus Wide Event: Yes
Cost: Free to the Public
Contact Name: Rhea Bouman
Contact Phone: 801-585-1985
Contact Email: rhea.bouman@utah.edu
More info: www.csme.utah.edu
Read More!