Exhibit: Classism, Racism, Migratio...
Ongoing through Thursday, February 28, 2019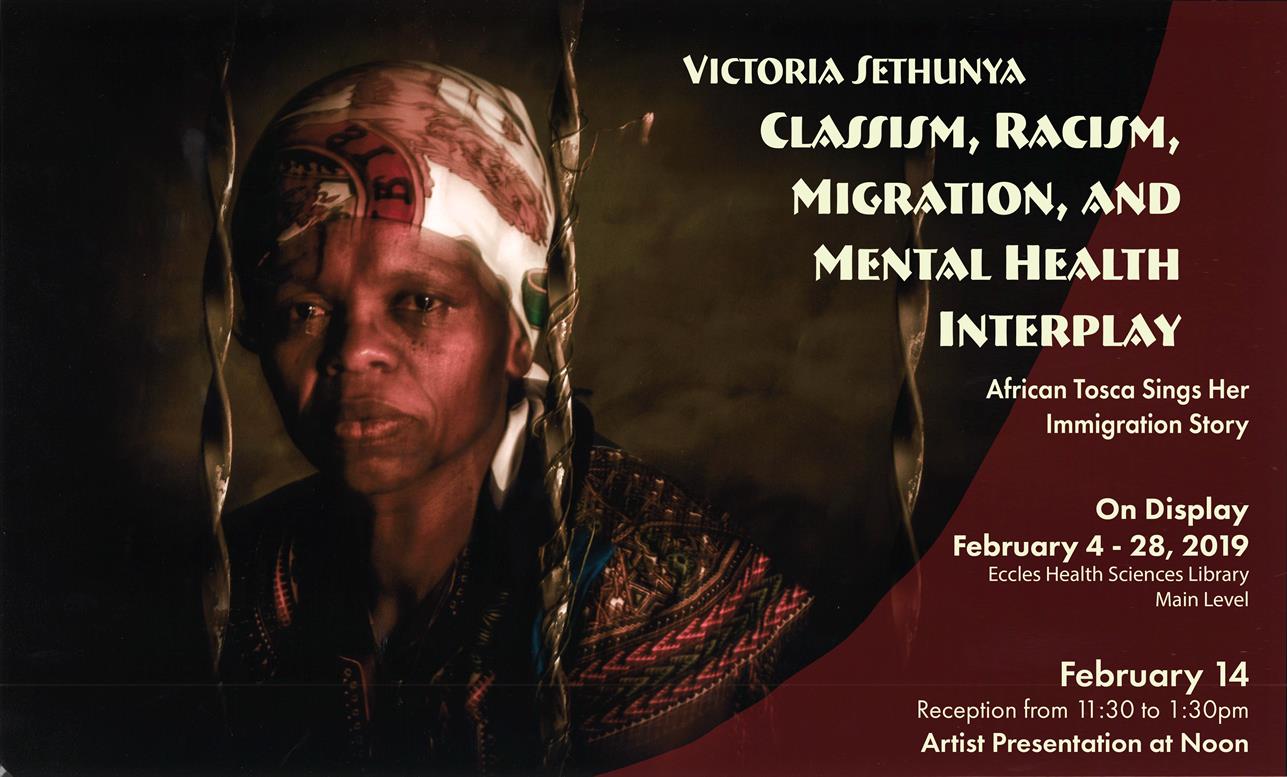 Classism, Racism, Migration, and Mental Health Interplay

~ African Tosca Sings Her Immigration Story

Artist: Victoria Sethunya
Artist Presentation: Thursday, February 14, 2019, Noon
Reception: 11:30 am – 1:30 pm

Exhibit On Display:  February 4-28, 2019, Library Hours
Main Level, Eccles Health Sciences Library

Co-Sponsored by the Office of Health Equity and Inclusion and the Spencer S. Eccles Health Sciences Library

Through exhibit, presentation and opera, Victoria Sethunya will share her immigration story and the impact of classism, sexism, and racism on her and her family and on their health and mental health as she has experienced it as a black woman, a black immigrant, the mother of a young black man, as a black student and as a black employee in Utah.

Victoria Sethunya is a peace activist, a pharmacy technologist, a mother, an opera singer, and a Unitarian seminarian.  Victoria coined the phrase "Academic Achievement Staff" member to describe the work she does for the Granite School District helping inmates at the Salt Lake County Metro Jail attain their GED and mentoring them on the workings of the criminal justice system.

Victoria was born in The Kingdom of Lesotho, in Southern Africa.  She was homeschooled in Music; the Latin, French, and Bantu languages; and Home Economics.  She trained to become a Pharmacy Technologist at the National Health Training College in Maseru, Lesotho, where she graduated top of her class with Distinction and was asked to be a guest lecturer in the college's Introduction to Pharmacology course.   At that time, a Pharmacy Technologist in Lesotho was often referred to as: "a doctor where there is no doctor" due to the very low rate of healthcare professionals per person in Lesotho.

Victoria holds a BA in English with emphasis on French and Latin and a minor in Chemistry as well as a Master of Criminology both from Weber State University.   She is currently a Unitarian seminarian at Starr King School for the Ministry in Berkeley, California.

Victoria has three children, one of whom she adopted when her sister passed away.  Her son, Chris, was deported shortly after DACA was no longer renewable. Campus Locations: Eccles Health Sciences Library - Spencer S. (E LIB)
Room Name/Number: Main Level
Contact Name: Eccles Health Sciences Library
Contact Phone: 801-581-5534
Contact Email: ehsl-reference@lists.utah.edu
Campus Wide Event: Yes
More info: library.med.utah.edu…
Read More!