Outdoor Recreation in Special Colle...
Friday, February 19 – Sunday, May 1, 2016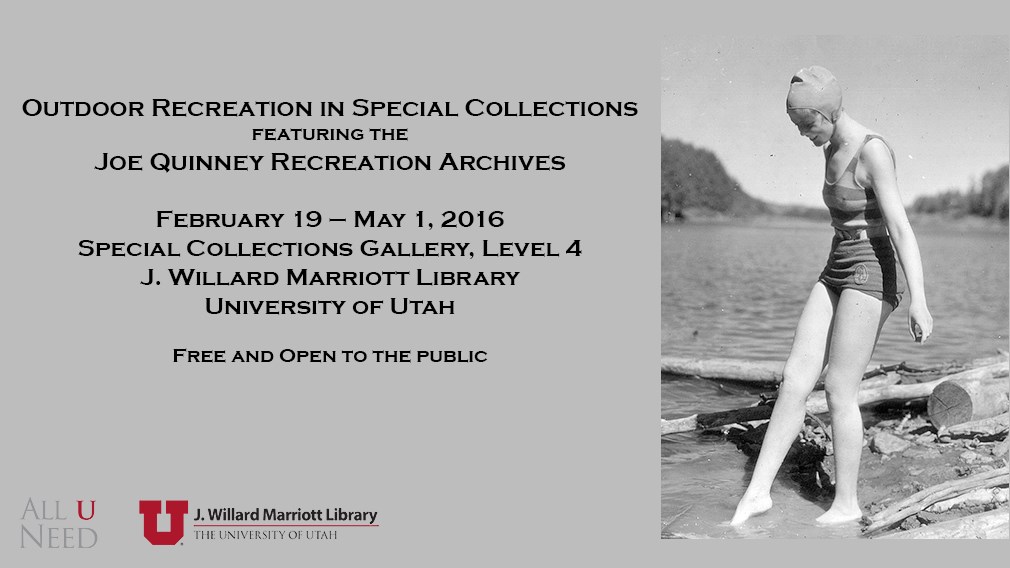 Special Collections at J. Willard Marriott Library collects extensively on the topic of outdoor recreation in Utah and the surrounding region. Whether its river running, skiing, hiking, climbing, snowboarding, or other outdoor pursuits, Special Collections has material to assist with your research. Each department in Special Collections on the 4th Floor of Marriott Library -- Print and Journal, Rare Books, Multimedia - Audio Visual, Multimedia - Photographs, and Manuscripts -- has contributed to this unique exhibit that documents the long and extraordinary history of outdoor pursuits in Utah and the region. From brochures, posters, ephemera, to oral histories with pioneers in skiing, climbing, and river running and home movies, these materials display the remarkable quality and diversity of Special Collections holdings. Campus Locations: Marriott Library - J. Willard (M LIB)
Room Name/Number: 4th Floor Gallery
Cost: Free and open to the public
Transportation / Parking: Park in the visitor parking lot, west of the library, next to the bookstore. www.lib.utah.edu/info/directions.php
Contact Name: Jessica Breiman
Contact Phone: 801-585-6200
Contact Email: jessica.breiman@utah.edu
Campus Wide Event: Yes
Read More!