Photopolymer Intaglio Printing wit...
Friday, June 29, 2018, 10am – 5pm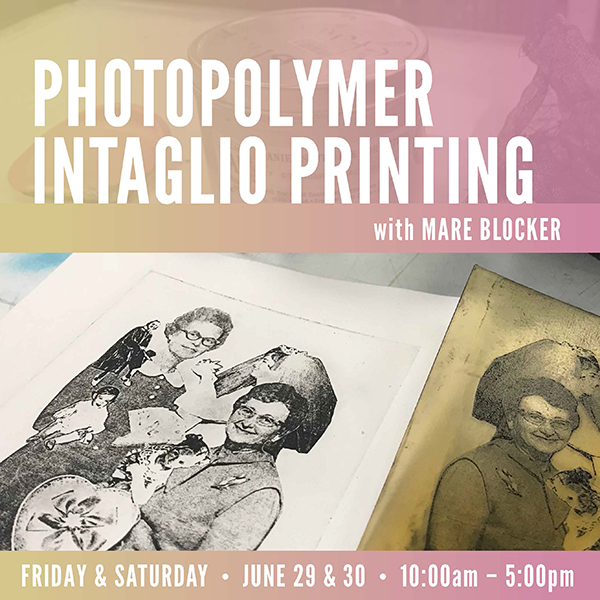 Throughout this two-day printmaking exploration, Blocker unveils methods for making images on transparencies and presents strategies for photopolymer intaglio printing and registration. Using black or tonal artwork on clear transparencies, participants expose and develop light-sensitive photopolymer plates. By hand-wiping the plates, participants create original intaglio prints using an etching press. This method is suitable for recreating an impression of a photographic image, rather than a highly detailed version, and is ideal for those who want to reduce toxic materials in their studios. Discussion topics include ink, paper, and dampening choices.

- - - - -

Mare Blocker has been making limited edition and unique books and prints, since 1977 and established the MKimberly Press in 1984 when she bought her first Vandercook 219. Her work can be found in over 85 public collections and museums including the Museum of Women in the Arts, The Victoria and Albert, The University of Washington Special Collections, and The Library of Congress. Blocker is the President of the Book Arts Guild, a regional organization for book artists and enthusiasts. Blocker grew up in the Space Needle's shadow in the Fun Forest, where her artist grandfather sold his screen-printed ephemeral works and paintings. Her first job, at five, was painting trees in her grandfather's landscapes. Blocker has an MFA from the University of Idaho and teaches at Pacific Lutheran University. Campus Locations: Marriott Library - J. Willard (M LIB)
Room Name/Number: Level 4, Book Arts Studio
Cost: 205
Ticket URL: umarket.utah.edu…
Transportation / Parking: Park in the visitor parking lot, west of the library, next to the bookstore., www.lib.utah.edu…
Contact Name: Allison Milham
Contact Phone: 8015859191
Contact Email: bookartsprogram@utah.edu
Campus Wide Event: Yes
More info: lib.utah.edu
Read More!