Remote Software Access - AquaConnect
Remote Software Access allows you to use select software from any supported computer or device, on or off campus.
Getting started
1. Install the AAP client
For Mac OS (10.13 or earlier) or Windows devices, download the appropriate Aqua Accelerated Protocol (AAP) client.
Install one of the RDP clients below instead of the AAP client:

2. Set the resolution of your client to 1024x768
In the Mac AAP client, go to the AAP Client menu > Preferences and set Display Resolution to 1024x768. This option is on the main screen in the Windows AAP client. If you are using an RDP client, you will need to locate the resolution setting in its preferences.
3. Connect to the server
In your client, enter TERMINAL.SCL.UTAH.EDU for the server or address. Enter your uNID and password if the option is available and click connect. Otherwise your will be prompted for your login after connecting.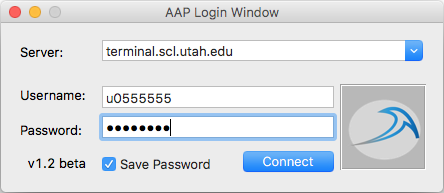 4. Access the software and files you need
You are now connected to a remote Mac desktop. You can launch software from the dock at the bottom or search for software using the magnifying glass in the top right corner.
Because you are connected to a remote computer, you will need to access any files you need through the internet, using browsers on the remote desktop. You can access files via e-mail, Canvas, cloud storage such as UBox and Google Drive, or departmental servers such as Fine Arts.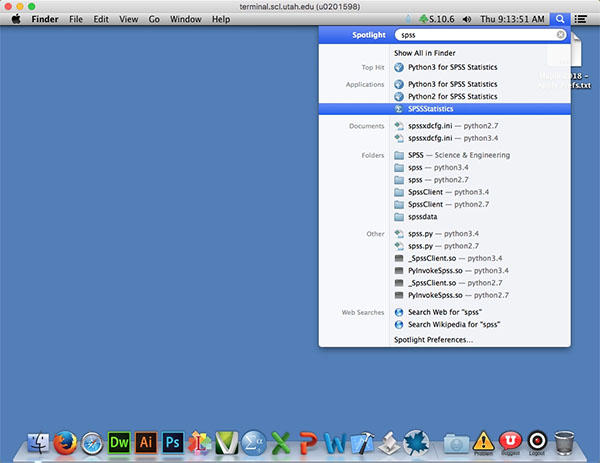 An internet connection is required while using the remote desktop.
If you are using an RDP client on a Mac, keyboard commands such as Command-Q (quit) and Command-W (close window) may close the entire RDP client.
5. Save your files and log out
When you are done, be sure to save any files you need via e-mail, Canvas, cloud storage, or file server. Click the Logout button in the bottom right of the remote desktop to end your session.
Frequently asked questions
When I open the AAP client on my Mac, it says it is from an unidentified developer.
Choose "Open" if available or close the application, locate it in your Applications folder, right click it, and choose Open. For more details, see Open an app from an unidentified developer.
Why is part of my remote desktop black?
Ensure that your client is set to use 1024x768 resolution before connecting (see step 2 above).
Why am I unable to connect?
Ensure that your internet connection is working and that you are connecting to the correct server (step 3 above). If you have a firewall on your computer or on a router, you may need to allow TCP ports 310 (AAP) or 3389 (RDP). If you are still unable to connect, please report the issue.
Why can't I access the files on my computer?
Because you are connecting to a remote computer, you will need to transfer any files you need to access via the internet. See step 4 above.
What software is available?
The Available Software list indicates which applications are available remotely in the notes column. Search for "available remotely" to show only these applications. If you would like to request additional software, submit a new software request.
How do I get assistance or report problems?
We offer support during Marriott Library open hours at 801-581-4808 or at the Knowledge Commons desk on Level 2. You can open a ticket with the support team during all hours.