THE Pursuit of Reading
Private People, Private Presses

the Pursuit of Reading 
Virginia Woolf said "…the pursuit of reading is carried on by private people." So, too, is the pursuit of fine bookmaking. As the quality of bookmaking declined in the nineteenth century due to mass production, a few dedicated book lovers became book makers in order to keep traditional book arts alive.
The small presses of the late nineteenth and early twentieth centuries focused on the art and craft of bookmaking. Texts ranged from early classics to the unpublished writings of those who would become the great authors of the twentieth century. These new bookmakers – William Morris, Daniel Updike, Frederic Goudy, Thomas Mann, Eric Gill, Leonard and Virginal Woolf, and others – believed in the book as an object worthy of the text within it.
The printers, designers, typographers, illustrators, binders, and literati of the private presses had a huge impact on the publishing world and western literature for decades to come.
---
THE DANIEL PRESS
The Daniel Press was one of a handful of nineteenth-century English presses considered precursors to the fine book production of William Morris and his Kelmscott Press and T.J. Cobden-Sanderson and The Doves Press. The Daniel Press was owned and operated by the Reverend C.H.O. Daniel (1836-1919), who, with help from family members, set his texts in Fell type obtained from the Oxford University Press. In 1874, while at Worcester College in Oxford, Daniel began working on a miniature press and in 1882 continued his work on a full-sized Albion. Daniel was particularly interested in the Elizabethan era and the seventeenth century. Many of the Daniel Press publications are texts from these periods. The press did, however, publish a number of works by contemporary authors. The Daniel Press is recognized for tastefully produced editions of quiet, harmonious design sympathetic to subject and author.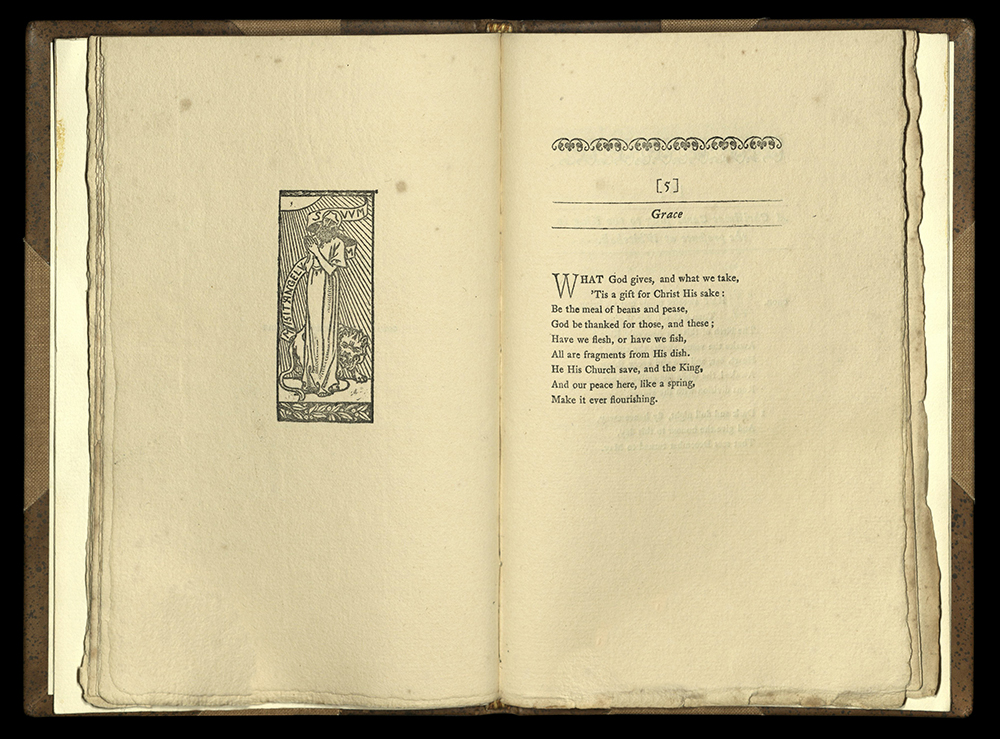 CHRISTMAS
Robert Herrick (1591-1674)
Oxford: H. Daniel, 1891
Z232 D18 H47 1891
Edition of sixty copies. Rare Books copy is no. 40.
---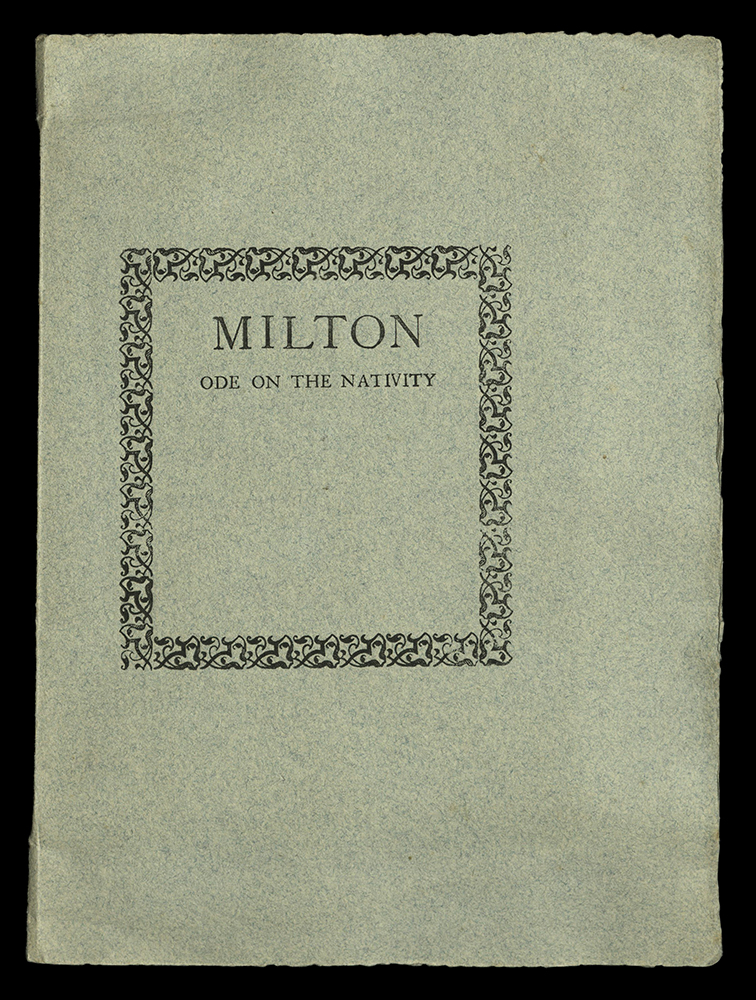 ODE ON THE MORNING OF CHRIST'S NATIVITY 
John Milton (1608-1674)
Oxford: H. Daniel, 1894
Z232 D18 M55 1894 
Edition of two hundred copies. Rare Books copy is no. 180. 
So when the Sun in bed,
Curtain'd with cloudy red,
Pillows his chin upon an orient wave,
The flocking shadows pale
Troop to th'infernal jail,
Each fetter'd ghost slips to his several grave,
And the yellow-skirted fays
Fly after the night-steeds, leaving their moon-lov'd maze.
---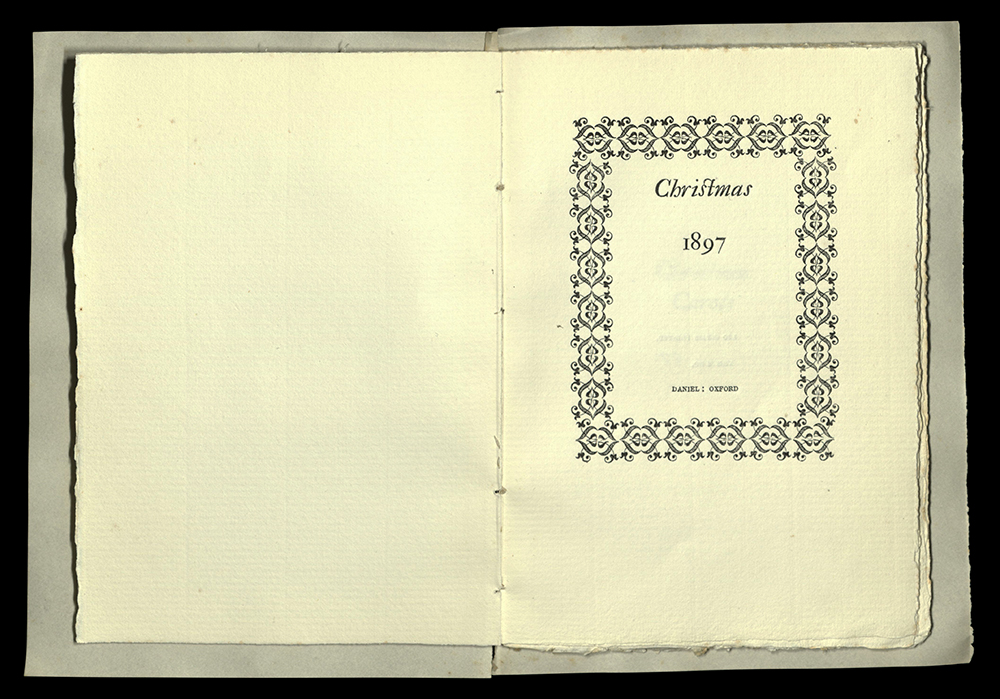 CHRISTMAS 1897
Oxford: Daniel Press, 1897
Z232 D18 C57 1897 
Edition of one hundred and twenty copies. Rare Books copy is no. 88.
---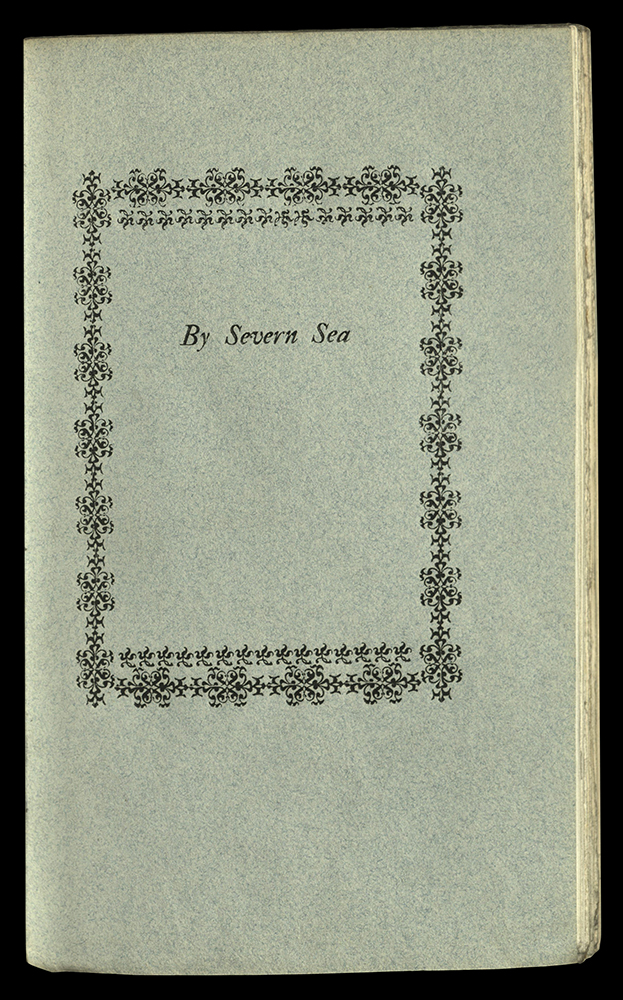 BY SEVERN SEA, AND OTHER POEMS
Sir Thomas Herbert Warren (1853-1930)
Oxford: printed by H. Daniel, 1897
PR6045 A814 B9 1897 
Edition of one hundred and thirty copies. Rare Books copy is no. 127.
---
AILES D'ALOUETTE, SECOND SERIES
F. W. Bourdillon (1852-1921)
Oxford: H. Daniel, 1902
Z232 D18 B68 1902
Edition of one hundred and thirty copies. University of Utah copy is no. 50.
The night has a thousand eyes,
And the day but one;
Yet the light of the bright world dies
With the dying sun.
The mind has a thousand eyes,
And the heart but one:
Yet the light of a whole life dies
When love is done.
---
THE ESSEX HOUSE PRESS
In 1886, C.R. Ashbee established the Guild of Handicraft at Essex House London. Around the same time, Ashbee created the Essex House Press, which published its first book in 1898. The work of the press was very much a part of the Arts and Crafts Movement. Ashbee continually linked the aims of the press with John Ruskin and William Morris and described the object of the movement as "making useful things…making them well and…making them beautiful." The critics, however, were not so sure about the work that came out of Essex House Press, calling it "articraftiness." Later booklovers would come to admire much of its work. Some of the presses and some of the workmen for Essex House Press came from the Kelmscott Press after its demise in 1897 following the death of William Morris. Ashbee designed his own typeface called "Endeavor" for the press. In 1902, the press moved to Glouscestershire. The Essex House Press closed in 1910, having produced more than seventy titles.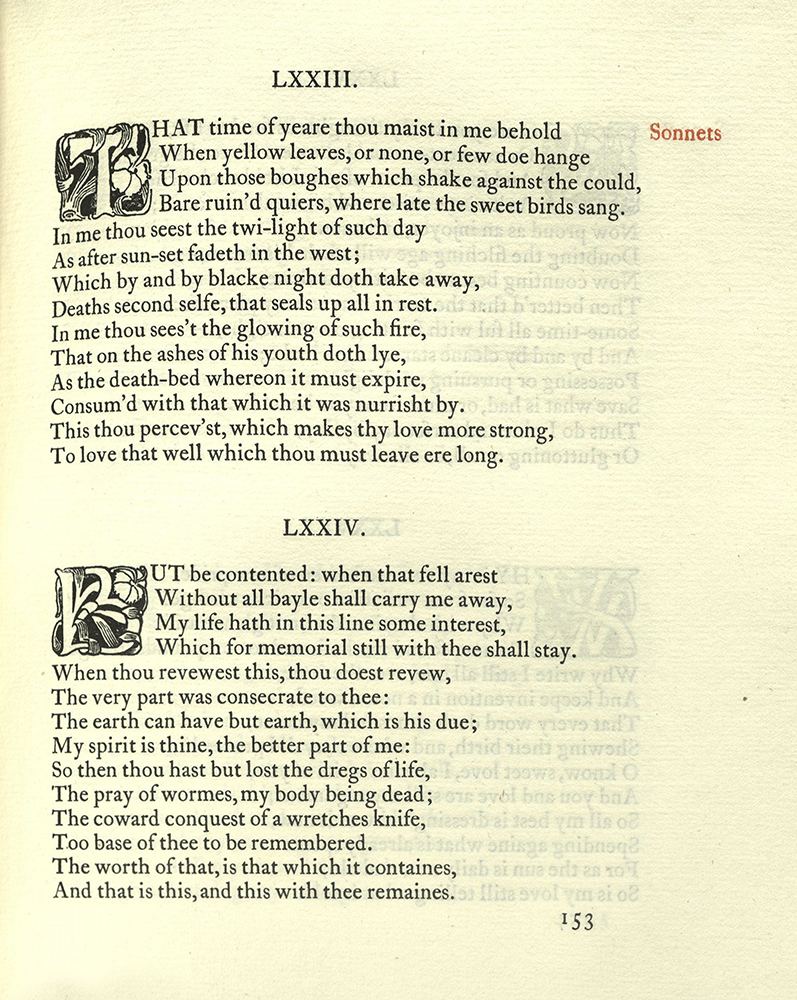 THE POEMS OF WILLIAM SHAKESPEARE, ACCORDING TO THE TEXT OF THE ORIGINAL COPIES ... 
William Shakespeare (1564-1616)
London: Edward Arnold, 1899
PR2841 A2 E55
Printed in black and red. Illustrated with floriated initials and one full-page drawing. Bound in vellum with ties. Edition of four hundred and fifty copies. Rare Books copy is no. 274. 
That time of year though mayst in me behold
When yellow leaves, or none, or few, do hang
Upon those boughs which shake against the cold,
Bare ruined choirs, where late the sweet birds sang;
In me thou seest the twilight of such day
As after sunset fadeth in the west,
Which by and by black night doth take away,
Death's second self that seals up all in rest;
In me thou seest the glowing of such fire
That on the ashes of his youth doth lie,
As the deathbed whereon it must expire,
Consum'd with that which it was nourish'd by;
This thou perceiv'st, which makes thy love more strong,
To love that well, which thou must leave ere long.
---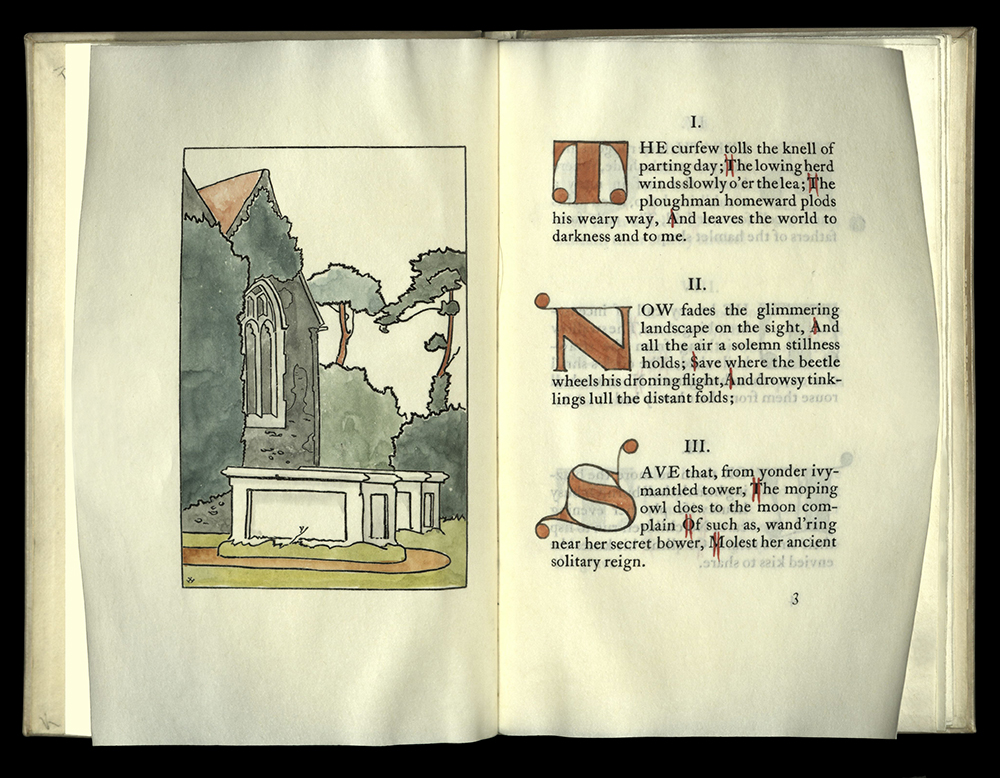 GRAY'S ELEGY
Thomas Gray (1716-1771)
London: E. Arnold, 1900
PR3502 E5 1900 
Printed at the Essex House Press under the direction of C.R. Ashbee. Frontispiece illustrated by George Thompson. Hand colored initials and frontispiece in red and green. Printed on vellum. Bound in vellum with embossed front cover.  Edition of one hundred and twenty-five copies. Rare Books copy is no. 29. 
The curfew tolls the knell of parting day,
The lowing herd wind slowly o'er the lea,
The plowman homeward plods his weary way,
And leaves the world to darkness and to me.
---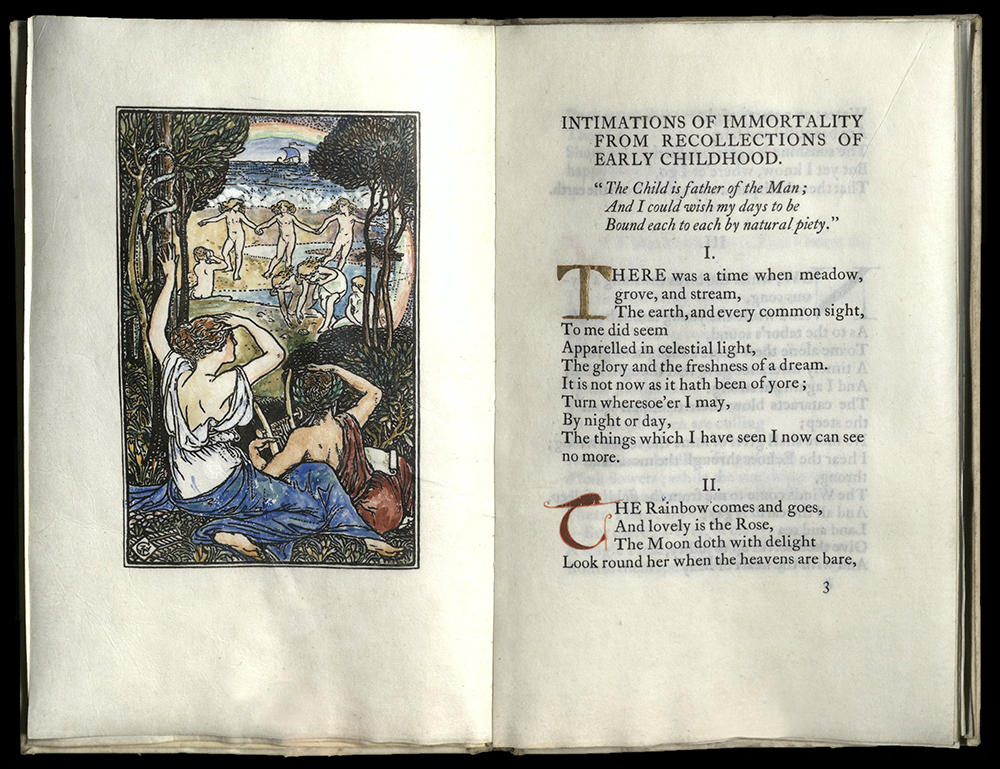 INTIMATIONS OF IMMORTALITY FROM RECOLLECTIONS OF EARLY CHILDHOOD
William Wordsworth (1770-1850)
Campden, Glo: Essex House Press, 1903
PR5860 A1 1903
Printed on vellum. Edition of one hundred and fifty copies. Rare Books copy is no. 138. 
There was a time when meadow, grove, and stream,
The earth, and every common sight,
To me did seem
Apparelled in celestial light,
The glory and the freshness of a dream.
It is not now as it hath been of yore;—
Turn wheresoe'er I may,
By night or day.
The things which I have seen I now can see no more.
---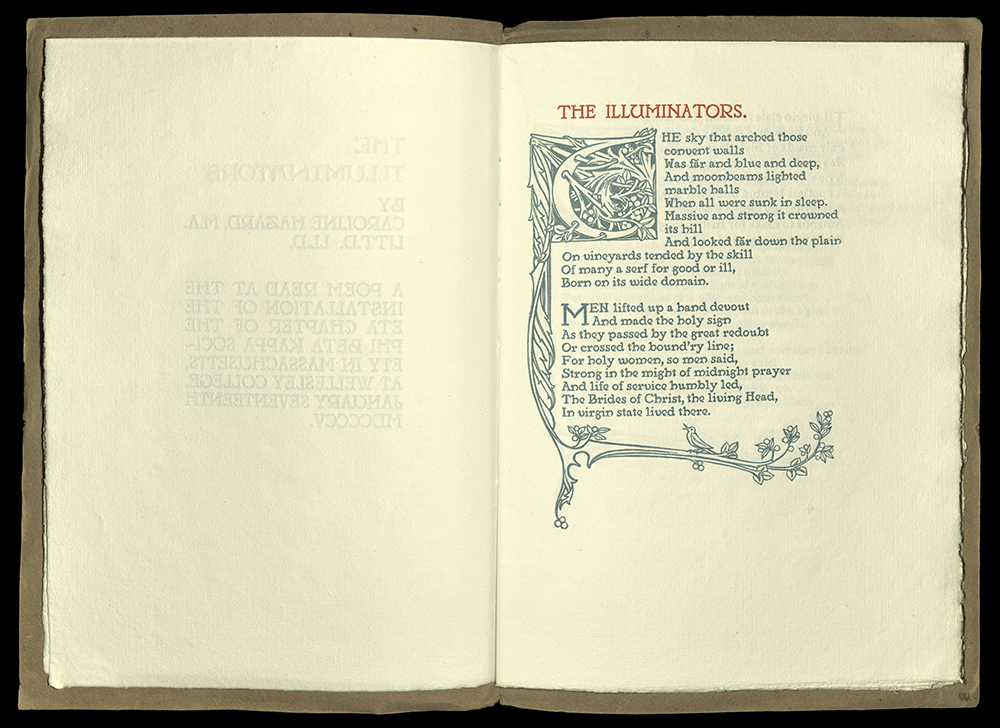 THE ILLUMINATORS
Caroline Hazard (1856-1945)
Campden, Gloucestershire: Priv. printed at the Essex House Press, 1905
PS3515 A973 I44 1905
Caroline Hazard, who held no formal college degree, was president of Wellesley College in Massachusetts between 1899 and 1910. She is credited with hiring noted landscape architect Frederick Law Olmsted, Jr. to redesign the grounds of Wellesley. This poem was written for the installation of the eta Chapter of the Phi Beta Kappa Society and printed by Essex House Press at special request. Edition of one hundred and fifty copies. Rare Books copy is no. 136.
---
MERRYMOUNT PRESS
Merrymount Press began in 1893, when Daniel Berkeley Updike, who began his career at Riverside Press of Houghton Mifflin, opened an office for advisory service in typographical problems. Influenced in the early days by William Morris, Updike soon developed the qualities that would become the hallmark of his own work as a book designer – simplicity of style, restraint in decoration, and an uncanny typographic unity – all to the effect of improved book production. The press printed everything from advertising leaflets to some of the finest books produced in the United States. Updike is rated as one of the foremost American typographers in the twentieth century and his strong influence continues today.  After he died in 1941, the press continued under the able direction of John Bianchi until it closed in 1948.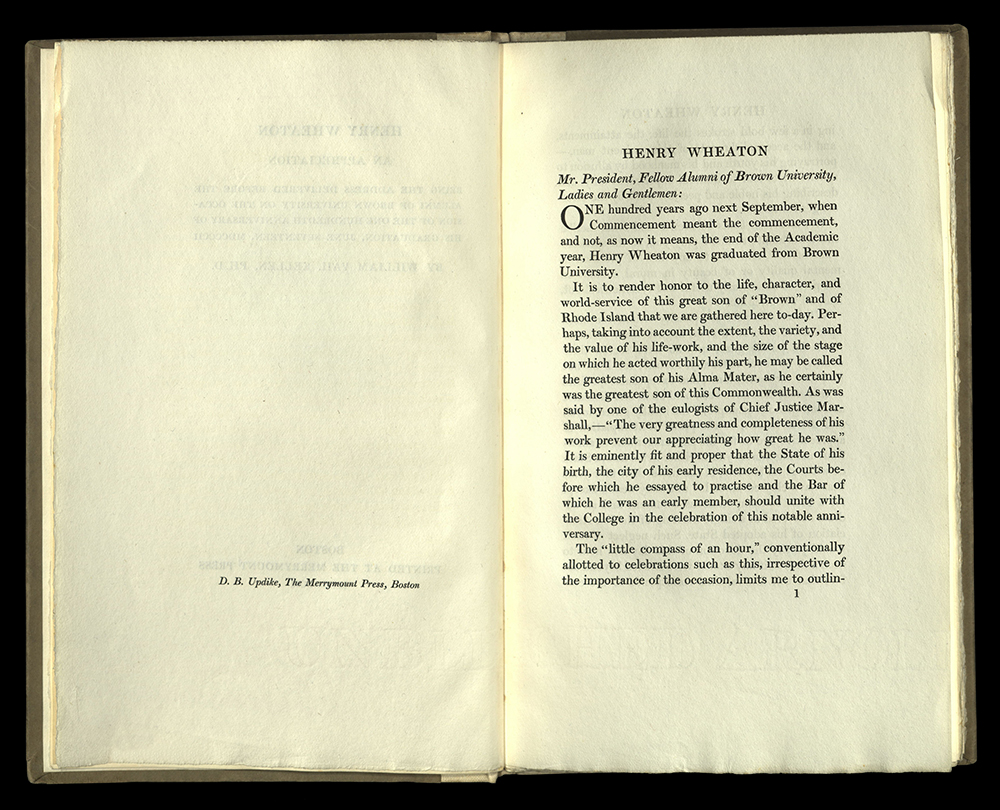 HENRY WHEATON, AN APPRECIATION 
William Vail Kellen (1852-1942)
Boston: Printed at the Merrymount Press, 1902
KF368 W48 K45 1902
---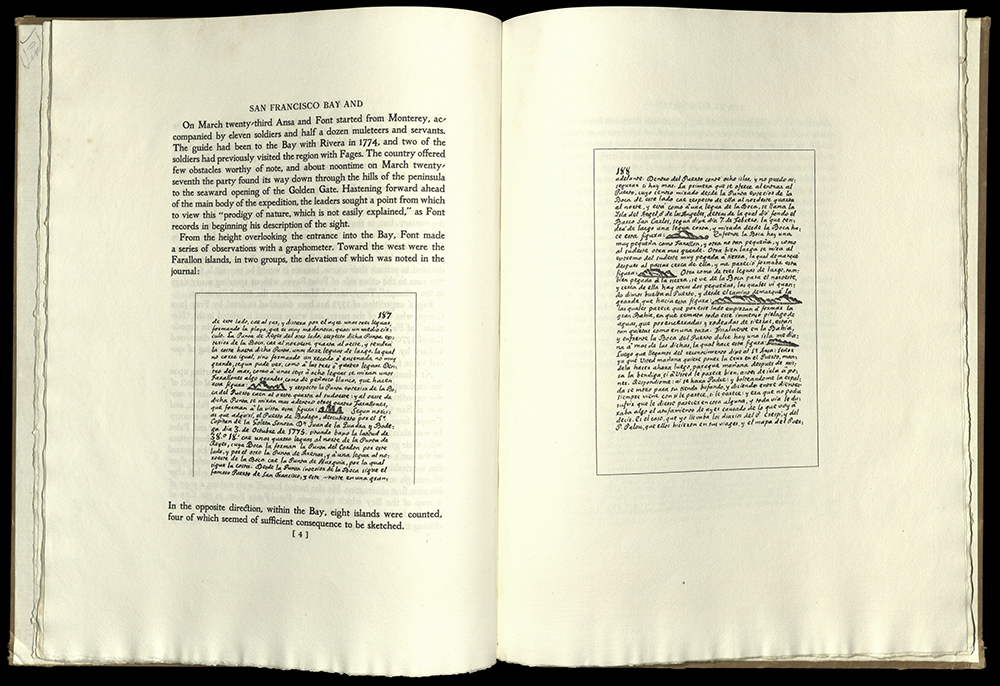 SAN FRANCISCO BAY AND CALIFORNIA IN 1776
Pedro Font (d. 1781)
Providence, R.I.: (Boston, Merrymount Press), 1911
F864 F58 1911 
Edition of one hundred and twenty-five copies.
---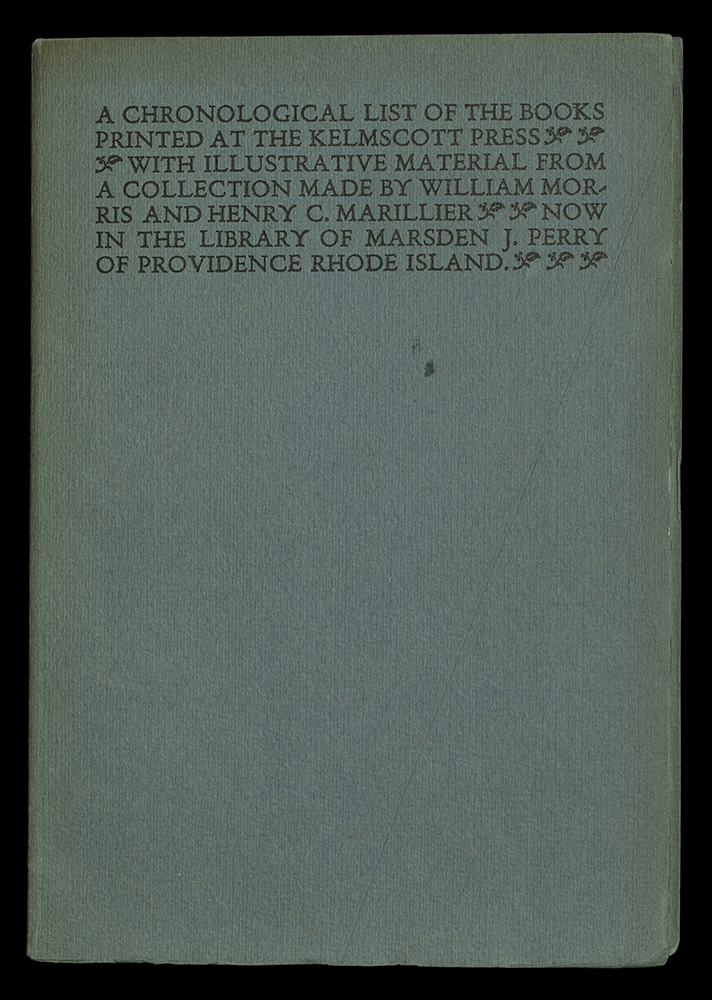 A CHRONOLOGICAL LIST OF THE BOOKS PRINTED AT THE KELMSCOTT PRESS, WITH ILLUSTRATIVE MATERIAL ... 
Marsden Jasiel Perry (1850-1935)
Boston: The Merrymount Press, 1928
Z232 M87 P47 1928 
A catalog of an exhibition at the Grolier Club, April 20th through May 9th, 1928. Inscribed to the Grolier Club by the author. Forward signed by George Parker Winship (1871-1952), "G.P.W." Covered in printed wrappers. Edition of eight hundred copies.
---
PEAR TREE PRESS
James J. Guthrie (1874-1952), a Scotsman who moved to London as a child, founded Pear Tree Press in 1899. His press took its name from Pear Tree Cottage in Ingrave, Essex, England, where Guthrie was living. From there Guthrie moved the press several times, finally settling in Harting in Sussex in 1907. Guthrie thought of himself primarily as an artist and simply added printing as another medium of his art. Guthrie first used his small Albion press to print blocks for hand-coloring that were meant to be included in The Elf, a small magazine planned by Guthrie but printed elsewhere. The first book issued by Pear Tree Press was a collection of poems by Edgar Allan Poe, with twenty-four drawings by Guthrie, in 1901. Guthrie became known for his visionary typography, but even more for his inimitable etching skills where text and decorative illustration were drawn onto a single plate, producing a page of particular harmony. Guthrie was especially interested in intaglio printing. Guthrie said, "the artist at the press is, before everything, an explorer. His true mission is to suggest and demonstrate, not ideas thirty years old, but new ideas, which may take our friend the fine printer…another thirty years to see the drift of!" Guthrie printed his last book fifty years later at the Mermaid Press in Flansham as a contribution to the Festival of Britain.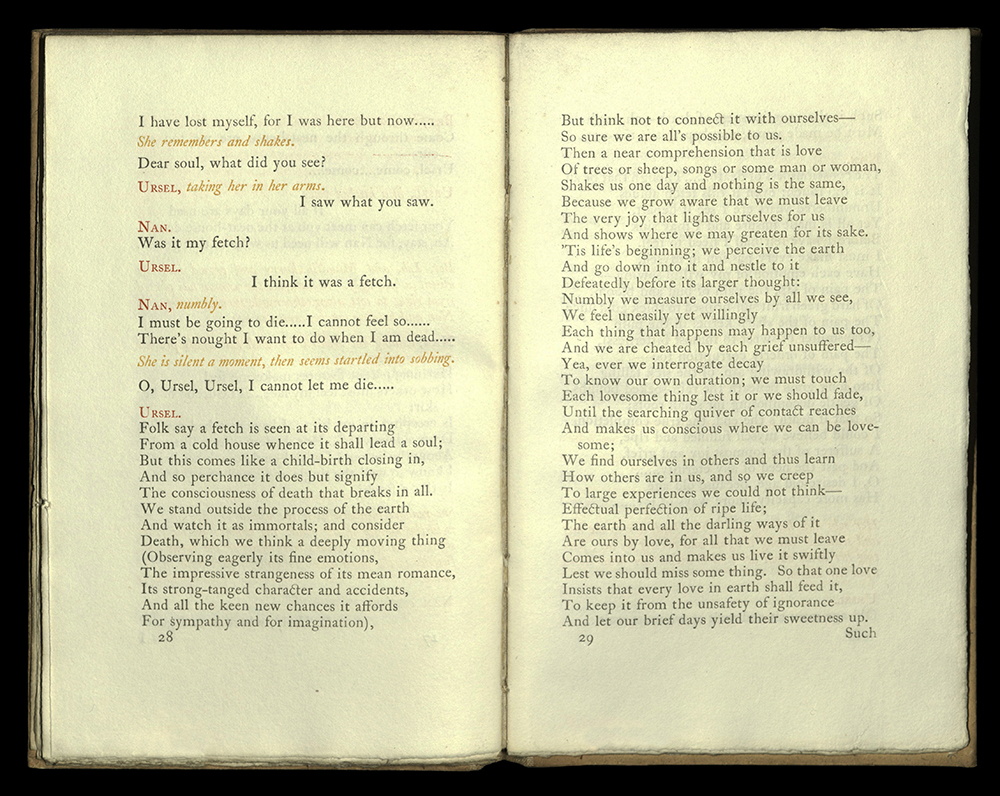 MIDSUMMER EVE 
Gordon Bottomley (1874-1948)
Hartin, Petersfield, Hampshire: Pear Tree Press, 1905
PR6003 O67 M5 1905
Midsummer was one of the first three books James Guthrie produced after having received a commission for a privately printed book. This private printing helped Guthrie hone his printing skills and gave him the confidence and experience to begin printing books in earnest. Guthrie described Midsummer as "an attempt to do a 'pictorial' work in typography, keeping with the theme of the poem." Drawings by James Guthrie. Printed in grey, old gold, and Venetian red. Edition of one hundred and twenty copies. 
In Well Knowe garden now, I know,
Where the pale larkspur used to grow
In the far nook, a sound is heard
(If any is there to hear save bird
And field-mouse in the strawberries
Stirring like a local breeze —
Here, there — the low leaves soundlessly);
A glistening slender wasp-like fly
Is using will and wing to stand
Upon the air as though it spanned
A chasm with trembling outstretched arms,
And in the silence of heat-stilled farms
And heat-veiled wood that seems to shake
Dim clotted leaves yet does not break
By sigh or rustle the hush so dear
Its tiny sting of sound sings clear.
---
BLUE SKY PRESS
Drawing from the great number of Chicago artists and writers of the time, three ambitious young men – Fred Langworthy, Tom Stevens, and Alden Nobel – all students at the new Armour Institute, produced almost fifty books and a monthly magazine, under the name of The Blue Sky Press of Hyde Park, between 1899 and 1907. The publications, part of the international renaissance of bookmaking led by William Morris, represent a successful press producing handmade limited editions and a significant chapter in the history of American fine press in the early twentieth century.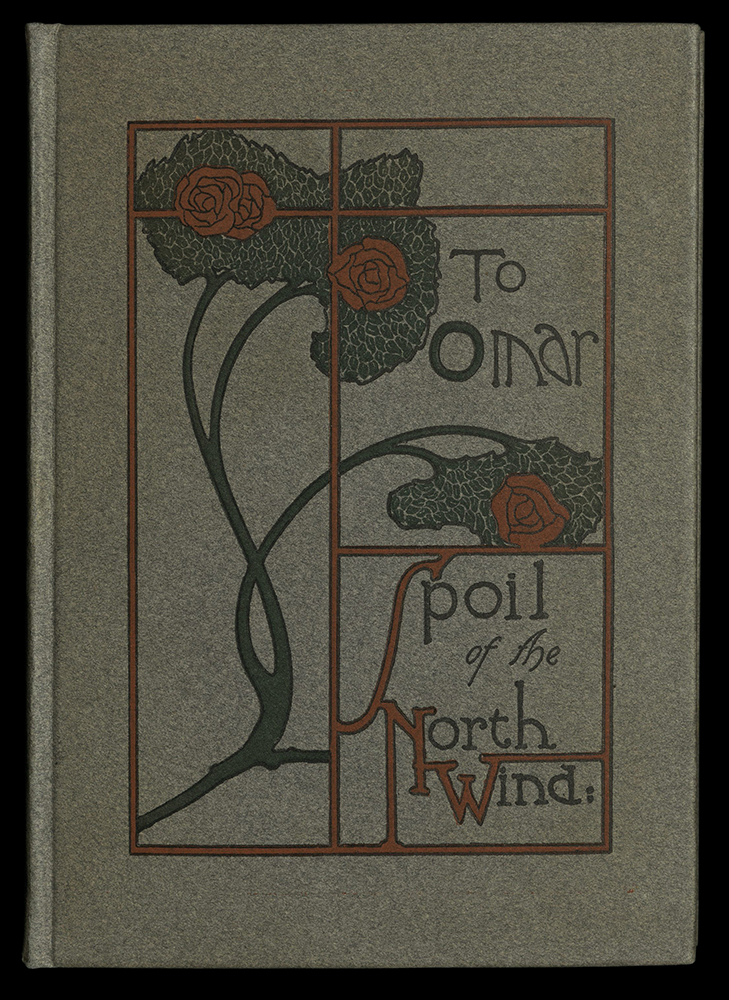 SPOIL OF THE NORTH WIND
Chicago: Blue Sky Press, 1901
PN6071 K45 1901
A collection of verses to Omar Khayyam. Edition of six hundred and twenty-five copies. Rare Books copy is no. 291.
---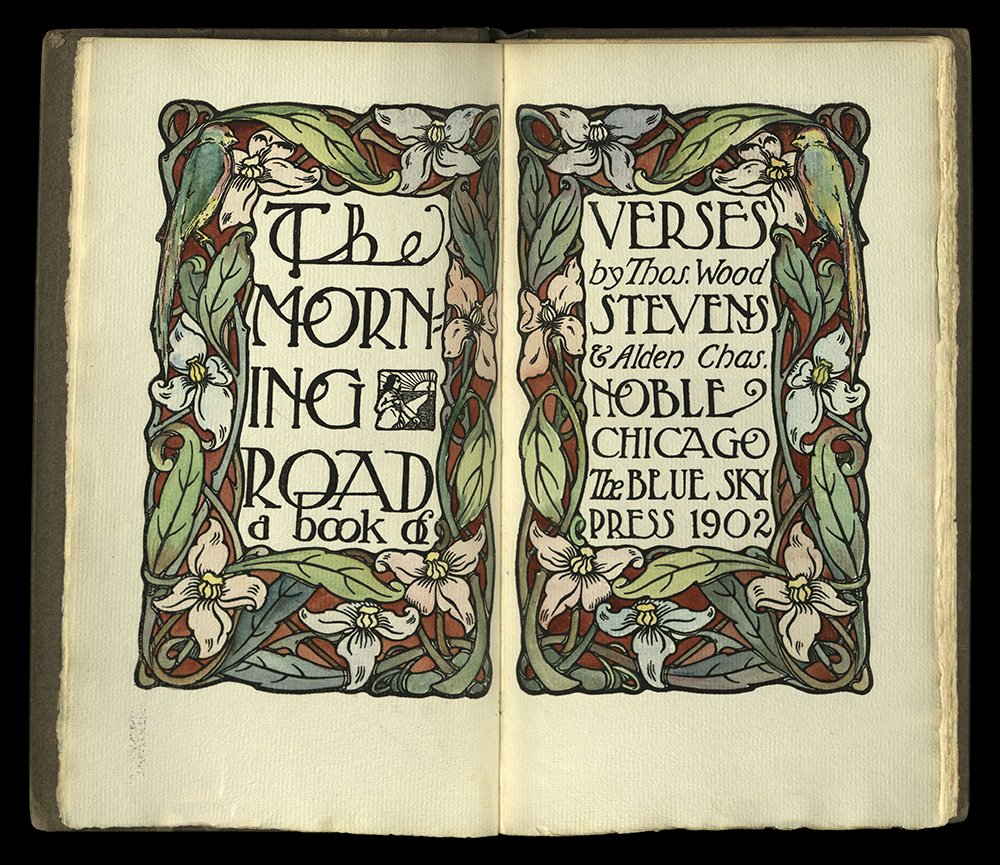 THE MORNING ROAD 
Thomas Wood Stevens (1880-1942)
Chicago: The Blue Sky Press, 1902
PS3537 T475 M67 1902
Front two leaves within a hand colored ornamental border. Edition of two hundred copies. University of Utah copy is no. 155.
---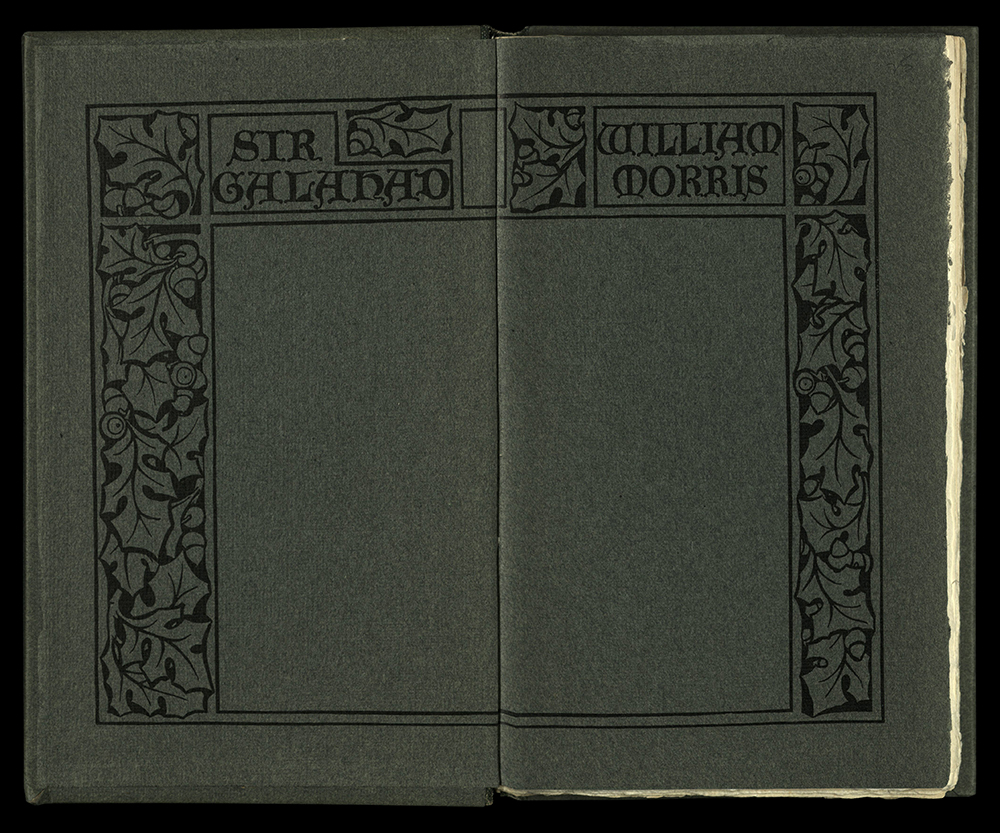 SIR GALAHAD, A CHRISTMAS MYSTERY 
William Morris (1834-1896)
Chicago: Blue Sky Press, 1904
PR5078 S4 1904
Bound in dark blue-green paper boards with a dark blue linen spine. The title is in gilt on the front cover, surrounded by a border of oak leaves.  The endpapers are the same color as the covers and are also bordered by oak leaves and acorns. The book was hand printed from plates that were hand lettered under the direction of Thomas Wood Stevens.  Edition of five hundred copies on paper and twenty-five copies on Japan vellum. Rare Books copy is no. 519.
The winter wind that pass'd the chapel door,
   Sang out a moody tune, that went right well
With mine own thoughts: I look'd down on the floor,
   Between my feet, until I heard a bell

Sound a long way off through the forest deep,
   And toll on steadily; a drowsiness
Came on me, so that I fell half asleep,
   As I sat there not moving: less and less

I saw the melted snow that hung in beads
   Upon my steel-shoes; less and less I saw
Between the tiles the bunches of small weeds:
   Heartless and stupid, with no touch of awe

Upon me, half-shut eyes upon the ground,
   I thought: O Galahad! the days go by,
Stop and cast up now that which you have found,
   So sorely you have wrought and painfully.
---
VILLAGE PRESS
In 1903, Frederic Goudy, a former accountant, set up the Village Press in Illinois. Goudy's first press, Camelot Press, had lasted less than a year. The Village Press, however, was successful, and allowed Goudy to continue to design typefaces. By the end of his life, in 1947, Goudy had created one hundred and twenty-four type designs, executing most of them from drawing to casting. He operated the Village Press with his wife, Bertha, until 1939, when a disastrous fired destroyed the press workshop and the original designs of several of his typefaces. Goudy earned a world-wide reputation as a type designer, providing typefaces to the Caslon Foundry in England, advertising firms such as the National Biscuit Company and Procter and Gamble, and Lanston Monotype Company. Goudy also wrote a number of books on typography.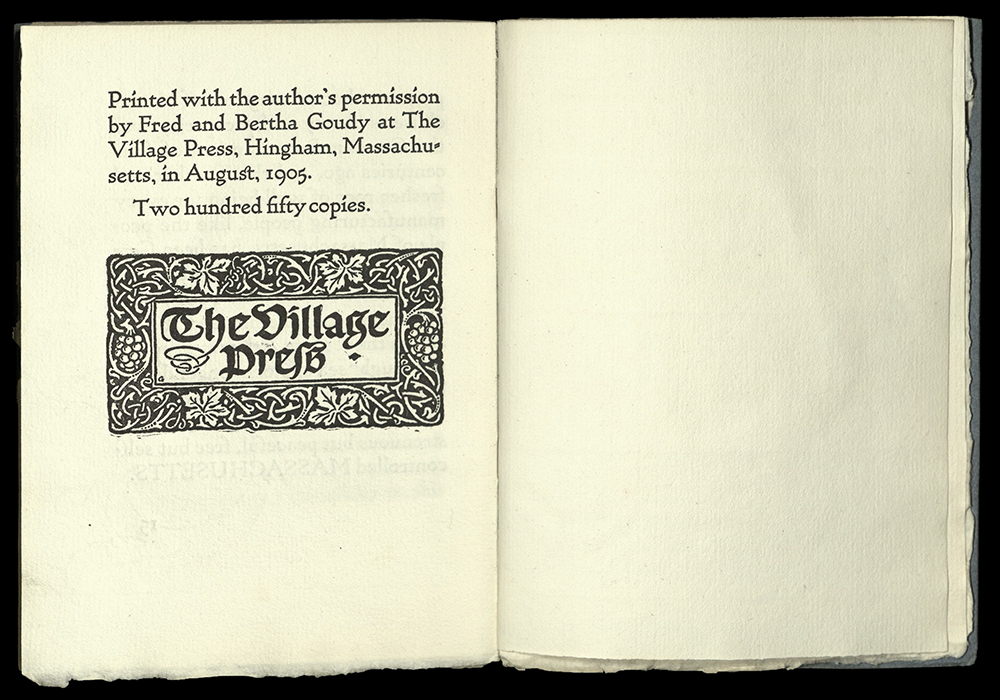 MASSACHUSETTS, AN OLD AND PROSPEROUS DEMOCRACY AND A SAFE SOCIAL ORDER ... 
Charles William Eliot (1834-1926)
Hingham, Mass: Village Press, 1905
F64.5 E4 1905
Printed with permission of the author by Frederic and Bertha Goudy on watermarked paper. Bound in blue paper boards. In the letter of permission to Mr. Goudy, Eliot expressed his surprise that anybody would want to pay one dollar for a copy of such a small work. Edition of two hundred and fifty copies.
---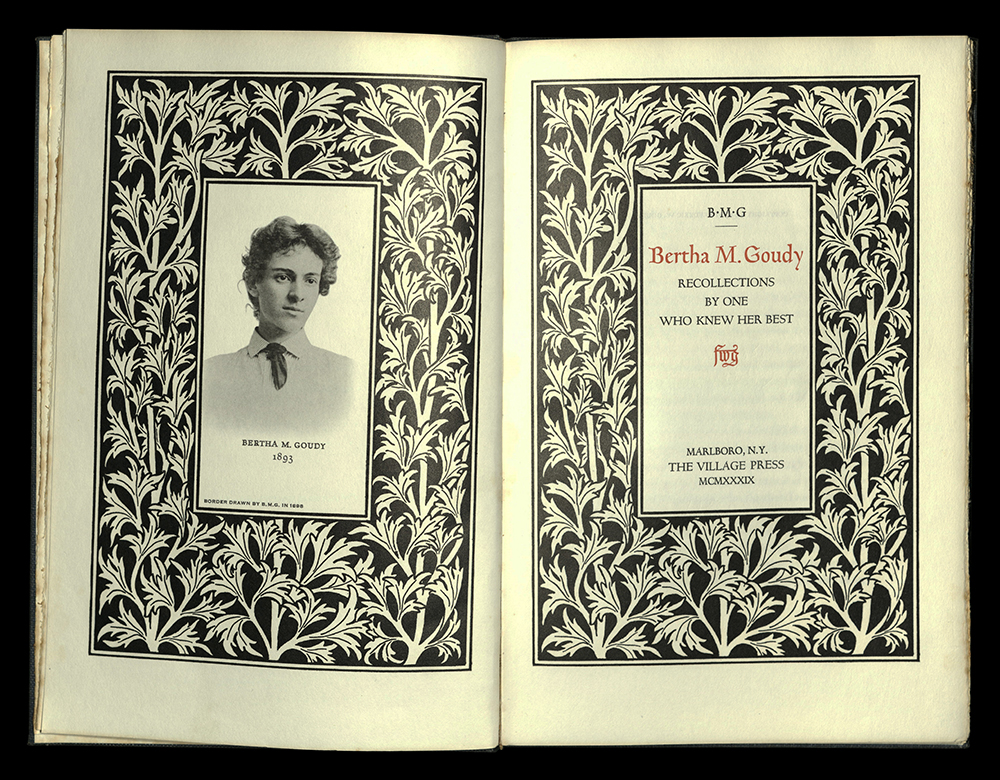 BERTHA M. GOUDY : RECOLLECTIONS BY ONE WHO KNEW HER BEST 
Frederic W. Goudy (1865-1947)
Marlboro, NY: Village Press, 1939
Z232 G67 G7 1939 
Set in Bertham type, designed by the author and named for his wife, Bertha M. Goudy. Edition of three hundred copies. Rare Books copy is inscribed to A. Tommasini by the author.
---
TORCH PRESS
The Torch Press was founded in Cedar Rapids, Iowa by Luther A. Brewer (1858-1933) in 1907. In 1909, Brewer also opened The Torch Press Book Shop. The shop was a natural outgrowth of Brewer's book collecting interests. By 1911 it was the biggest and most successful bookstore west of Chicago, offering new publications and some astonishing antiquarian pieces, including Abraham Lincoln ephemera. After Brewer's death, The Torch Press continued under the direction of Edward Misak until his death in 1959. The Torch Press was perhaps best known for its series of Christmas books. Brewer began the tradition in 1912 when he published a small volume of seventy copies that were distributed to his friends. His wife, Elinore, added illuminated letters to many of these publications. With the exception of two years, 1918 and 1934, the series continued until 1959. From 1945 through 1951, The Torch Press also printed a Christmas series of books for the friends of May and T. Henry Foster. Mr. Foster was a prominent businessman and book collector. The Foster series is similar in design and format to The Torch Press series. The Torch Press imprints varied widely, including the Christmas series, a nature series, histories, homespun philosophies, bibliographies, and book sales catalogs. The press printed limited editions for groups such as the Bookfellows of Chicago (Brewer was Bookfellow number fourteen), the Bibliophiles of Boston, and the Rowfant Club of Cleveland. It was a press for the literate and the bookish.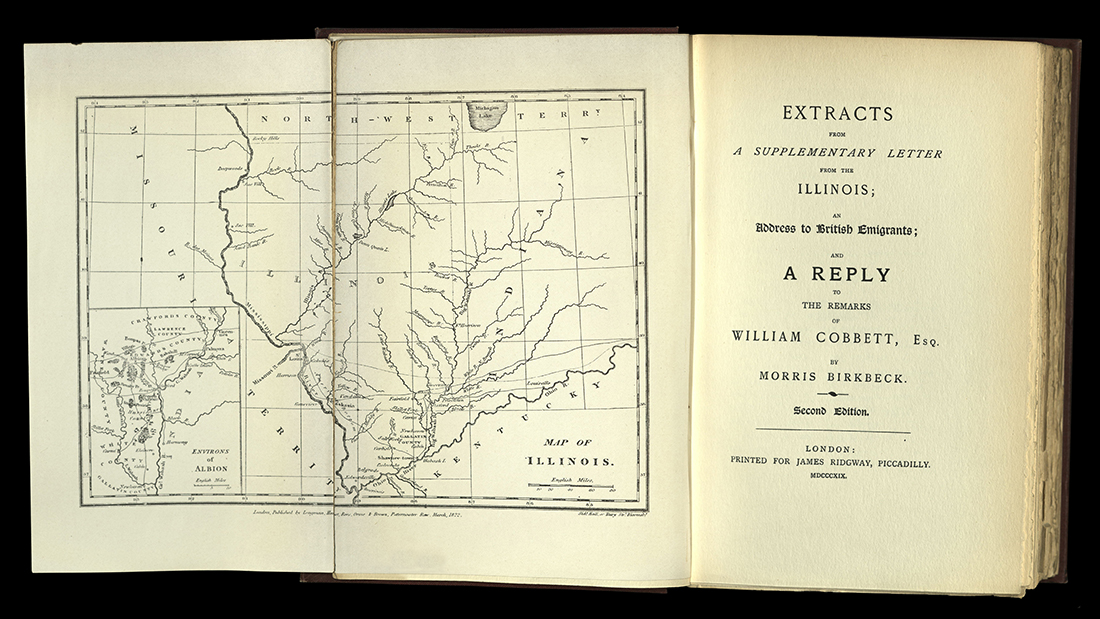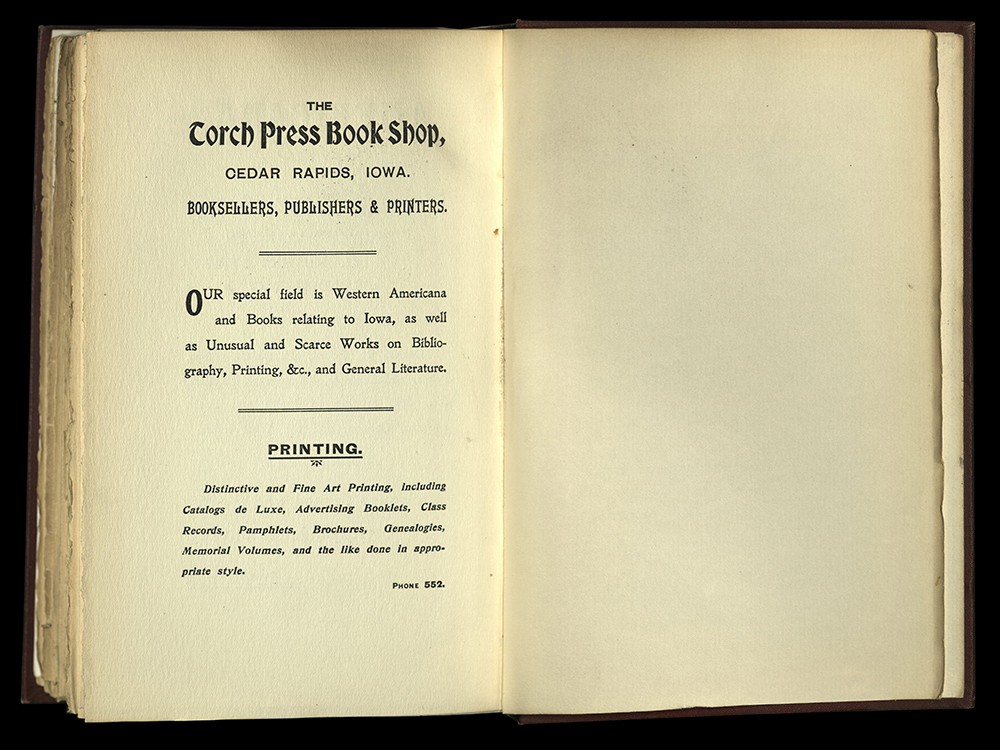 THE ENGLISH SETTLEMENT IN THE ILLINOIS; REPRINTS OF THREE RARE TRACTS ON ILLINOIS COUNTRY 
Edwin Erle Sparks
London: The Museum book store; Cedar Rapids, IA, The Torch Press, 1907
F545 S73 
Edition of two hundred and fifty copies on small paper, ten on large paper.
---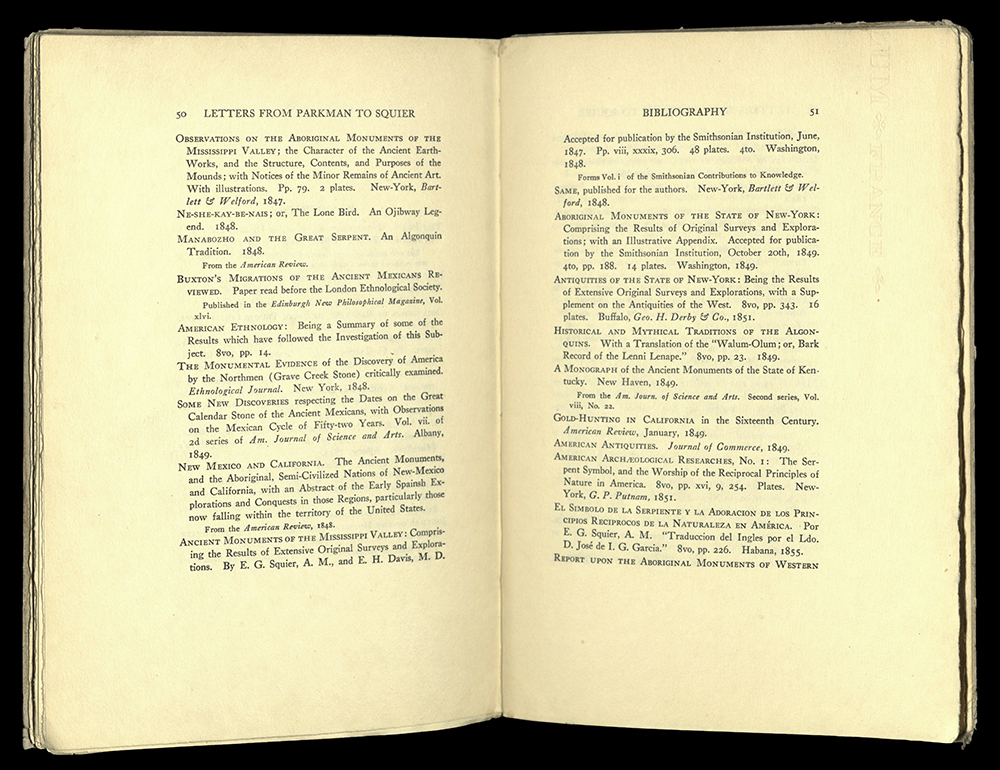 LETTERS FROM FRANCIS PARKMAN TO E.G. SQUIER; WITH BIBLIOGRAPHICAL NOTES ...
Francis Parkman (1823-1893)
Cedar Rapids, Iowa: The Torch Press, 1911
First edition
E175 P24 A41 1911 
Edition of two hundred copies.
---

THE LEADING FACTS OF NEW MEXICAN HISTORY
Ralph Emerson Twitchell (1859-1925)
Cedar Rapids, IA: The Torch Press, 1911
F796 T97 1911a v.1-v.2
---

THE SPANISH ARCHIVES OF NEW MEXICO; COMPILED AND CHRONOLOGICALLY ARRANGED ...
Ralph Emerson Twitchell (1859-1925)
Cedar Rapids, IA: The Torch Press, 1914
CD3394 1914 v.1 - v.2
---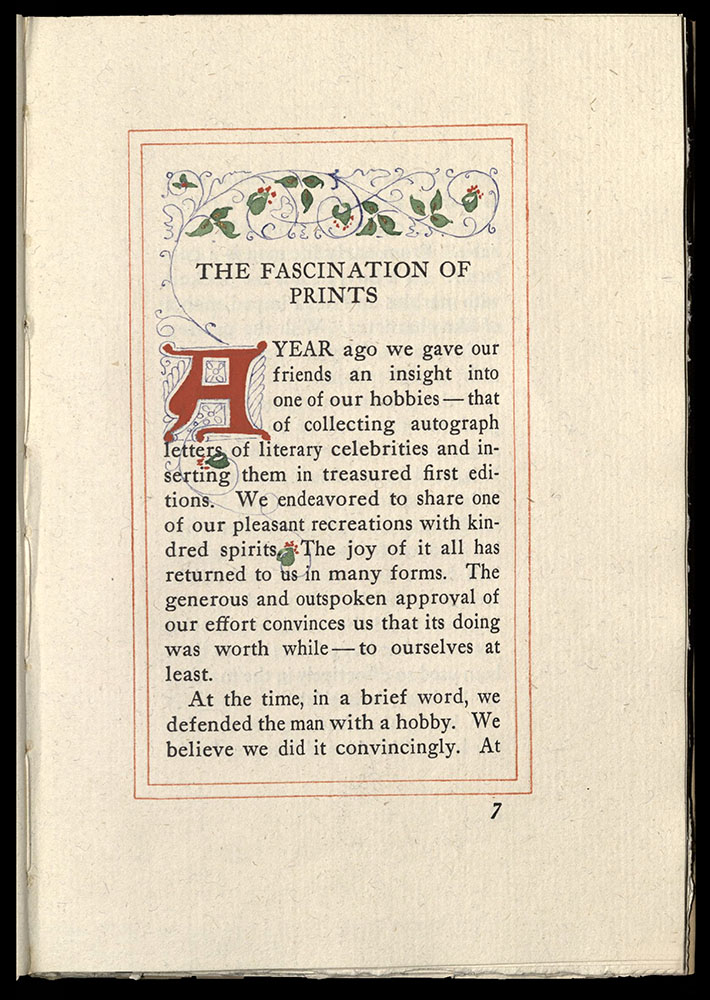 THE FASCINATION OF PRINTS ANOTHER OF OUR HOBBIES
Luther Albertus Brewer (1848-1933)
Cedar Rapids, IA: Torch Press, 1915
NE2135 B74 1915
Frontispiece and title designed, etched, and printed by Charles Butler Keeler. Illuminated initial by Elinore Taylor Brewer. From the colophon: "Privately printed at Cedar Rapids, Iowa for the friends of Luther Albertus Brewer and Elinor Taylor Brewer, 1915."  Wood engraved Christmas greeting tipped in. Edition of one hundred and seventy copies.
---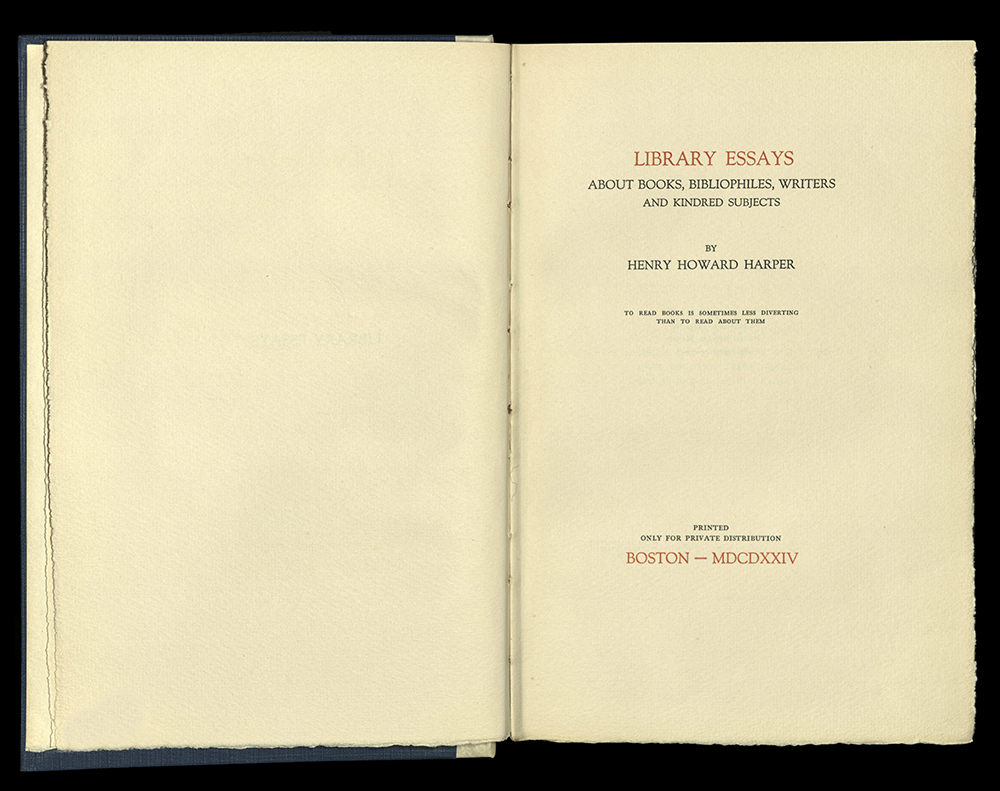 LIBRARY ESSAYS ABOUT BOOKS, BIBLIOPHILES, WRITERS, AND KINDRED SUBJECTS
Henry Howard Harper (1871-1953)
Boston, Cedar Rapids, Iowa: Printed only for private distribution. Torch Press, 1924
PN511 H27 1924
---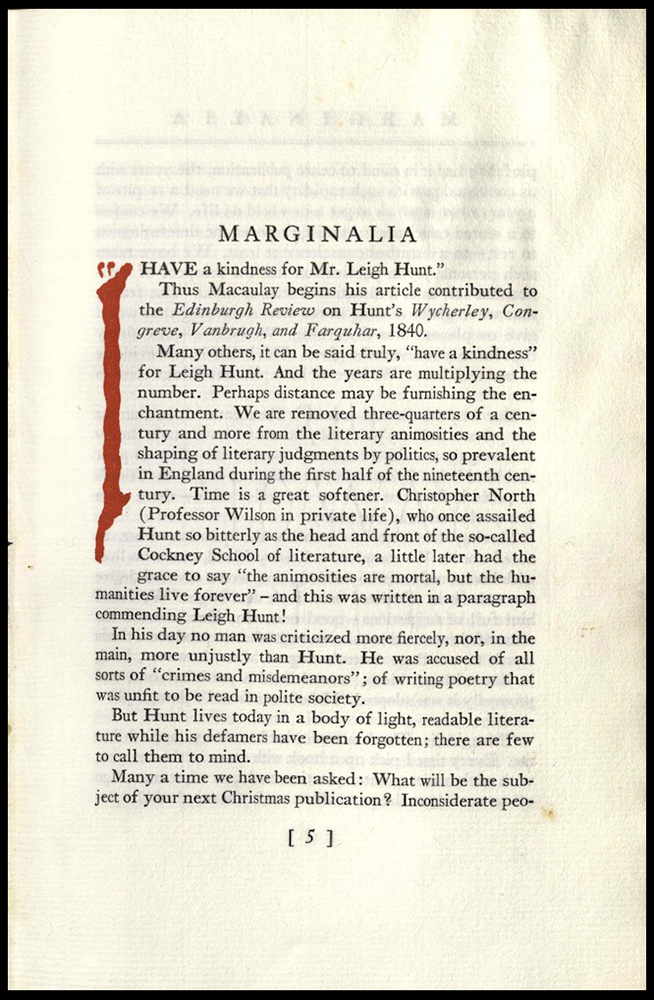 MARGINALIA
Luther Albertus Brewer (1858-1933)
Cedar Rapids, IA: Priv. print. for the friends of Luther Albertus and Elinore Taylor Brewer, 1926
PR4813 B73 1926
Hand illuminated initial by Leonore Brewer. Printed as part of its Christmas series by the Torch Press, Cedar Rapids, Iowa. Vellum spine with grey boards. Edition of three hundred copies.
---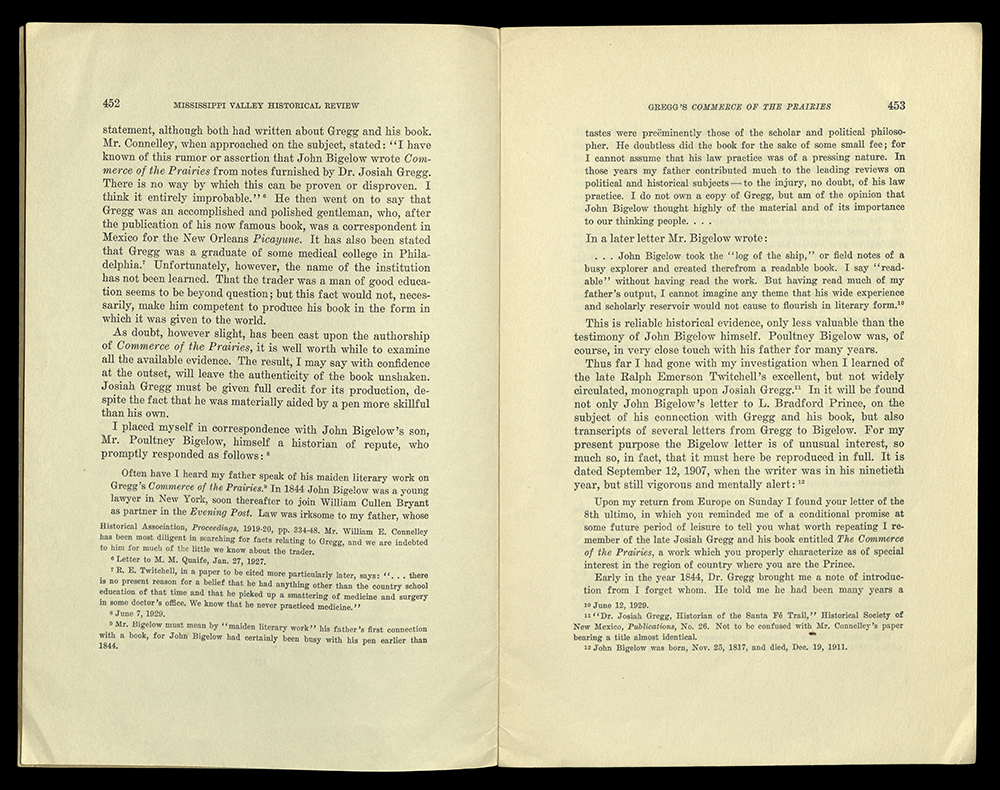 THE AUTHORSHIP OF GREGG'S COMMERCE OF THE PRAIRIES 
John Thomas Lee
Cedar Rapids, IA: The Torch Press, 1930
F800 G8323 L44 1930 
Reprinted from the Mississippi Valley Historical Review, vol. XVI, no. 4, March 1930. Rare Books copy is signed by the author.
---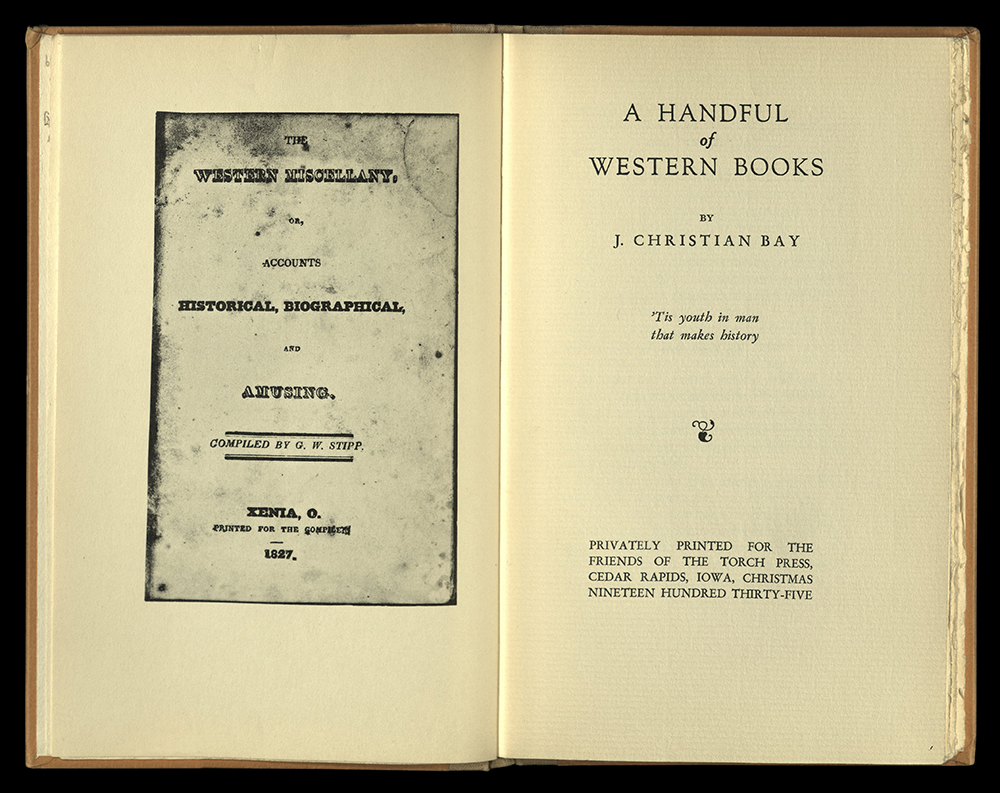 A HANDFUL OF WESTERN BOOKS
Cedar Rapids, IA: Priv. print. for the Friends of the Torch Press, 1935-1937
Z1251 W5 B3 v.1-v.3 
Contains descriptions of significant books dealing with the American Midwest. Bound in tan decorated boards with a brown cloth spine. Edition of three hundred and fifty copies.
---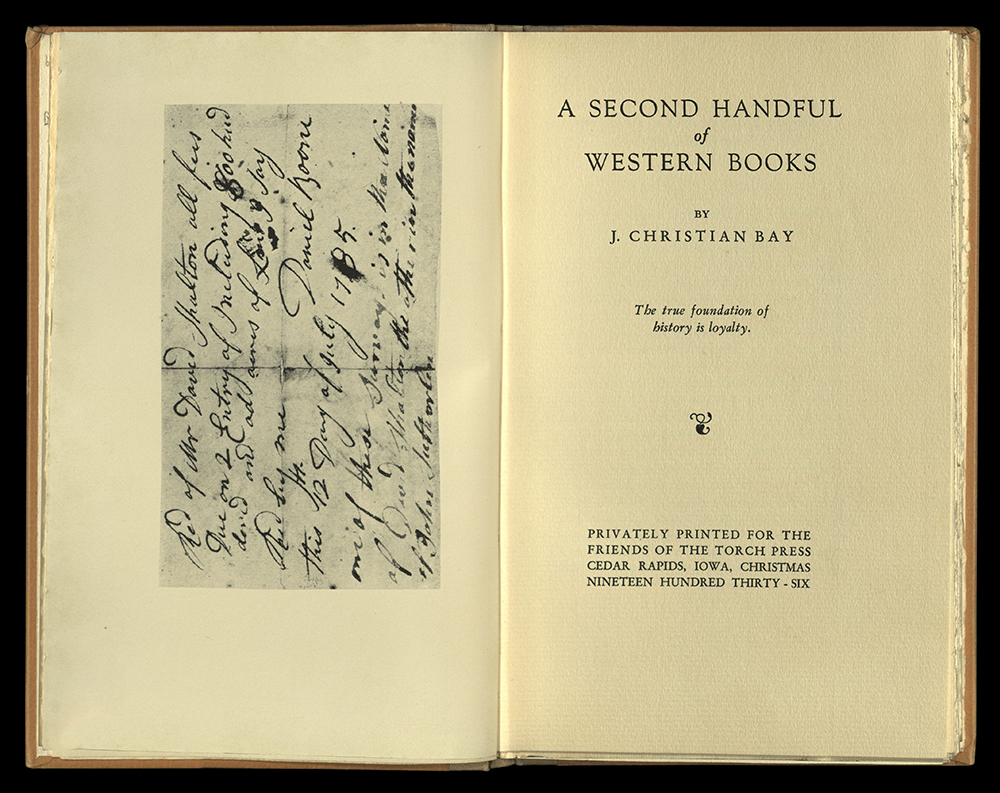 A SECOND HANDFUL OF WESTERN BOOKS 
Cedar Rapids, IA: Priv. print. for the friends of The Torch Press, 1936
Z1251 W5 B31 1936 
The text was part of a series of lectures before the University of Michigan Library School given in March 1936. Includes a facsimile letter written by Daniel Boone. Bound in green boards with a green cloth spine. Four hundred copies were printed in December as part of The Torch Press Christmas series.
---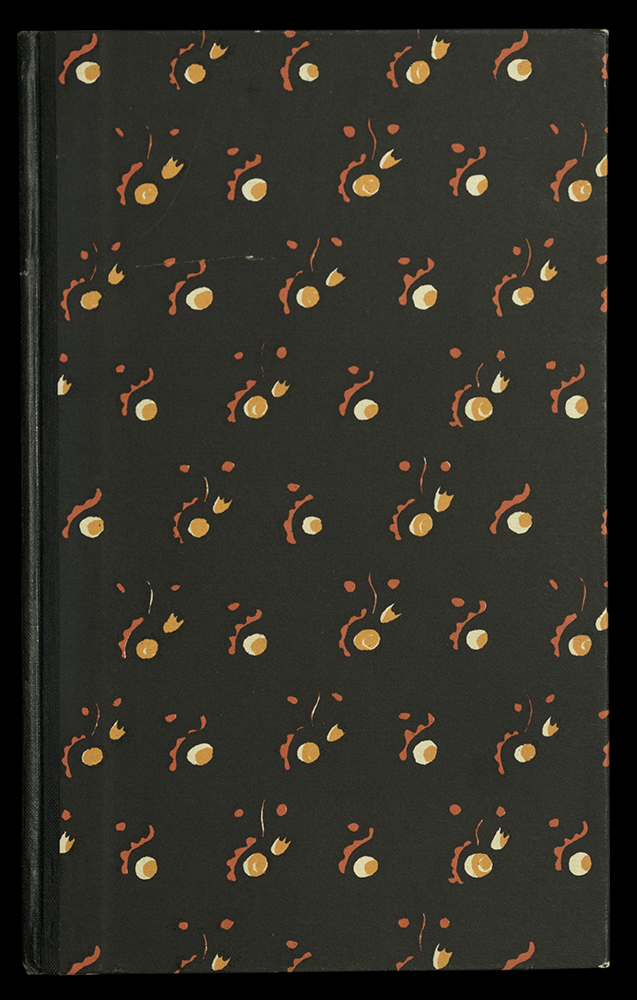 SHAKESPEARE — MAN OF MYSTERY 
Thomas Henry Foster (b. 1875)
Cedar Rapids, IA.: Priv. print. for the friends of May and Harry Foster at the Torch Press, 1946
PR2947 O9 F6 
This monograph supports the Oxford theory of Shakespeare's authorship. Edition of two hundred copies.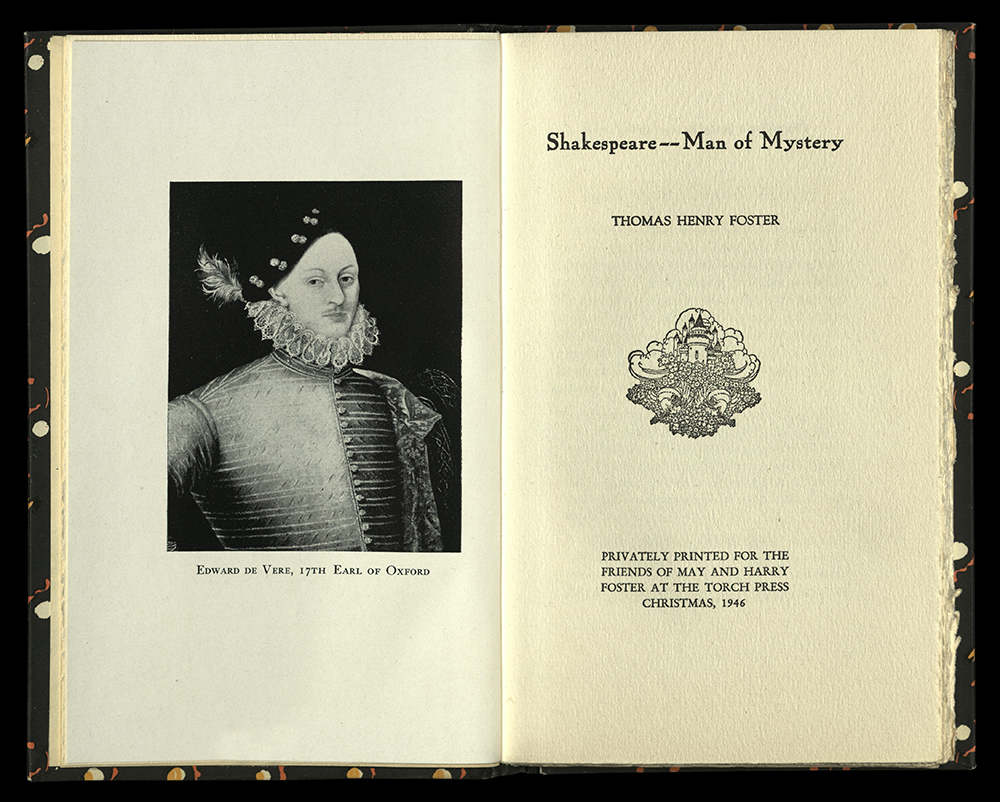 ---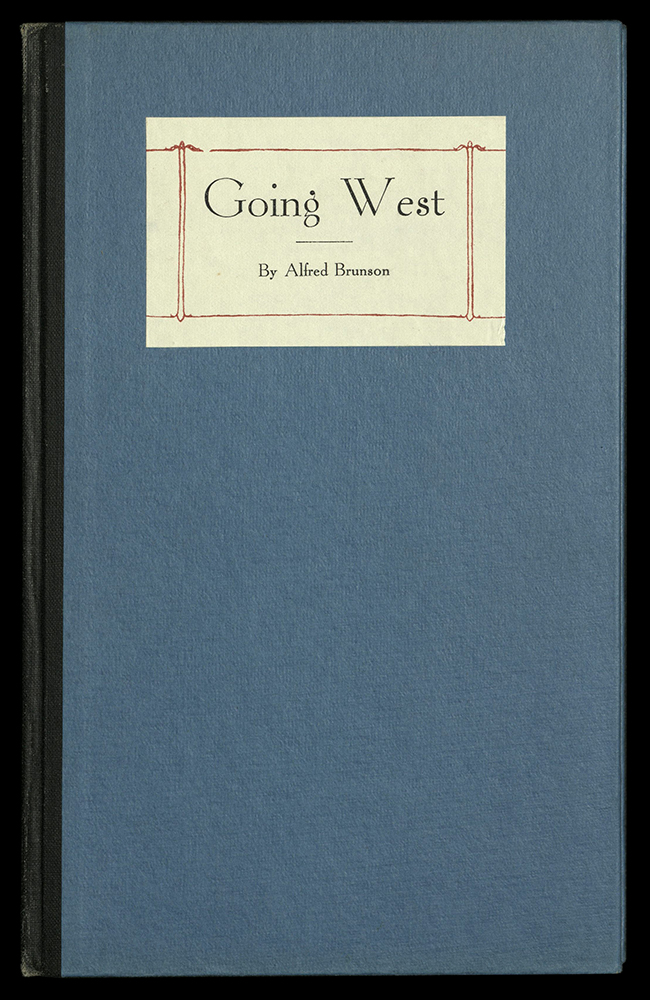 GOING WEST; THE PIONEER WORK OF ALFRED BRUNSON, BRIEFLY INTERPRETED ... 
J. Christian Bay (1871-1962)
Cedar Rapids, IA: Privately printed for the Friends of the Torch Press, 1951
BX8495 B783 B39 1951
Bound in blue boards with a black cloth spine. Edition of four hundred copies printed in December as part of the Torch Press Christmas series.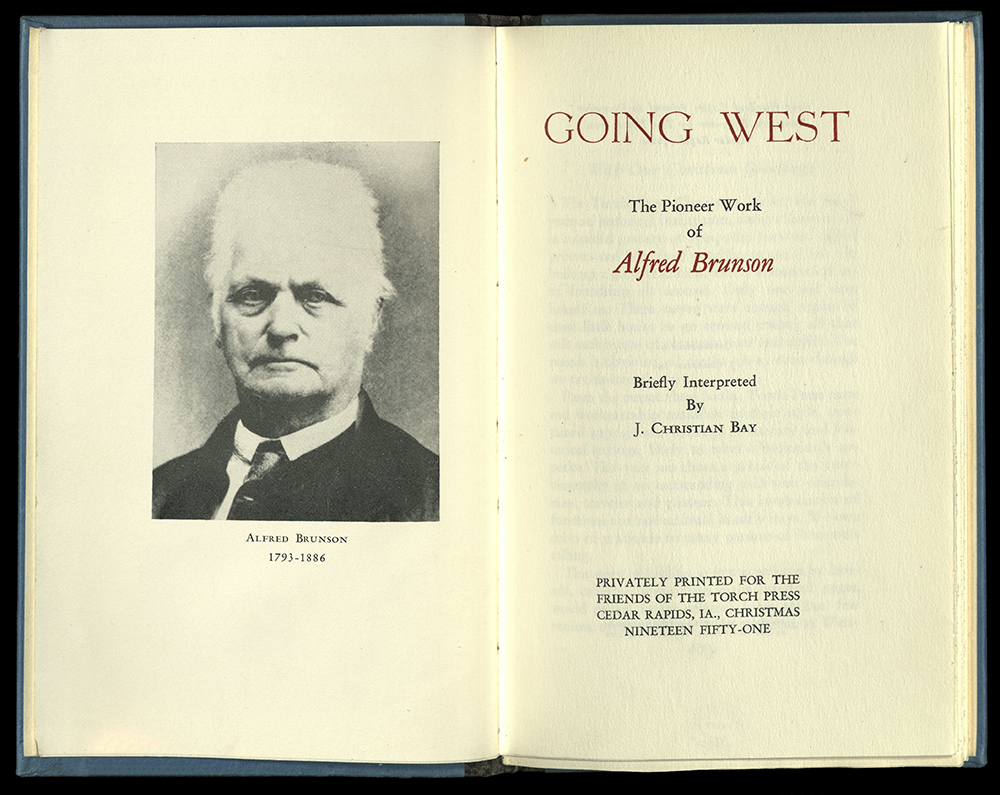 ---
BREMER PRESS
In 1911, Bremer Press began book production in the country home of the author Thomas Mann (1875-1955), moving to Tolz in 1918, and finally to Munich in 1939 where it continued production until 1944 when its presses and library were destroyed by Allied bombs. The model for the Bremer Press was the English Doves Press, following its typographical and design standards. Bremer Press was run under the literary direction of Ludwig Wolde. Its master printer was Willy Wiegand, who had the help of Rudolf Alexander Schroder, Hugo von Hofmannsthal, and Rudolf Borchardt. Anna Simons created initial and title-page designs, Josef Lehnachker created woodcuts, and Frieda Thiersch worked as book binder.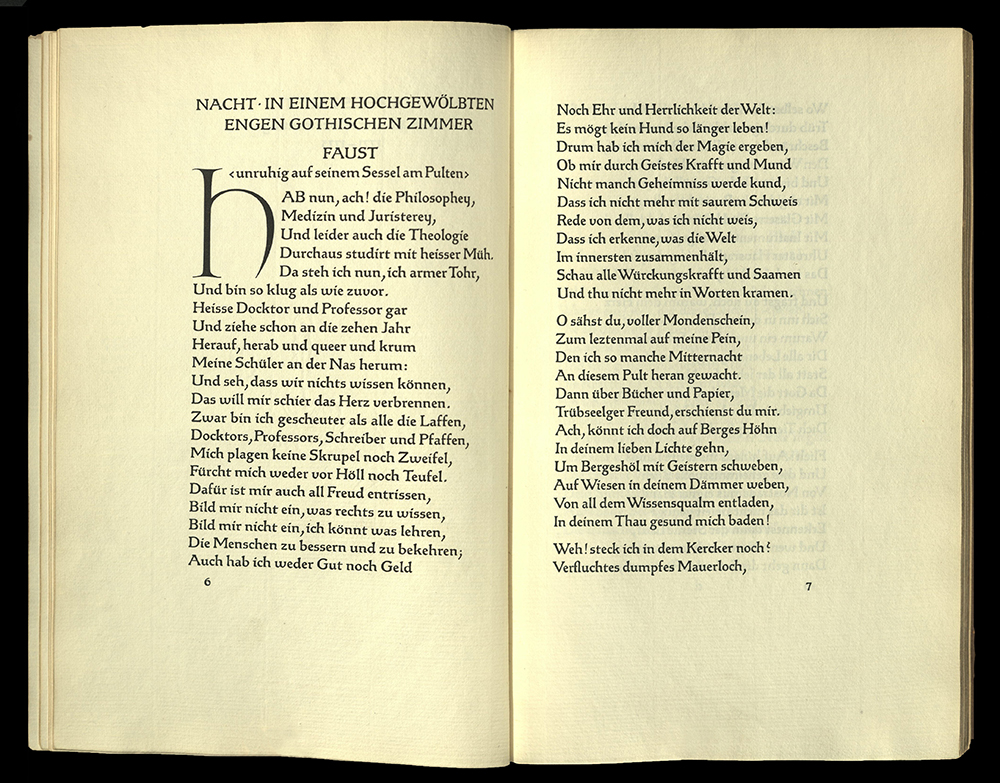 FAUST
Johann Wolfgang von Goethe (1749-1832)
Tolz, Bremer Press, 1920
PT1916 A1 1920 
Edition of two hundred and seventy copies. Rare Books copy is no. 8.
---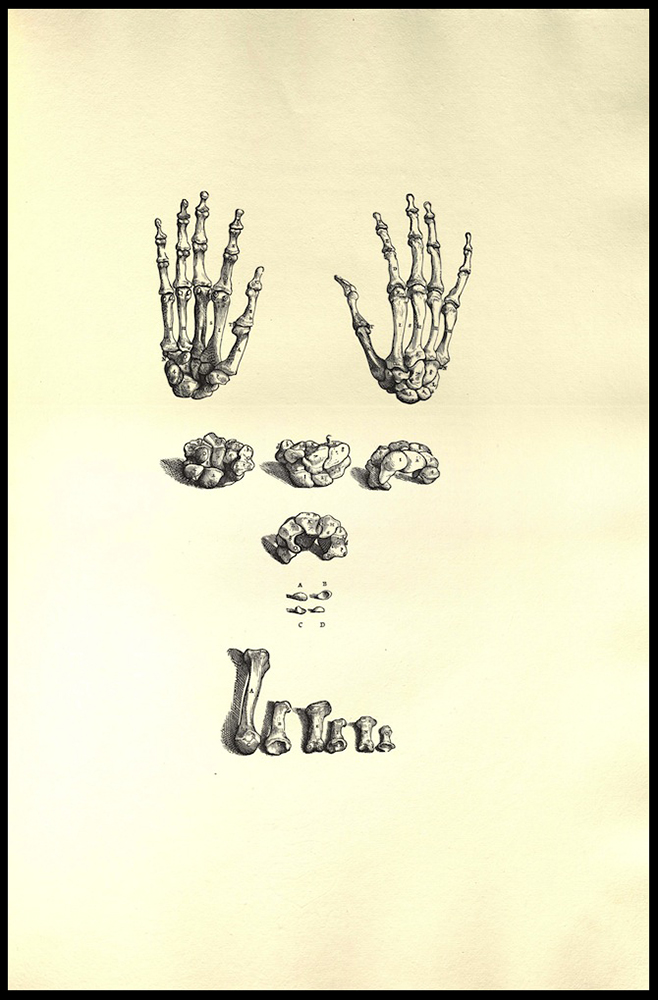 ICONES ANATOMICAE 
Andreas Vesalius (1514-1564)
Monachis: ex officina Bremensi, 1934
QM25 V4 1934
The woodblocks for Vesalius' monumental anatomical works were one of the great discoveries and losses of the twentieth-century book world. The blocks had at some point been transferred from Basel to Augsburg, where a few of them were published in the early eighteenth century. Later that century apparently another move occurred, for many of the blocks appeared in another work published in Ingolstadt. The Library of the University of Ingolstadt acquired the blocks, and in 1826 they were transferred to the University of Munich. In 1932 all of the surviving two hundred and twenty-seven blocks were rediscovered. For the present edition, the woodblocks preserved in Munich were joined by the original woodblock for the title-page of the 1555 Fabrica from the collection of the Library of the University of Louvain. The publication of this edition was a formidable task, designed to demonstrate to a new and wider audience the beauty of the original edition. The publication so soon after the rediscovery was particularly fortunate. The blocks were destroyed during WWII. Edition of six hundred and fifteen copies.
---
HOGARTH PRESS
Hogarth Press was founded in 1917 by Leonard and Virginia Woolf as a therapeutic outlet and diversion from the pressures of writing. They began printing in the dining room of their home in Surrey, England, using a small handpress. Two years later, Hogarth Press had become a full-fledged, small commercial publishing house, acclaimed for its publication of new and experimental works. Central figures in the Bloomsbury group, the Woolfs published the writings of many relative unknowns at the time – Katherine Mansfield, T. S. Eliot, Robert Graves, E. M. Forster, John Maynard Keynes, Vita Sackville-West, and, of course, themselves. They published first English translations of contemporary foreign works. Their books provided artistic avenues for photographers, illustrators, and designers, including Virginia Woolf's sister, Vanessa Bell. The press also began to publish political works, particularly promoting disarmament. The books of Hogarth Press were known not just for being in the vanguard of contemporary literature but for their striking looks. In 1938, Virginia gave up her interest as a business partner. In 1939, John Lehmann took her place, working with Leonard until 1946 when Leonard sold the press to Chatto & Windus, a distinguished and well-established name in literary publishing. Between 1917 and 1946, the Hogarth Press published over five hundred titles. The thirty-four books published before 1932 were hand printed by Leonard and Virginia, selected for themselves, their friends and acquaintances. Rare Books has titles from all three periods in the life of the Hogarth Press.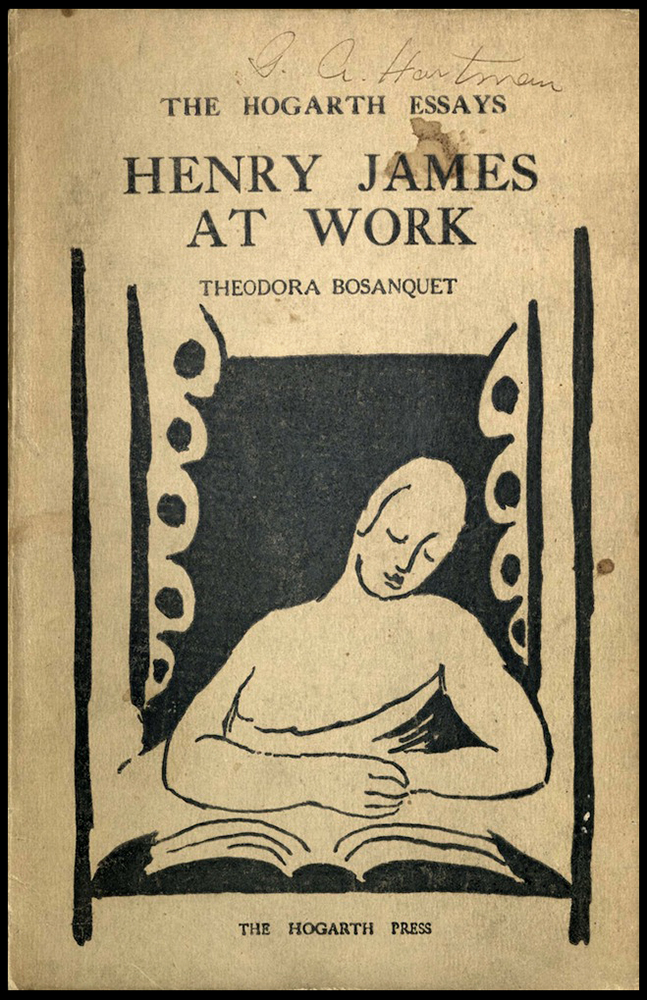 HENRY JAMES AT WORK 
Theodora Bosanquet (1880-1961)
London: Printed and published by Leonard and Virginia Woolf at the Hogarth Press, 1924
PS2123 B67 1924
Hand printed by Leonard and Virginia Woolf. Edition unknown but according to the publisher's ledger, five hundred and forty-four copies were sold by January 19, 1926. Cream paper wrappers printed in green.
---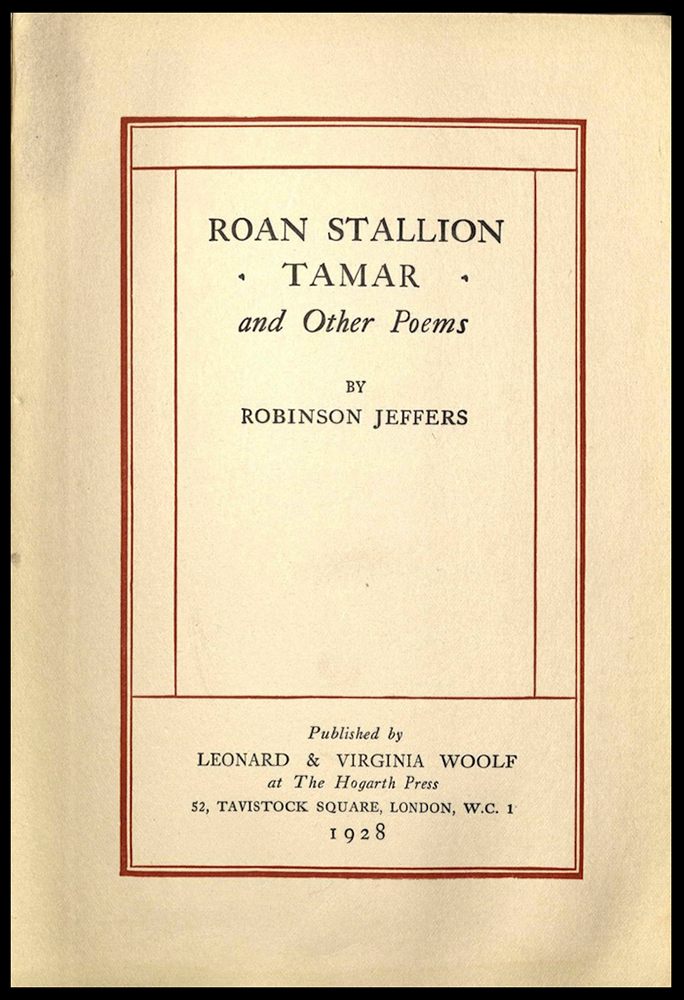 ROAN STALLION, TAMAR, AND OTHER POEMS 
Robinson Jeffers (1887-1962)
London: Leonard & Virginia Woolf at the Hogarth Press, 1928
PS3519 E27 R63
The dog barked; then the woman stood in the doorway, and hearing
iron strike stone down the steep road
Covered her head with a black shawl and entered the light rain;
she stood at the turn of the road.
A nobly formed woman; erect and strong as a new tower; the
features stolid and dark
But sculptured into a strong grace; straight nose with a high bridge,
firm and wide eyes, full chin,
Red lips; she was only a fourth part Indian; a Scottish sailor had
planted her in young native earth,
Spanish and Indian, twenty-one years before. He had named her
California when she was born;
That was her name; and had gone north.
…
She rose at length, she unknotted the halter; she walked and led
the stallion; two figures, woman and stallion,
Came down the silent emptiness of the dome of the hill, under
the cataract of the moonlight.
---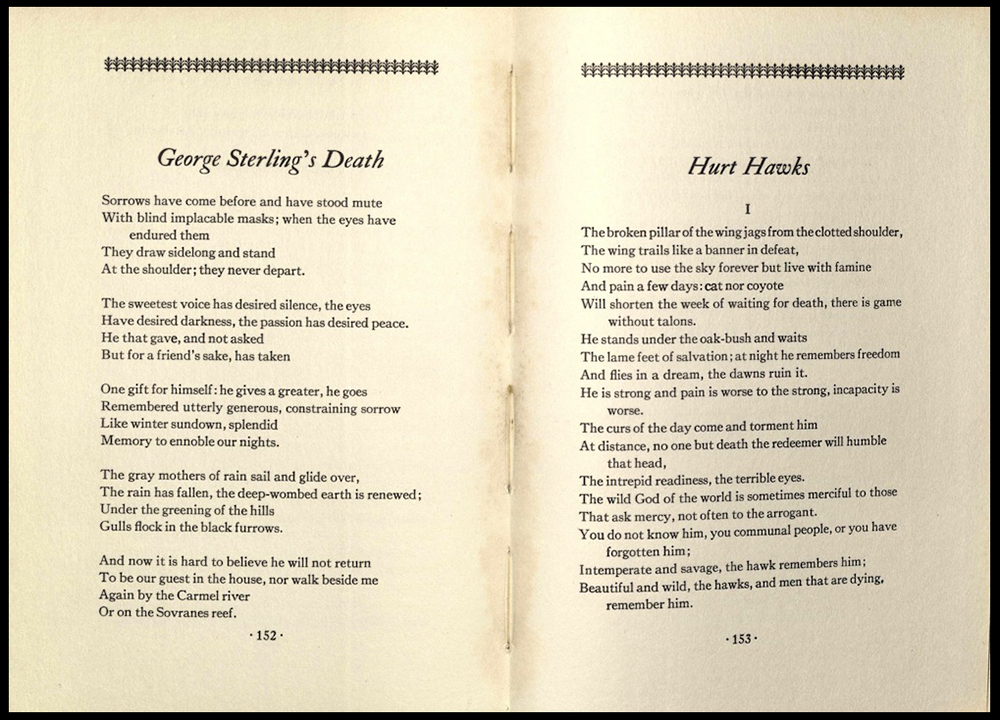 CAWDOR
Robinson Jeffers (1887-1962)
London: L. & V. Woolf at Hogarth Press, 1929
PS3519 E27 C35
Edition of five hundred copies.
---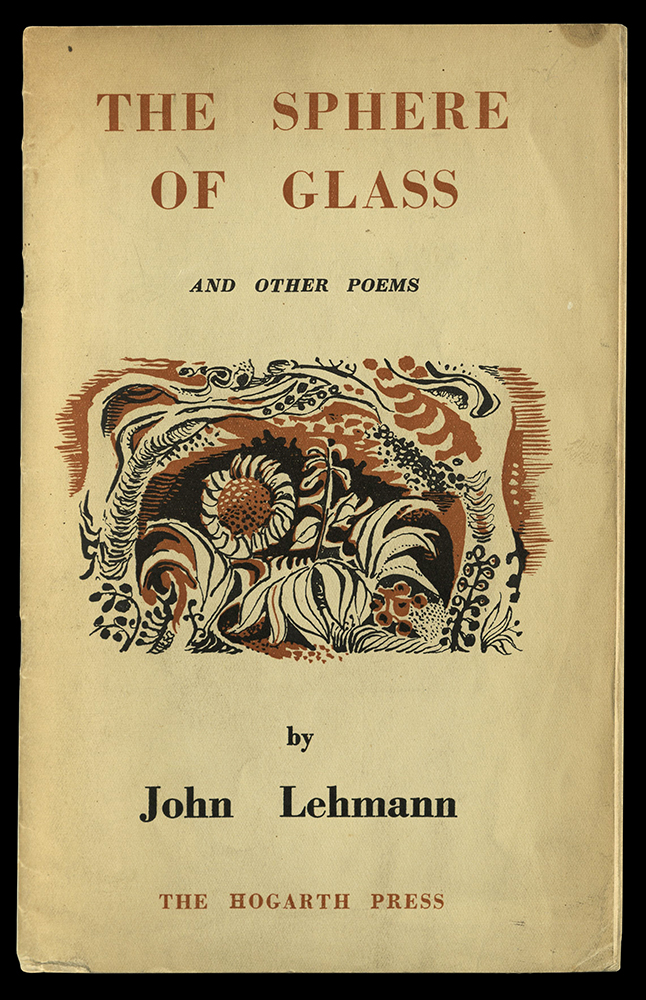 THE SPHERE OF GLASS, AND OTHER POEMS ... 
John Lehmann (1907-1987)
London: The Hogarth Press, 1944
PR6023 E4 S65 1944
Cover is illustrated. Bookplate of noted scholar and author Vivian de Sola Pinto (1895-1969) attached inside.
---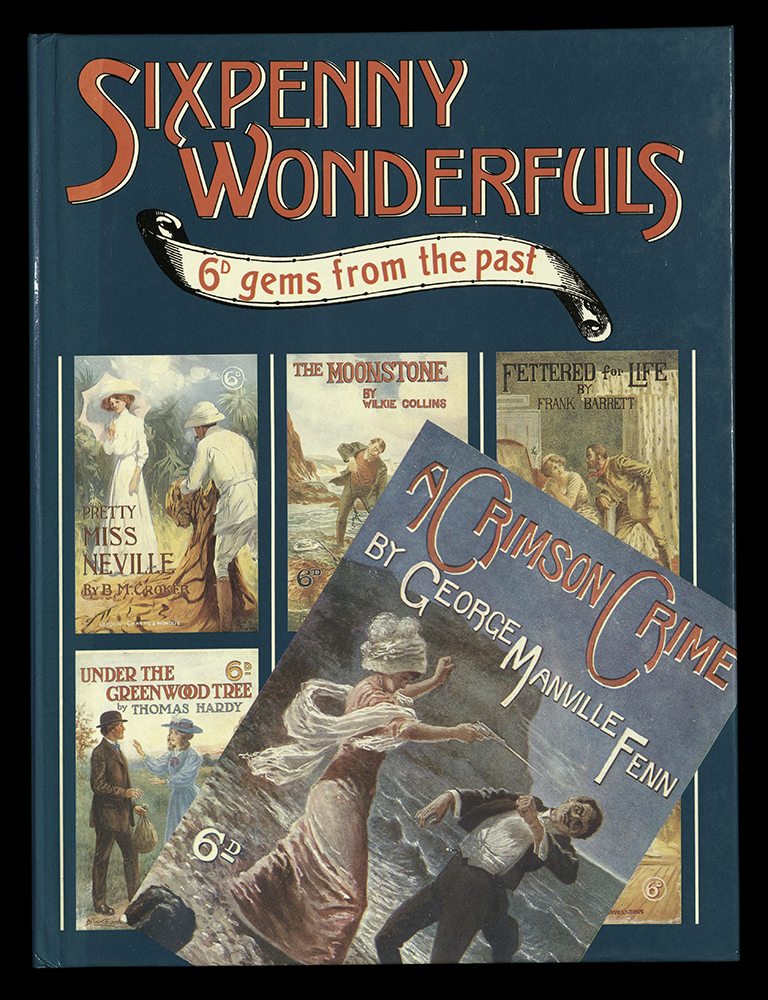 SIXPENNY WONDERFULS: 6D GEMS FROM THE PAST 
London: Chatto & Windus. Hogarth Press, 1985
Z325 C47 S59 1985
---
GOLDEN COCKEREL PRESS
The Golden Cockerel Press was one of the most important and productive of the English private presses during the early part of the twentieth century. Begun in 1920 by Harold Midgeley Taylor in a hut behind his house in Berkshire, England, the initial intention was to have authors help set and print their own works. As the printing enthusiasm of these writers waned, Taylor's emphasis moved from publishing original contemporary works to producing "beautifully printed editions of the Classics." After Taylor died in 1925, the artist Robert Gibbings directed the press until 1934 when Christopher Sandford became owner. It was under Gibbings that the press made its greatest productions, becoming one of the foremost publishers of illustrated books. Gibbings used his own work for illustration and the work of Eric Ravilious, John Nash, Eric Gill, and other well-respected artists. Eric Gill (1882-1940) was one of the great book designers of the twentieth century. Gill's illustrations for the press influenced the reintroduction of white-line wood engraving for book illustration. He designed several elegant typefaces for the press inspired by and modeled on his skills of stone carving, calligraphy, and wood engraving. Christopher Sandford turned the press into a publishing enterprise, moved it to London, and had commercial printers such as the Chiswick Press do the presswork. It was this move that allowed the press to survive the Great Depression and World War II, a time when many other fine presses closed. Under Sandford, Golden Cockerel Press published original manuscripts of T.E. Lawrence and others.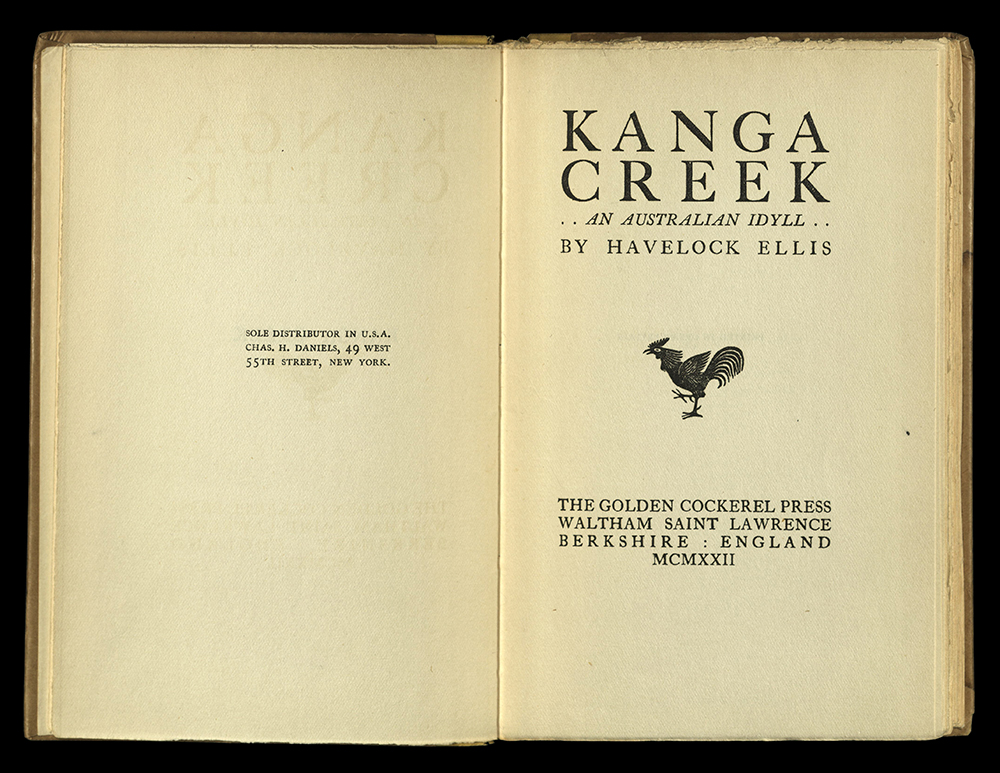 KANGA CREEK, AN AUSTRALIAN IDYLL 
Havelock Ellis (1859-1939)
Waltham Saint Lawrence, Berkshire: The Golden Cockerell Press, 1922
PR6009 L8 K33 1922
Because of Havelock Ellis' growing fame, the fledgling press was optimistic about the publication of Kanga Creek, a charming story of his early life as a schoolteacher in rural New South Wales. In 1924, however, when Robert Gibbins purchased the press, five hundred and twenty-five copies of Kanga Creek were still in the presses inventory. Edition of thirteen hundred and seventy-five copies.
---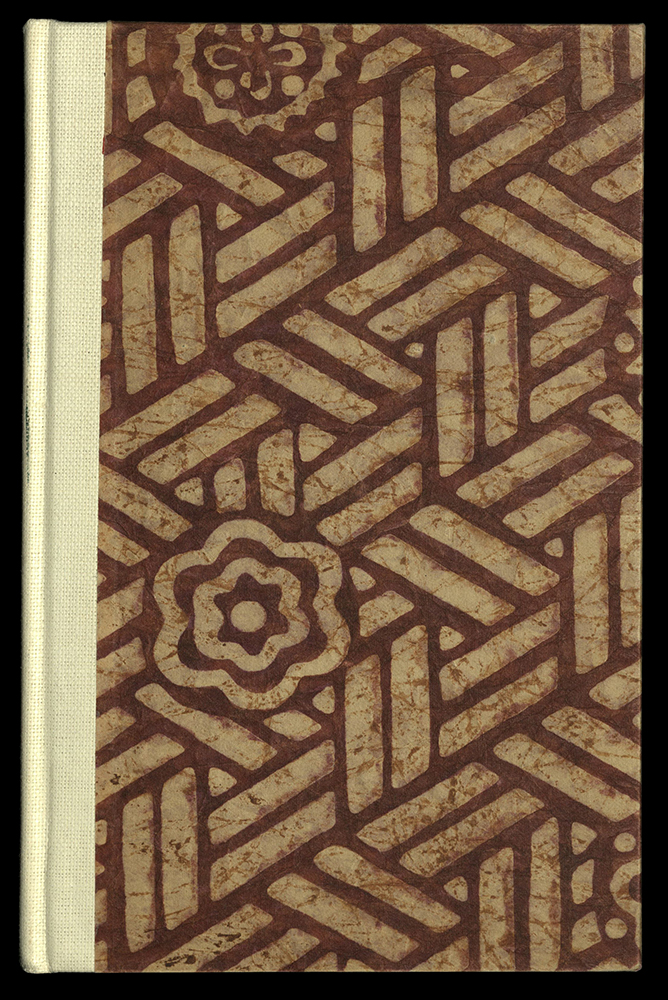 THE METAMORPHOSIS OF PIGMALION'S IMAGE
John Marston (1575-1634)
Waltham Saint Lawrence, Berkshire: Golden Cockerel Press, 1926
PR2694 M4 1926 
The text is taken from a 1598 edition. Illustrated with charming wood-engravings by Rene Ben Sussan, for the time a rare use of colored images.  In the autumn of 1926, Robert Gibbings resumed press use of 11-pt. type for Marston's Metamorphosis, the first of a new series of slim illustrated octavos. Gibbings chose the smaller format for this series to give him a way to use the smaller size of type which he had bought as part of his larger purchase from Taylors. Metamorphosis was the forty-sixth book published by Golden Cockerel Press. In 1940, when the presses inventory was being evacuated to safer grounds, there was one copy left. Edition of three hundred twenty-five copies. Rare Books copy is no. 77.
Yet all's conceit. But shadow of that blisse
Which now my Muse striues sweetly to display
In this my wondrous metamorphosis.
Daine to beleeue me, now I sadly say.
The stonie substance of his Image feature,
Was straight transform'd into a liuing creature.
---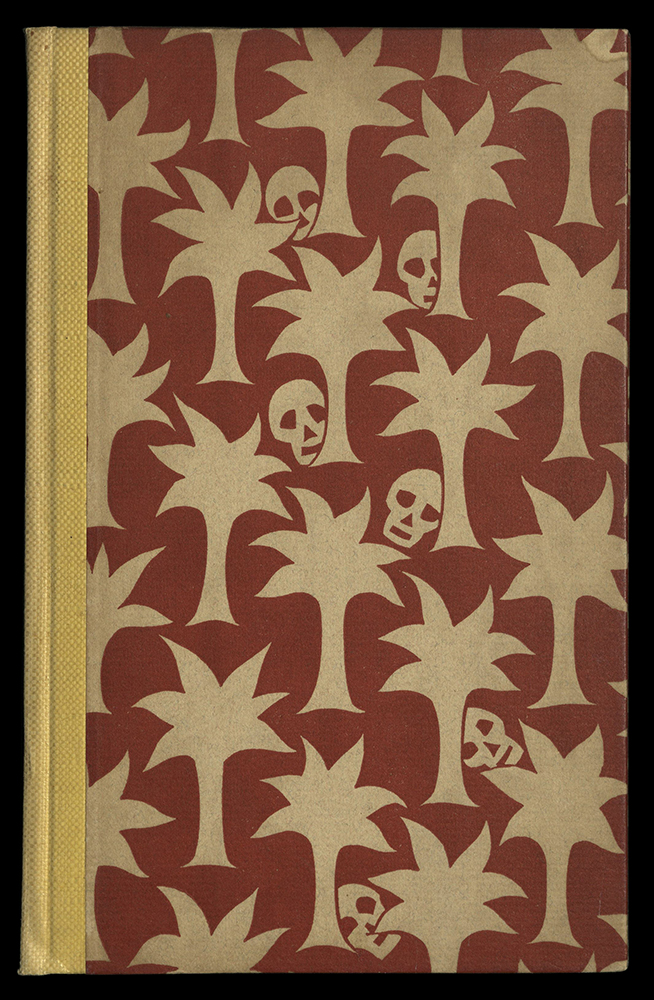 THE SEVENTH MAN; A TRUE CANNIBAL TALE OF THE SOUTH SEA ISLANDS...
Robert Gibbings (1889-1958)
Waltham Saint Lawrence, Berkshire: Golden Cockerel Press, 1930
NE1217 G53 S48 1930
From the late 1920's Gibbings had become interested in the literature of travel, exploration, and piracy. A trip to the South Pacific inspired Gibbings' minimalist story The Seventh Man, a pleasant but unscholarly venture into his new literary quest. Edition of five hundred copies. Rare Books copy is no. 310.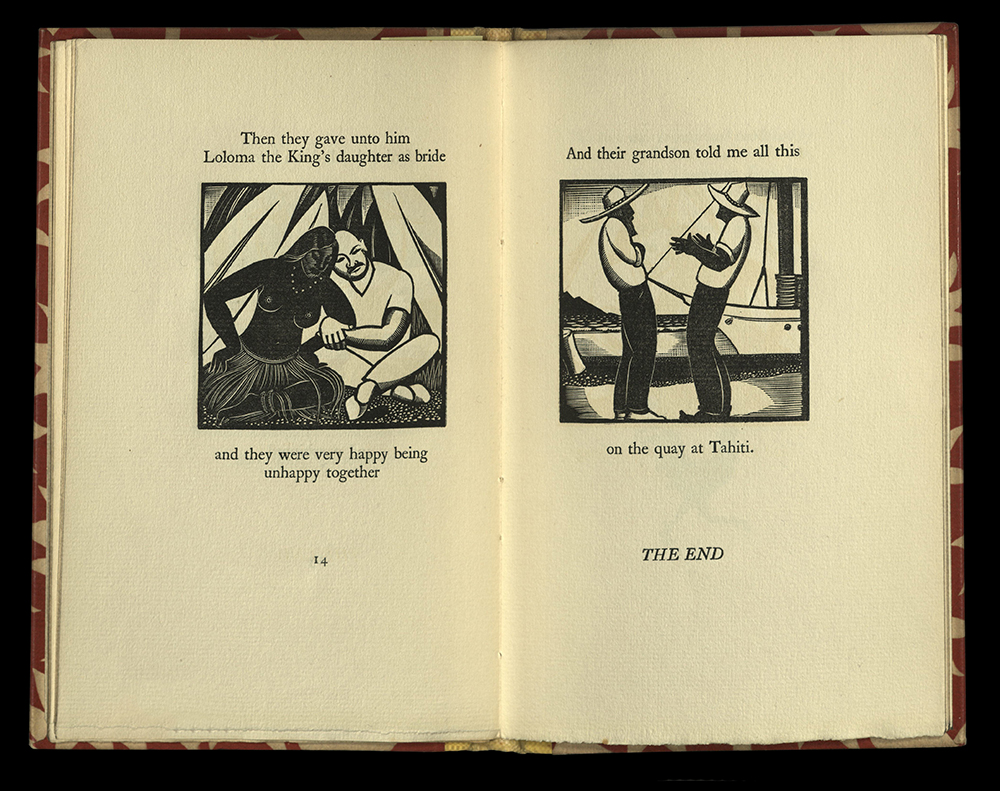 ---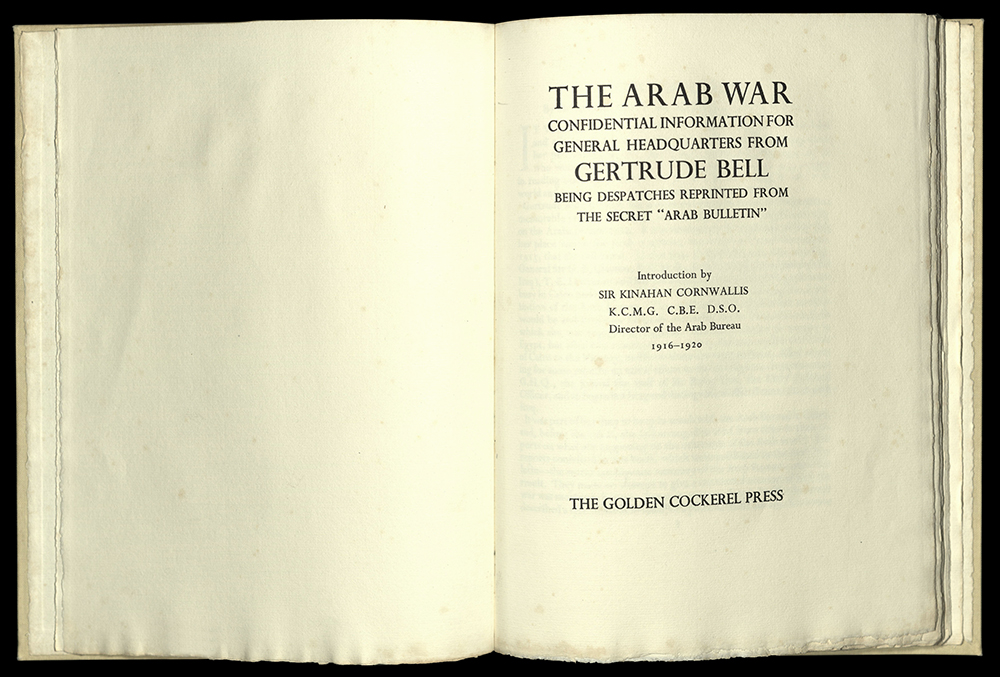 THE ARAB WAR; CONFIDENTIAL INFORMATION FOR GENERAL HEADQUARTERS FROM GERTRUDE BELL ... 
Gertrude Lowthian Bell (1868-1926)
London: The Golden Cockerel Press, 1940
D568.4 B45 1940
Printed by Chrisopher Sandford and Owen Rutter in Perpetua type on Arnold's mouldmade paper. Bound in one quarter Niger by S&S of London. During World War II, Owen Rutter worked for a time at the Ministry of Information in press censorship. Now a partner of Christopher Sandford in ownership of the press, Rutter weathered a lull in business and came up with the Arab Series. The second in this series was Bell's Arab War. Rutter had helpful contacts in the military and diplomatic world. The Director of the Arab Bureau provide the Introduction. Bell's sister lent photographs. After a review copy reached R. Marrs of the Board of Trade, Rutter received a letter from him stating that the longest essay in the book had, in fact, been written by Marrs. Rutter printed an errata slip. The Arab War sold well, covering its publishing expenses.  Edition of five hundred copies, numbered. Rare Books copy is no. 331.
---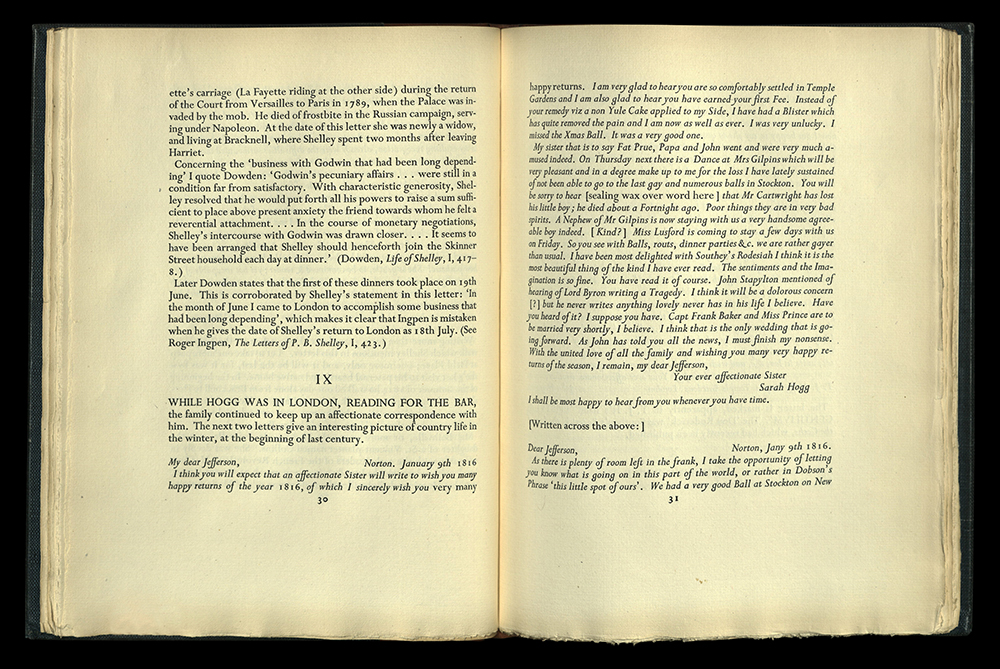 THE ATHENIANS; BEING CORRESPONDENCE BETWEEN THOMAS JEFFERSON HOGG AND HIS FRIENDS ... 
Thomas Jefferson Hogg (1792-1862)
London: The Golden Cockerel Press, 1943
PR4793 H3 A75 
The first of several books edited by Sidney Scott from letters written by Thomas Jefferson Hogg, Shelley and his wives Harriet and Mary, Leigh Hunt, Thomas Love Peacock, and others in that brilliant nineteenth century literary circle. Scott was a good writer and had an outstanding knowledge of this subject. The letters were of considerable interest. Reviewers were enthusiastic about this book, treating its publication as a great literary event. Sales were brisk. The Athenians produced a healthy profit for the press. Edition of three hundred and fifty copies, numbered. Rare Books copy is no. 192.
---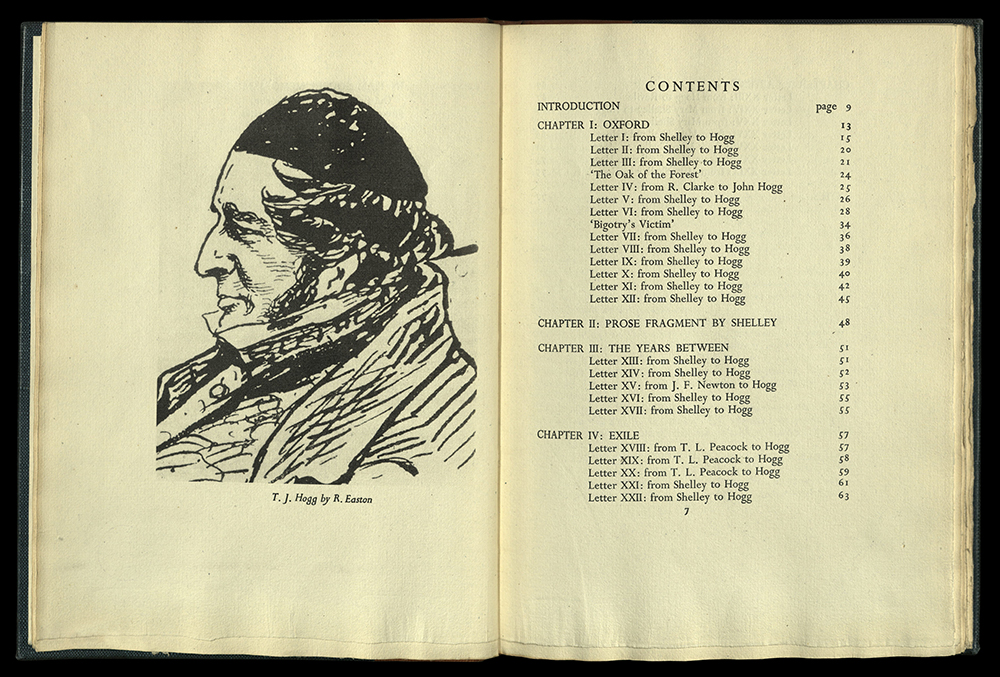 SHELLEY AT OXFORD
London: The Golden Cockerel Press, 1944
PR5431 A357
Edition of five hundred copies, numbered. University of Utah copy is no. 92.
---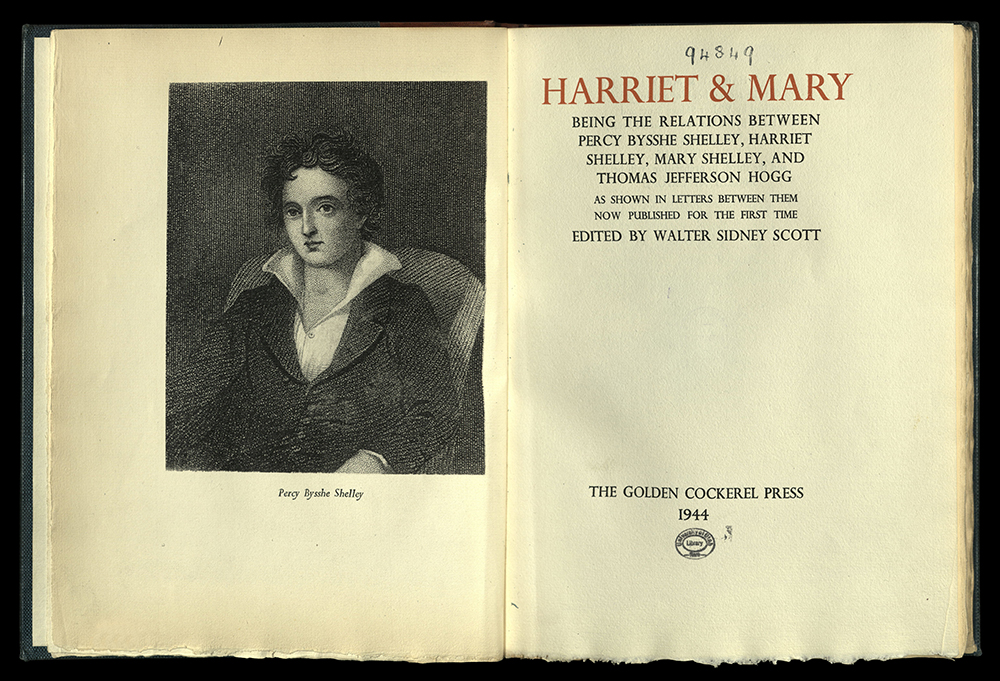 HARRIET & MAY 
Percy Bysshe Shelley (1792-1822)
London: The Golden Cockerel Press, 1944
PR4793 H4 A75
Letters of Percy Bysshe Shelley and Mary Shelley written to Thomas Jefferson Hogg. Edition of five hundred copies, numbered. Rare Books copy is no. 102.
---

THE FIRST CRUSADE
London: The Golden Cockerel Press, 1945
D161.1 G42 1945
Anonymously written circa 1100, Gesta Francorum et aliorum Hierosolimitanorum is the earliest account of the first Crusade. This is a translation by Somerset De Chair based upon a collation of three mediaeval manuscripts accepted as the closest to the original text. The First Crusade was one of the first books issued in the years after the war. The publication of these books would either make or break the presses reputation for fine books. De Chair's translation demanded an engraver who could deal with scenes of war. Clifford Webb was chosen to illustrate the book with six wood engravings. De Chair was delighted with them. The book was extremely successful.  Bound in vellum with a gilt design on the front cover, gilt top edge and other edges untrimmed. Edition of five hundred copies, numbered. Rare Books copy is no. 133.
---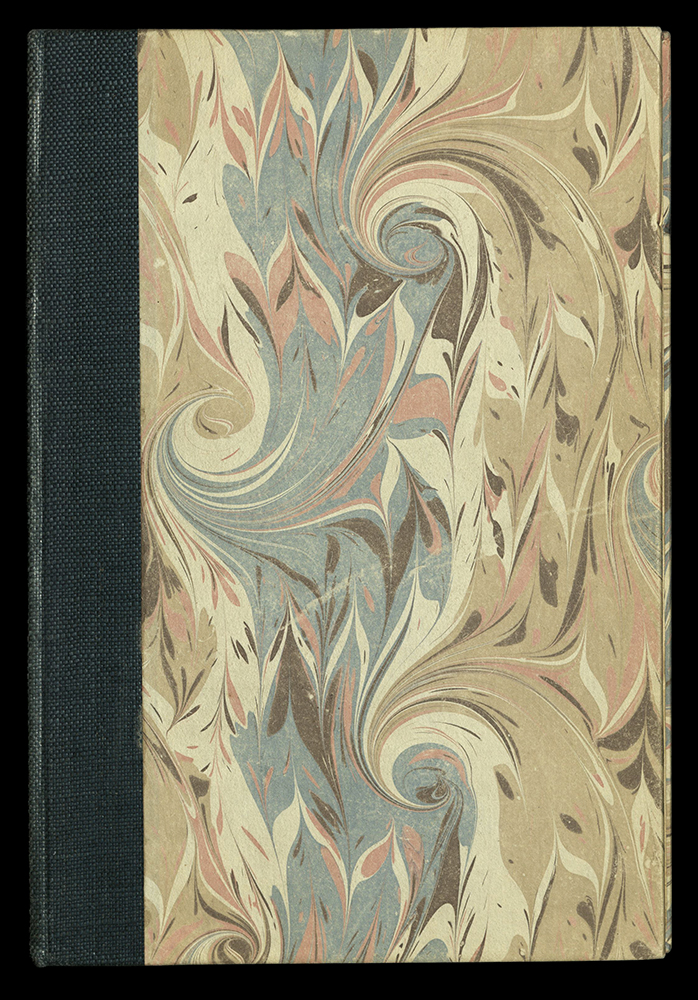 ELEGY WRITTEN IN A COUNTRY CHURCH-YARD; WITH A FOREWORD BY CHISTOPHER SANDFORD ... 
Thomas Gray (1716-1771)
London: Golden Cockerel Press, 1946
PR3502 E5 1946
Edition of seven hundred and fifty copies, numbered. Rare Books copy is no. 574.
Here rests his head upon the lap of Earth
A youth to Fortune and to Fame unknown.
Fair Science frown'd not on his humble birth,
And Melancholy mark'd him for her own.
Large was his bounty, and his soul sincere,
Heav'n did a recompense as largely send:
He gave to Mis'ry all he had, a tear,
He gain'd from Heav'n ('twas all he wish'd) a friend.
No farther seek his merits to disclose,
Or draw his frailties from their dread abode,
(There they alike in trembling hope repose)
The bosom of his Father and his God.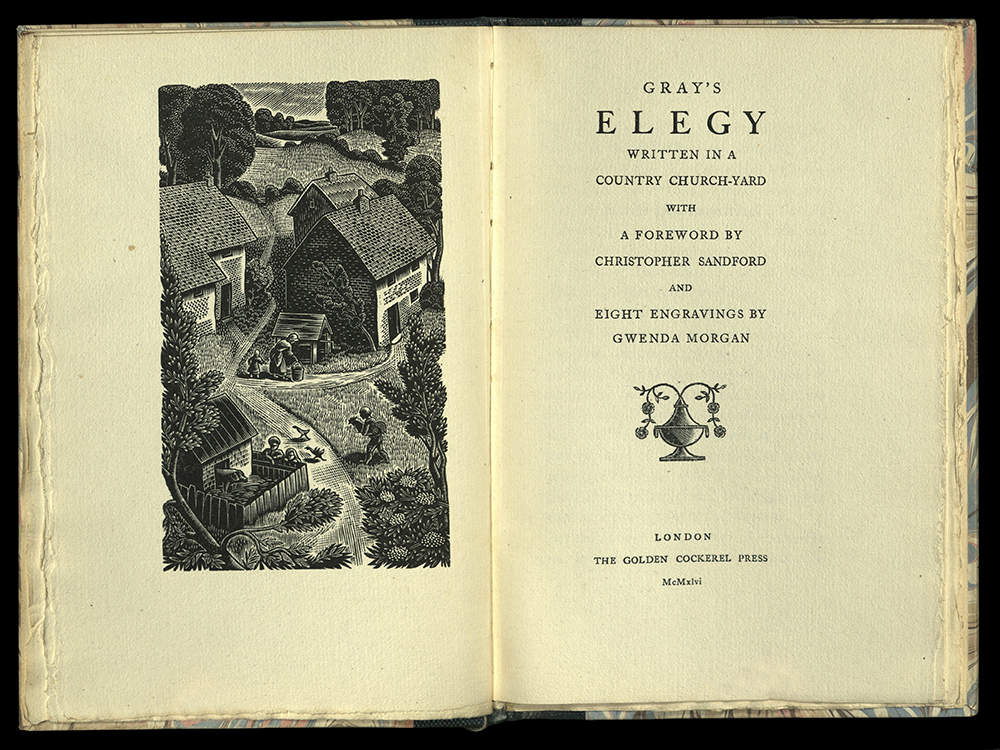 ---
GILGAMESH, KING OF ERECH
F. L. Lucas (1894-1967)
London: Golden Cockerel Press, 1948
PR6023 O3 G5 1948 
The story of part man, part god and hero Gilgamesh was first recorded on clay tablets well before 2000 bc. Gilgamesh was a historical king who reigned circa 2700 bc, the fifth in line of the founding first dynasty of Ur, centered around the ancient city of Urak, known in the Old Testament as Erech. The historical Gilgamesh built one of the first temples in the holy city of Nippur, now ad Diwaniyah. This edition is a free translation of the Sumerian epic of Gilgamesh, with twelve wood-engravings by Dorothea Braby. Dorothea Braby's engravings showed her great versatility. They were powerful and unlike anything she had designed for earlier Cockerel publications. She considered them some of her best work. Christopher Sandford choice of types for the text and display in this book were uncharacteristic but successful none-the-less. However, Gilgagmesh was printed at the Shenval Press, and the presswork left a lot to be desired. Edition of five hundred copies, numbered. Rare Books copy is no. 263.
The white-haired Ziusudra gazes dreaming out to sea.
Above his white head, the tall palms dream also,
Undulating slowly the green indolence of their leaves.
The old man remembers
Long days, long since, when he watched other waves
Heaving like these, heaving onward eternally,
Yet never breaking
On any earthly shore;
For earth itself lay drowned.
Now he watches them breaking for ever,
Like the years;
The blue of his old eyes changes no more
Than the blue of ocean,
And his hoar locks blow like its foam.
Almost as ancient he seems as the rock of granite,
Of red granite, where he sits above the sea.
Yet still his immortal soul regrets
The brief years of his mortality.
---

THE RUBÁIYÁT OF OMAR KHAYYÁM
Omar Khayyam (1048-1131)
London: The Golden Cockerel Press, 1958
PK6513 A1 1958 
This is Edward Fitzgerald's translation, reprinted from the first edition. In the late thirties, The Golden Cockerel had printed a disappointing edition of the Rubaiyat, produced by Buckland Wright. This 1958 edition, illustrated with drawings by J. Yunge Bateman, was much more to Christopher Sandford's liking, who found the drawings "lush," but others disliked them intensely. Edition of two hundred numbered copies, of which nos. 1-75 are specially bound and issued with an extra set of the seven plates together with two more not printed in the book. Rare Books copy is no. 43, with an extra set of plates.
A Book of Verses underneath the Bough,
A Jug of Wine, a Loaf of Bread--and Thou
    Beside me singing in the Wilderness
Oh, Wilderness were Paradise enow!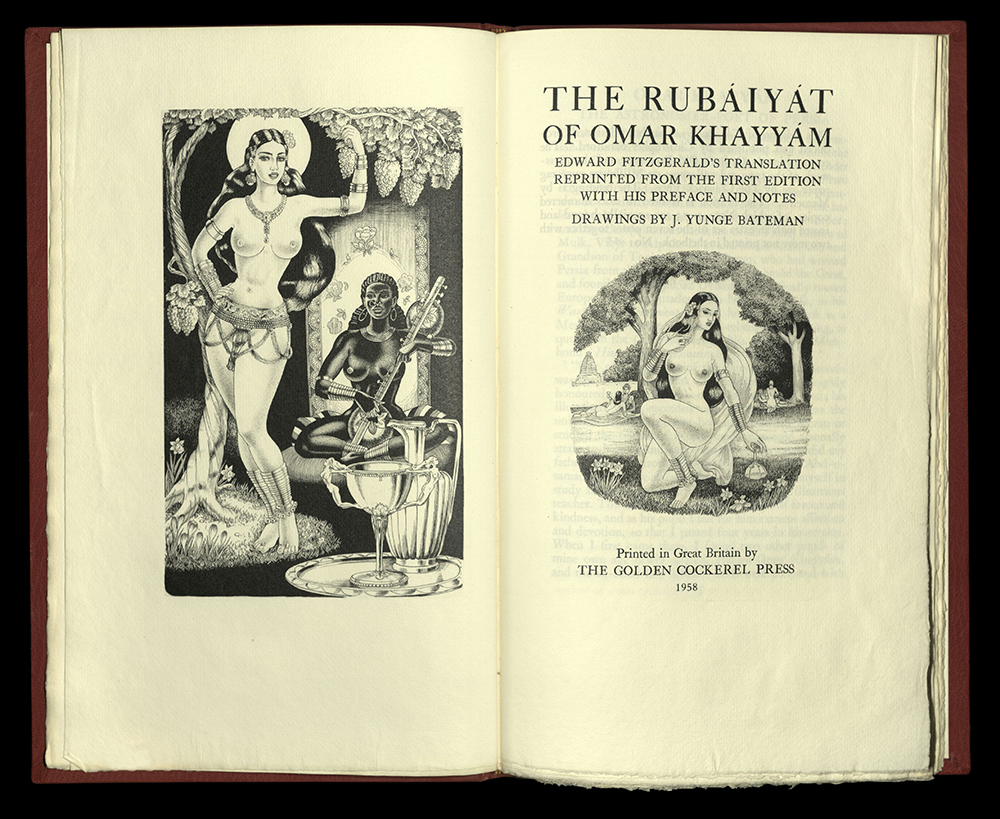 ---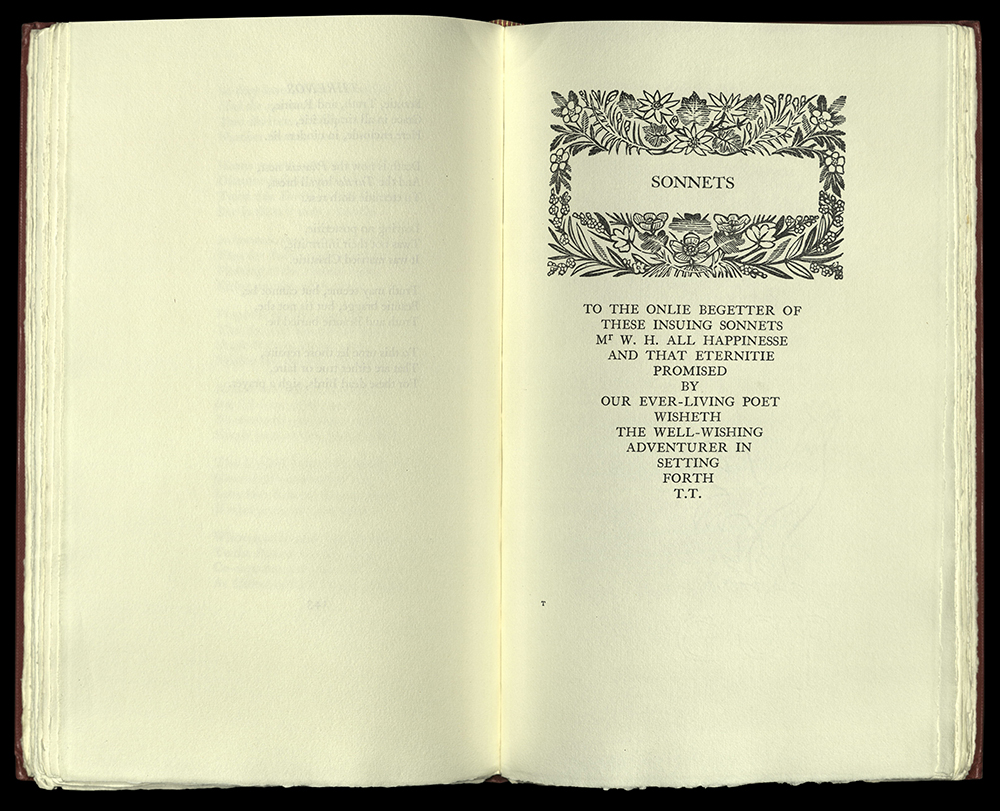 POEMS & SONNETS, EDITED BY GWYN JONES 
William Shakespeare (1564-1616)
London: Golden Cockerel Press, 1960
PR2841 A2 J6 
Thomas Yoseloff bought the Golden Cockerel Press in 1959. The first book issued under the new owner was Poems & Sonnets.
---
GREGYNOG PRESS
Gregynog Press was founded by the sisters Gwen and Daisy Davies in 1922 at their home, Gregynog Hall in Wales. The sisters bought the hall in 1920 with the original intent of providing a center where ex-servicemen could recuperate and be trained in a craft such as printing or wood-engraving. Training was provided by locals hired to work at the press. Gregynog Press became one of the foremost private presses of the pre-WWII era, setting standards rarely equaled. The sisters took little part in the press. Relations with the staff were constantly strained. George Fisher, the chief binder, stayed for twenty years, but others – compositors, pressmen, binders, and artists came and went. One of the factors for the high turnover was the remoteness of Gregynog. The Gregynog type was designed by Eric Gill, who also designed type for Golden Cockerel Press. It was first used in 1935. An average of two books were produced every year up to 1940 – in all forty-two excellently bound books were produced. Fine illustration was another distinctive characteristic of the books from Gregynog Press. Wood engravings from artists such as Blair Hughes-Stanton and Agnes Miller combined harmoniously with well-set typography and quality printing. Some of the illustrations were hand colored. The press closed in 1940 due to WWII. Binder George Fisher stayed on to complete special bindings. In 1978, the press was re-established under the name Gwasg Gregynog.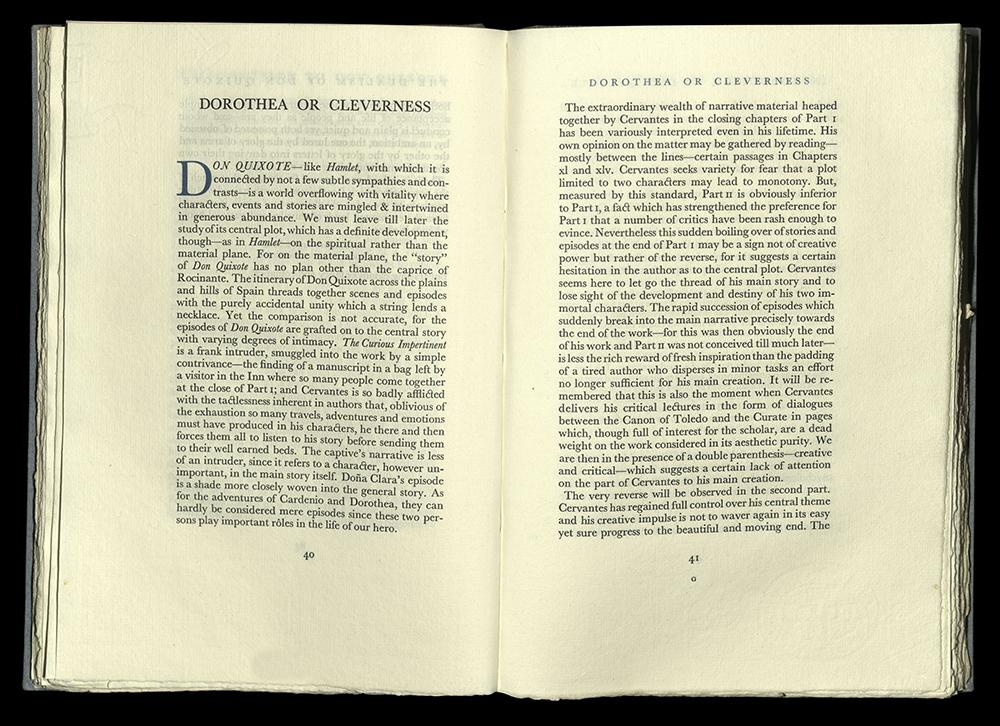 DON QUIXOTE 
Salvador de Madariaga (1886-1978)
Newtown, Wales: Gregynog Press, 1934
PQ6352 M33
Edition of two hundred and fifty copies. Rare Books copy is no. 85.
---
FANFROLICO PRESS
Fanfrolico Press began in 1922 in Sydney, Australia. In 1923, John Kirtley, a printer, joined forces with Jack and Philip Lindsay, producing a number of works culminating in Jack's translation of Lysistrata of Aristophanes, published in 1925. Kirtley and Jack moved to London in early 1926, where they began publishing elegant translations of classics under the name of Fanfrolico Press. Their goal was to issue beautiful, limited editions. Many of these editions were illustrated by Jack's father, the legendary Australian artist, Norman Lindsay, who got his start as a political cartoonist. Jack Lindsay was the printer for most of these editions. As a writer, Jack Lindsay was prolific. In 1927 he began editing the London Aphrodite, a literary magazine published by the press. He published many of his own translations, a study of William Blake – from whom he derived much of his romantic aestheticism – and several works of poetry. Fanfrolico Press collapsed in 1930 due first to bad business judgment and then to the Great Depression. After the collapse of the press, Jack Lindsay began writing fiction and would publish forty novels in his lifetime. Although his later writings were widely read in England, they were particularly popular in the Soviet Union. At the end of the Great Depression Lindsay joined the Communist Party of Great Britain.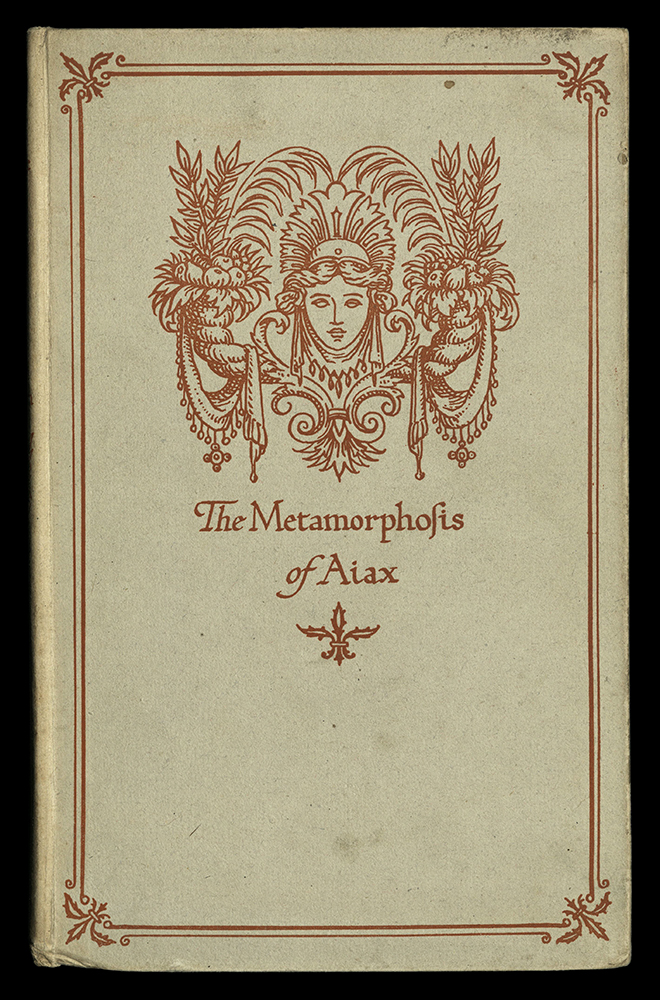 THE METAMORPHOSIS OF AJAX 
John Harington (1560-1612)
London: Fanfrolico Press, 1927
PR2284 N4 1927
Edition of four hundred and fifty copies. Rare Books copy is no. 64.
---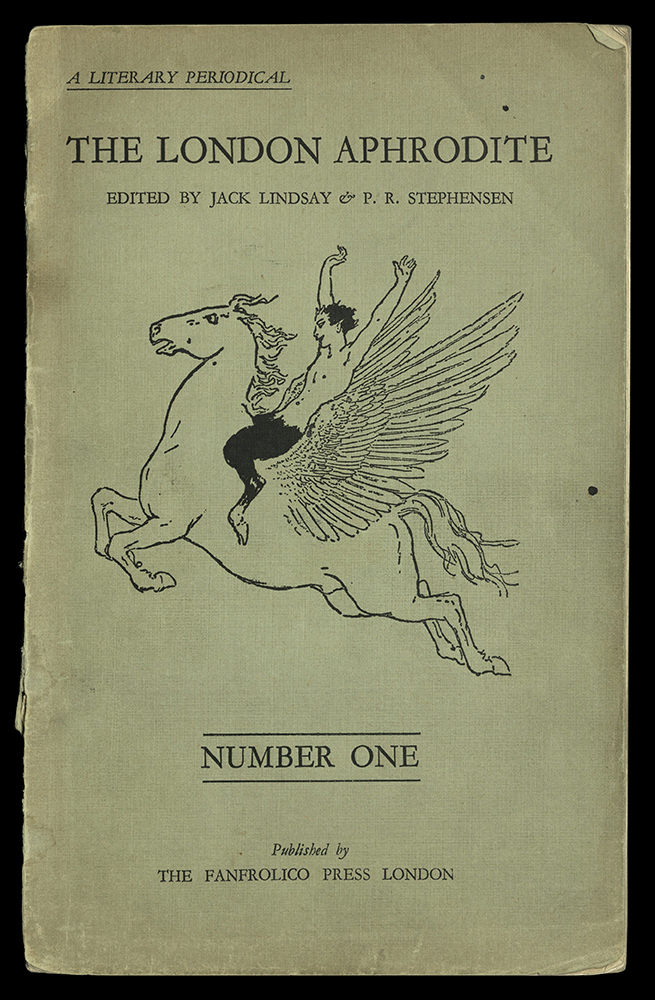 THE LONDON APHRODITE: A MISCELLANY OF POEMS, STORIES, AND ESSAYS BY VARIOUS HANDS ... 
London: The Fanfrolico Press, 1928-29
PR1149 L58 1928
Edited by Jack Lindsay and P.R. Stephensen.
---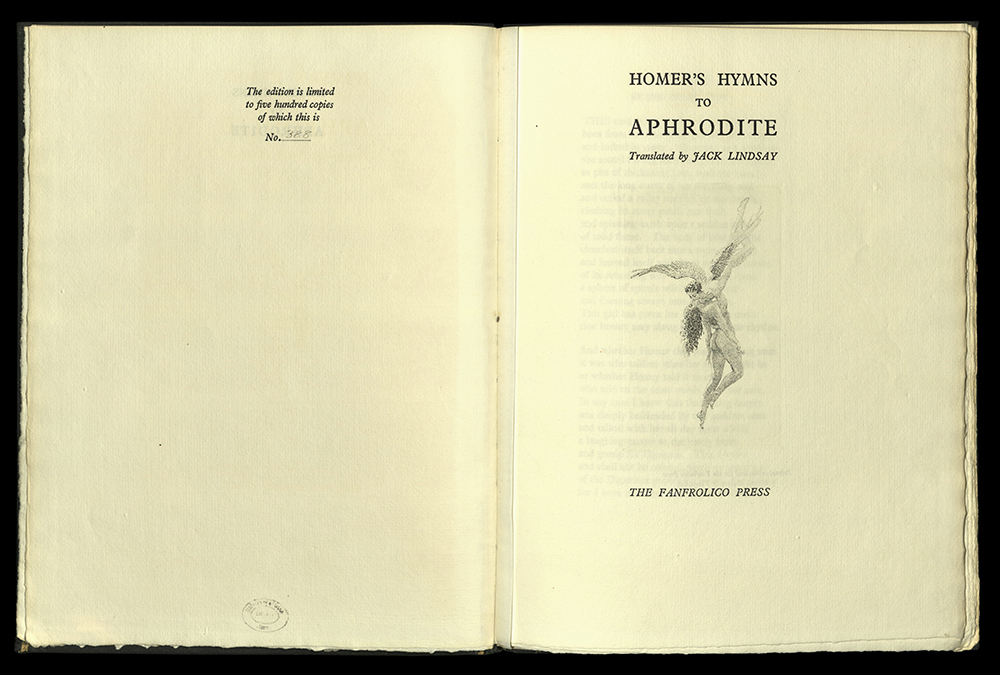 HOMER'S HYMNS TO APHRODITE 
Homer
London: Fanfrolico Press, 1929?
PA4025 H87 L56 1929
Edition of five hundred copies. Rare Books copy is no. 338.
---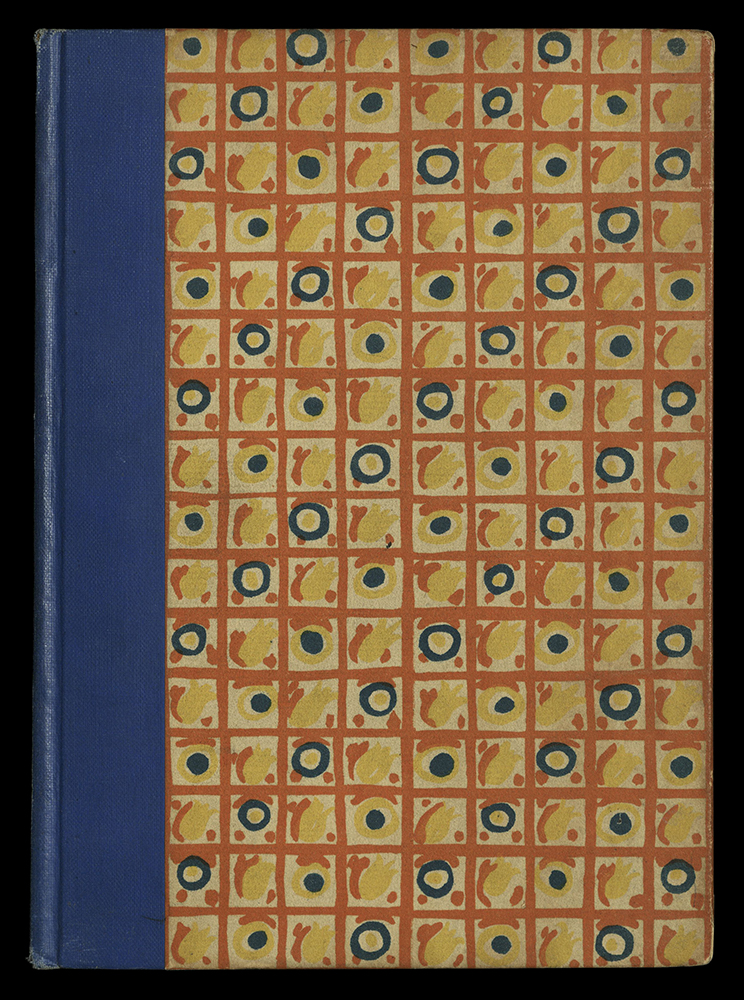 FLEAS IN AMBER : VERSES AND ONE FABLE IN PROSE ON THE PHILOSOPHY OF VERMIN
London: The Fanfrolico Press, 1930
Z232 F25 F5 1930 
The fifth book published by the press. Edition of two hundred and fifty copies. Rare Books copy is no. 129.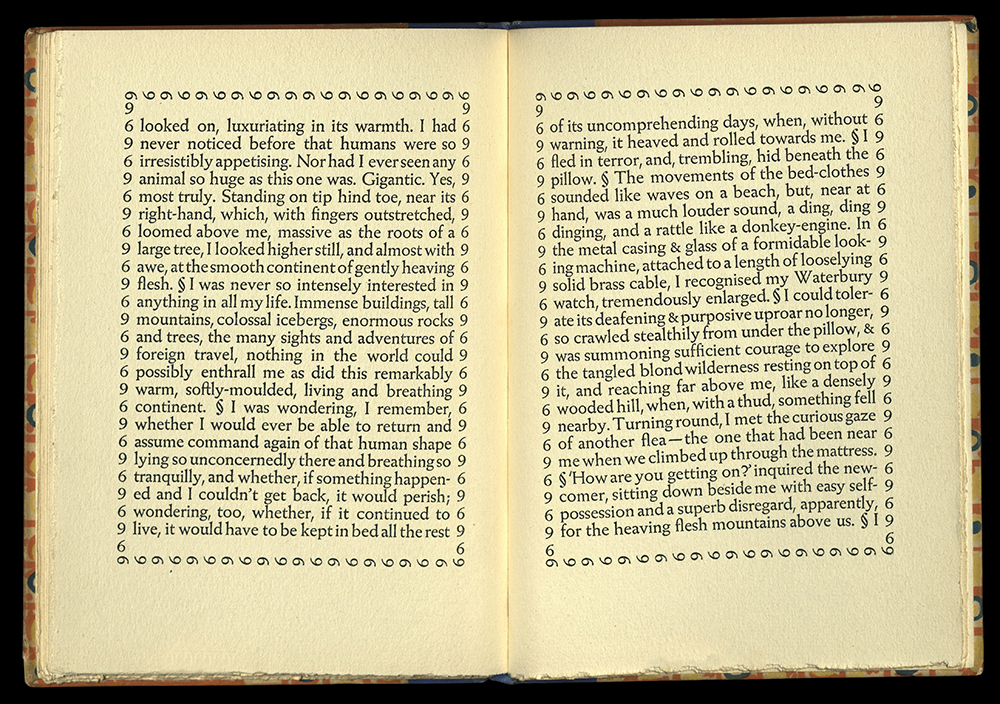 ---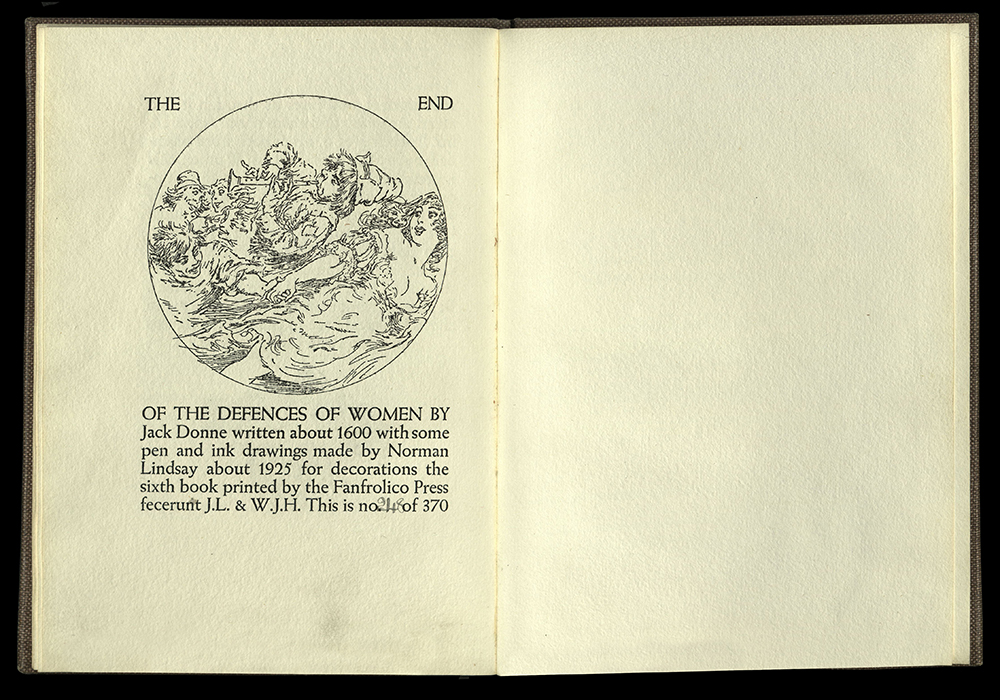 A DEFENCE OF WOMEN FOR THEIR INCONSTANCY & THEIR PAINTINGS, MADE BY JACK DONNE ...  
John Donne (1572-1631)
London: Fanfrolico Press, 1930
PR2247 D4 1930
Title vignette. The sixth book printed by the Fanfrolico Press. Edition of three hundred and seventy copies. Rare Books copy is no. 248.
---

GUENEVERE : TWO POEMS 
William Morris (1834-1896)
London: The Fanfrolico Press, 1930
PR5078 G84 1930
These illustrations by Dante Gabriel Rossetti were not made specifically for this edition. Yet, designer Jack Lindsay used them to achieve a strong sense of unity between text and image. This was one of the last books produced by Fanfrolico. Printed on Barcham Green Vellum with Weiss Antiqua type. Bound in brown paper boards with a black linen spine and fore-edge, title and authors in gilt. Edition of four hundred and fifty copies. Rare Books copy is no. 14.
She would not speak another word, but stood
Turn'd sideways; listening, like a man who hears

His brother's trumpet sounding through the wood
Of his foes' lances. She lean'd eagerly,
And gave a slight spring sometimes, as she could

At last hear something really; joyfully
Her cheek grew crimson, as the headlong speed
Of the roan charger drew all men to see,
The knight who came was Launcelot at good need.
---
BLACK SUN PRESS
Harry Grew Crosby was born in Boston's Back Bay on June 4, 1898, the son of one of the richest banking families in an area full of rich banking families. A decorated WWI veteran and Harvard graduate, he went to Paris where he worked at a bank owned by his uncle, J.P. Morgan. During his brief stint at his uncle's bank, he became enamored with the Parisian literary scene and decided to become a writer. In 1927, Harry and his poet wife, Caresse, founded Editions Narcisse (named after Caresse's dog), which they eventually renamed Black Sun Press.  The small press produced beautiful and now much-sought-after editions of Edgar Allan Poe, Oscar Wilde, D.H. Lawrence, Hart Crane, Kay Boyle, James Joyce, T.S. Elliot, and others. The press also published a number of Harry and Caresse's works. After Harry Crosby committed suicide in 1929, Caresse continued Black Sun Press, adding a new imprint of paperback reprints.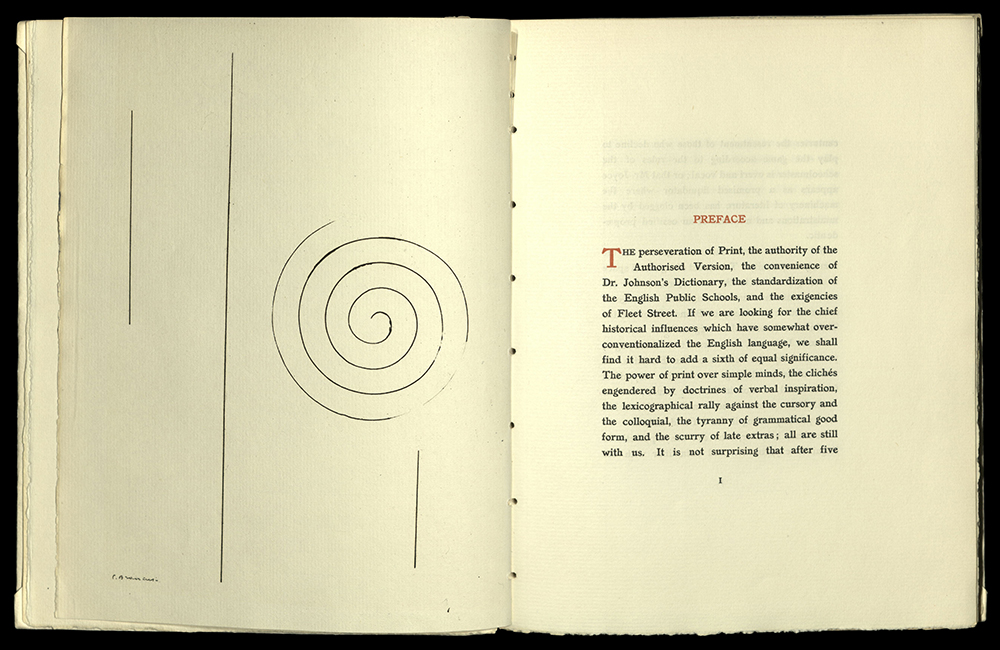 TALES TOLD OF SHEM AND SHAUN
James Joyce (1882-1941)
Paris: The Black Sun Press, 1929
First edition
PR6019 09 T35 1929
Black Sun Press commissioned the Romanian sculptor Constantin Brancusi to create a portrait of Joyce for this edition. When Brancusi submitted a fairly realistic portrait, it was promptly rejected and a more abstract rendering was requested. The result is a witty, celebrated distillation of Joyce's features. This copy is one of five hundred printed on in hand-set Caslon under the direction of Harry and Caresse Crosby.
---
HOURS PRESS
Hours Press was founded in 1927 by Nancy Cunard, an ex-patriot from the English upper-class. Cunard, who began writing poetry in the 1910's, settled in Paris after World War I. There she became involved in the Dada, Surrealist, and Modernist movements. The Hours Press was begun in an old farmhouse in La Chapelle-Reanville, Normandy. Cunard specialized in publishing writers who were having a difficult time being recognized elsewhere. Ezra Pound and Samuel Beckett were two of the presses early authors. Hours Press closed after four years. Nancy Cunard became involved in the civil rights movement in the United States, collecting writings by and about African-Americans, which she then edited and published in the anthology Negro in 1934. From 1936-1939 she lived with Pablo Neruda in Madrid. Cunard died in Paris in 1965.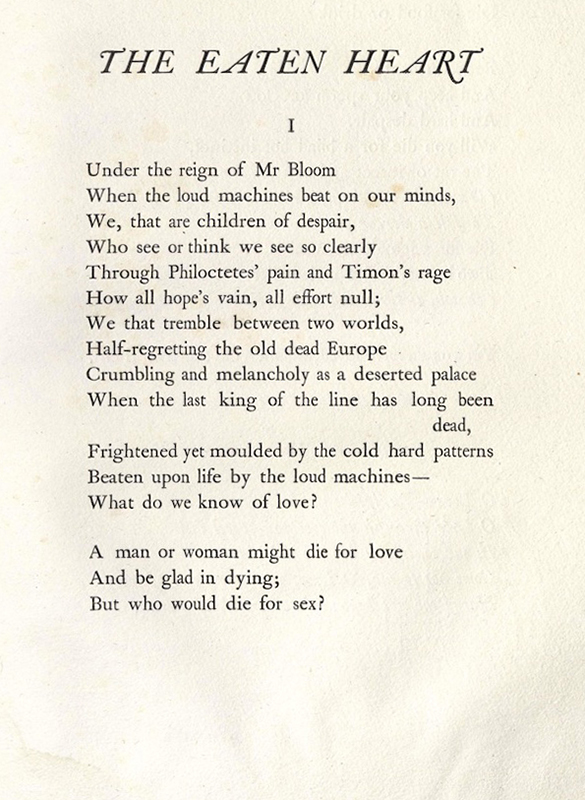 THE EATEN HEART
Richard Aldington (1892-1962)
Chapelle-Reanville, Eure, France: The Hours Press, 1929
PR6001 L4 E3 1929
Richard Aldington was one of the first three Imagist poets, along with Ezra Pound and H.D. In 1912, the three poets established a set of principles to guide their writings. Pound later reported these as "1. Direct treatment of the 'thing' whether subjective or objective. 2. To use absolutely no word that does not contribute to the presentation. 3. As regarding rhythm: to compose in the sequence of the musical phrase, not in the sequence of a metronome." This is the fourth book printed by Hours Press. Edition of two hundred copies, signed. University of Utah copy is no. 60.
We that tremble between two worlds,
Half-regretting the old dead Europe
Crumbling and melancholy as a deserted palace
When the last king of the line has long been dead,
Frightened yet moulded by the cold hard patterns
Beaten upon life by the loud machines –
What do we know of love?
---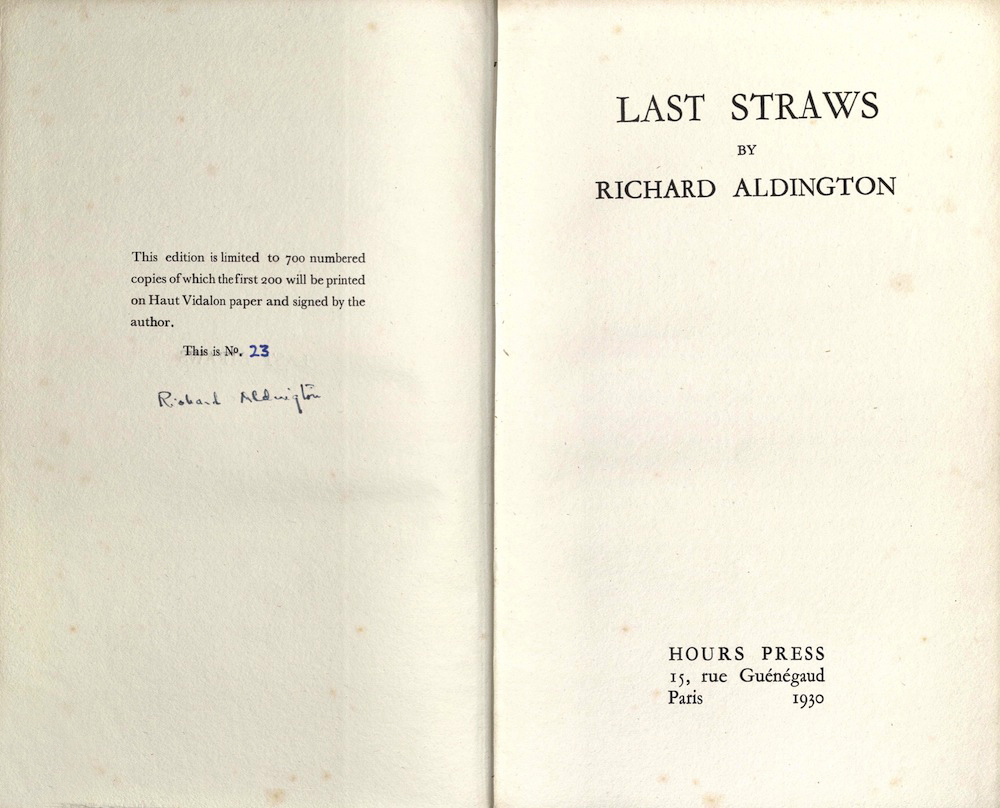 LAST STRAWS 
Richard Aldington (1892-1962)
Paris: Hours Press, 1930
First edition
PR6001 L4 L3 1930 
Poet Richard Aldington's experience in military active duty during World War I had a great influence on his writing, which would become savagely satirical. The 1920's and 1930's were a time of great advancement for his career as a writer and a critic. Edition of seven hundred copies, the first two hundred of which are printed on Haut Vidalon paper and signed by the author. Rare Books copy is no. 23.
---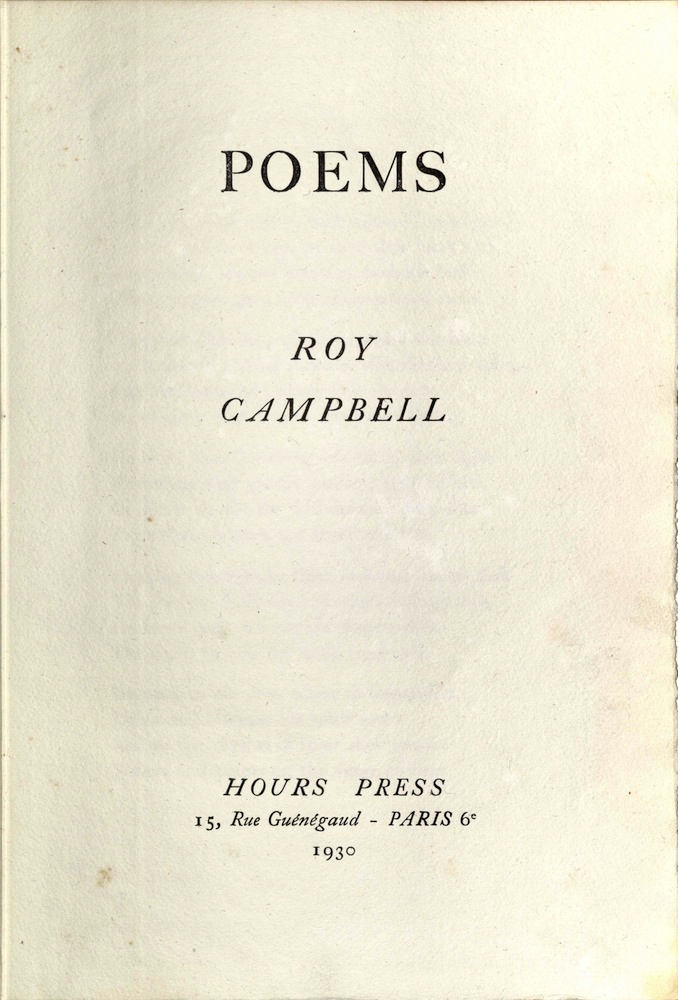 POEMS
Roy Campbell (1901-1957)
Paris: Hours Press, 1930
First edition
PR9369.3 C35 P59 1930
Roy Campbell was considered by his peers – T.S. Eliot, Dylan Thomas, Edith Sitwell, and others – one of the finest poets of the twentieth century. Born in South Africa, he said that his work was influenced by the Zulu language, which he learned as a child. His friend Wyndham Lewis modeled the character of Zulu Blades after Campbell in the novel, The Apes of God. The African influence is apparent in Campbell's poetry – lengthy, lyrical, and vibrant. Hand set and letterpress printed. Edition of two hundred copies, signed by the author.
Already now the clanging chains
Of geese are harnessed to the moon:
Stripped are the great sun-clouding planes:
And the dark pines, their own revealing,
Let in the needles of the noon.
---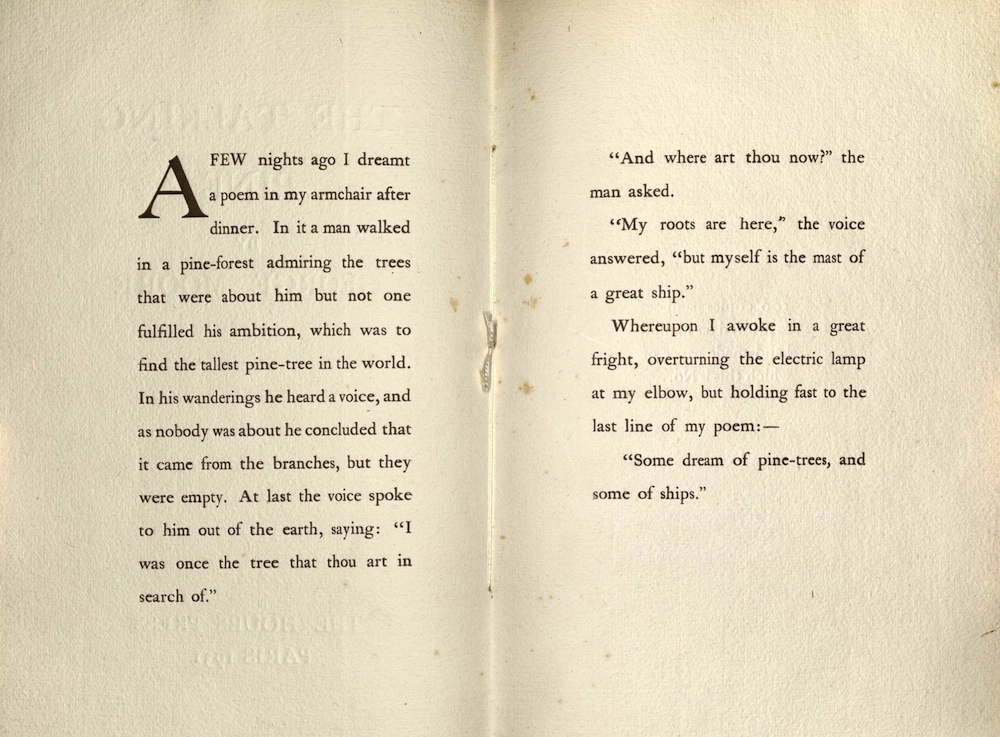 THE TALKING PINE
George Moore (1852-1933)
Paris: Hours Press, 1931
PR5042 T3 1931
George Moore's father died when Moore was just eighteen, leaving him with an estate large enough to have the leisure to pursue his artistic, literary, and philosophical interests. He spent the next several years in Paris before returning to London. In 1901 he moved to Dublin and participated in the founding and development of the Irish Renaissance. It was during this time that he developed his modernist form. He finally settled down again in London, where he remained for the rest of his life. Hand set and letterpress printed on Maillol handmade paper. Edition of five hundred copies. Rare Books copy is no. 70.