Audio Studio
The Marriott Library's Audio Studio assists the University of Utah community in integrating digital learning objects into curriculum/course and campus affiliated projects. It houses a soundproof Studio with professional microphones, digital recorder and the capacity for creating, recording and editing digital sound files. Matriculating Students, Staff and Faculty are eligible to use the Audio Studio. 
Location
The Audio Studio is located within the Faculty Center, Room 1705-X, on Level 1 of the Marriott Library.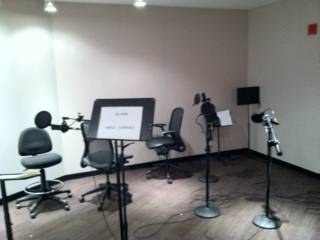 Performance Room, with microphones, of the Audio Studio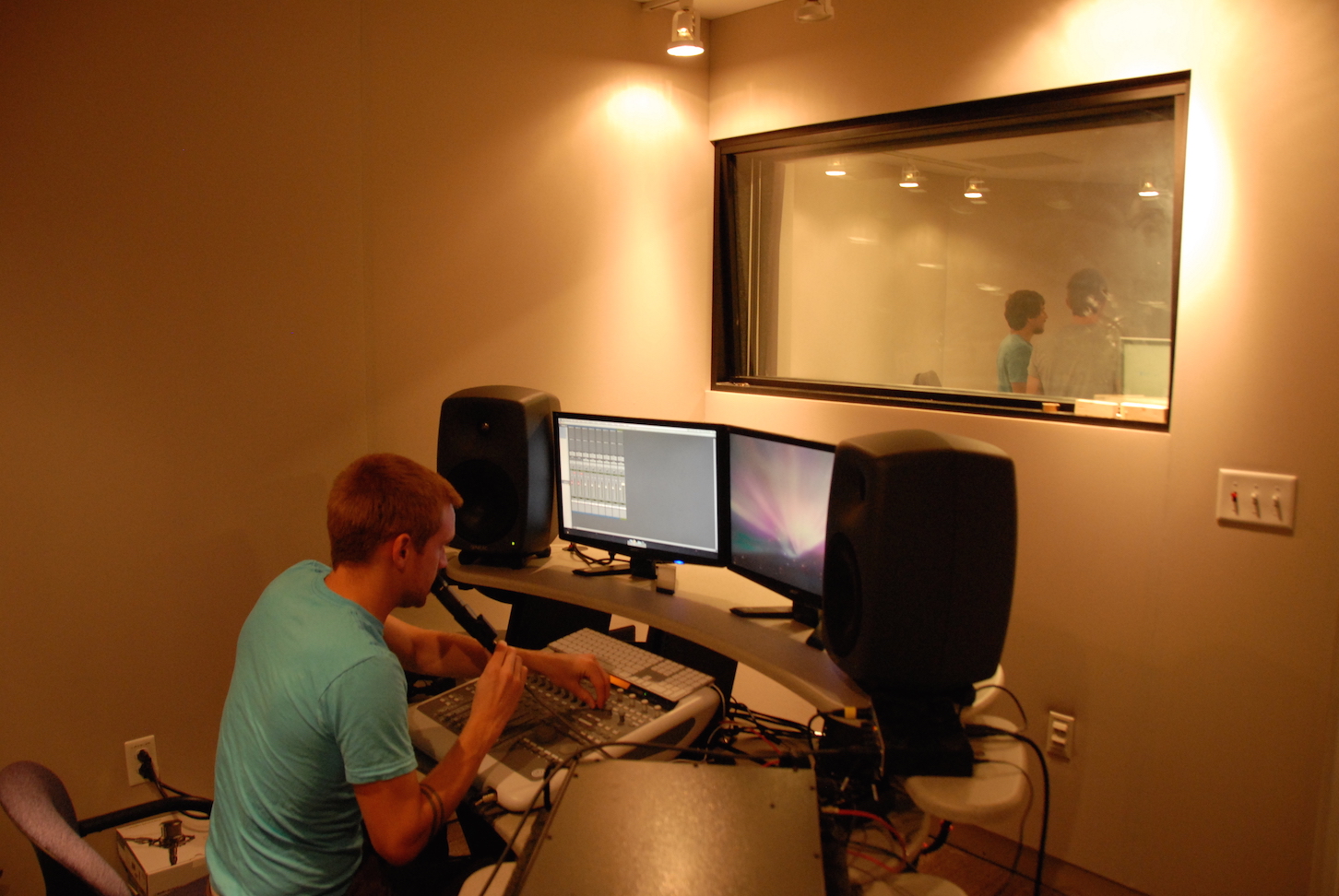 Students recording and engineering a School of Music performance
Set up a consultation
Email to schedule a consultation
Access can be arranged if you have your own equipment or just need access to the soundproof performance space
Your files will be delivered via a flashdrive,  external hard disk or cloud account
Sound editing or (limited) post production assistance available
Assistance, advice, and instruction is available for individuals, small groups or classes for: sound recording, research interviews, sound editing, and sound art projects 
Equipment includes: Audio Technica 2050 microphones (4); PreSonus 192 Audio Interface; PreSonus Faderport 8 Control Surface; Adobe Audition Digital Recorder.
     U Rising podcast with Nobel laureate Dr. Mario Capecchi, recorded in the Audio Studio July 12, 2023
Types of Audio Recording Projects
Podcasts for Students, Staff & Faculty 
Interviews, Focus Groups, Oral Histories
Digital Storytelling & Documentary Film Narration
Campus marketing projects
Public Service Announcements, Tape-Synch recordings for Public Radio broadcasts
Poetry, Spoken Word, Drama & Theater Auditions
Automated Dialogue Recording for Student Films
Anime, Machinima and Video Game Audio/EFX/Soundtracks
PowerPoint/Slide Show Narration
Landline phone access for remote interview capability
Sound Art
PODCAST BOOTHS
The Audio Studio is in a faculty space with limited weekday hours. It also requires arrangement with Media Studios personnel for most use.
This led to the establishment of two Podcast Booths:
The Podcast Booths are user scheduled, soundproof recording facilities located in Protospace on Level 2
Users can record audio using a Snowball microphone and Audacity digital audio recorder.
PODCAST KITS
During the Covid 19 pandemic, podcasting from home became a necessity. 
To faciliate remote media creation, the Marriott Library purchased 9 podcasting kits: a Snowball USB microphone and hard plastic carry case. Check-out is available at the Knowledge Commons Desk, Level 2 Marriott Library. Students can check them out for 30 days. Staff and Faculty 3 days.