To a Young Writer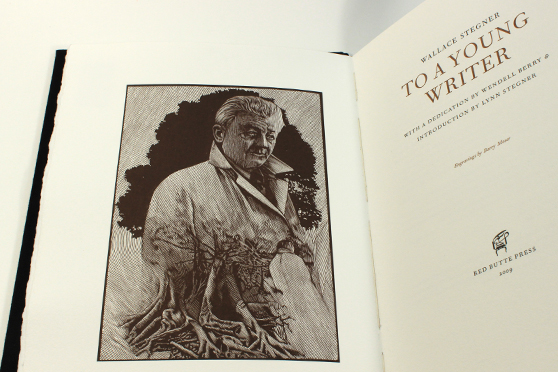 This limited edition spotlighting Wallace Stegner's essay "To a Young Writer" contains new writing by Wendell Berry and Lynn Stegner as well as three original engravings by renowned artist Barry Moser. Marnie Powers-Torrey and staff printed the book on Red Butte Press's 1846 Columbian handpress. The cotton paper was handmade by Twinrocker mill in Indiana. The typeface is Fournier with casting and composition by Michael Bixler at the Press and Letterfoundry of Michael & Winifred Bixler in New York. Peggy Gotthold and Lawrence Van Velzer bound the books and made the boxes at Foolscap Press in California. Victoria Hindley developed the project and designed the book, typography and binding. This 28-page book is 13 by 9 inches; bound in wood, cloth and calfskin, it is housed in a clamshell box. The edition is limited to 125 copies for sale, 15 hors de commerce.
Purchase Info
To a Young Writer
Wallace Stegner
2009
Engravings by Barry Moser
Dedication by Wendell Berry, introduction by Lynn Stegner.
Printed on an 1846 Columbian Handpress.Bound in wood, cloth and calfskin; housed in clamshell box; 28 pages
Limited edition of 125: $790