Fold, Flap, Peek, Pull, Pop
Checklist for "Fold, Flap, Peek, Pull, Pop"
Curated by Luise Poulton, 2012
Exhibition poster designed by David Wolske, 2012
Digital exhibition produced by Alison Elbrader, 2014
Format updated by Lyuba Basin, 2020
For at least a millennia, bookmakers have been cutting, folding, and manipulating papyrus, parchment, paper and other material to enhance the three-dimensionality of the book. At least as early as the thirteenth century, they contrived vovelles – disks revolving on string pivots – to help astronomers make their calculations. In the late eighteenth and early nineteenth centuries playing with paper became fun, with lift-the-flap and peep-show books. By the mid-nineteenth century, several publishers had added special departments of skilled craftsmen to build handmade mechanical devices within books. Today's complex movable books require hundreds of individual handwork procedures in order to create folds, flaps, peep-holes, pull-tabs, pop-ups and other marvels of paper-engineering.
HISTORIC MECHANICS
FACSIMILE LIBER PHYSIOGNOMIAE
Modena: Il bulino, 2000
BF1410 L53 2000
Facsimile. Produced in northeastern Italy around 1440, this miscellany of medieval astrological treatises was compiled by an anonymous scholar. The artist who decorated the text with delicate watercolors is also unknown. The text contains astrological information about the days and seasons, displaying horoscopes for the twelve zodiacal signs. The author tightly linked astrological knowledge to other fields of science and culture, including interpretations of the biblical dreams of the prophet Daniel and the medical essays of Pietro d'Abano, a professor at Padua University in the early fourteenth century. The codex came with two astrolabes, rotating dials with pointers that enabled the reader to make zodiacal and medicinal-psychological calculations. Facsimile edition of nine hundred and ninety-nine copies. University of Utah copy is no. 583.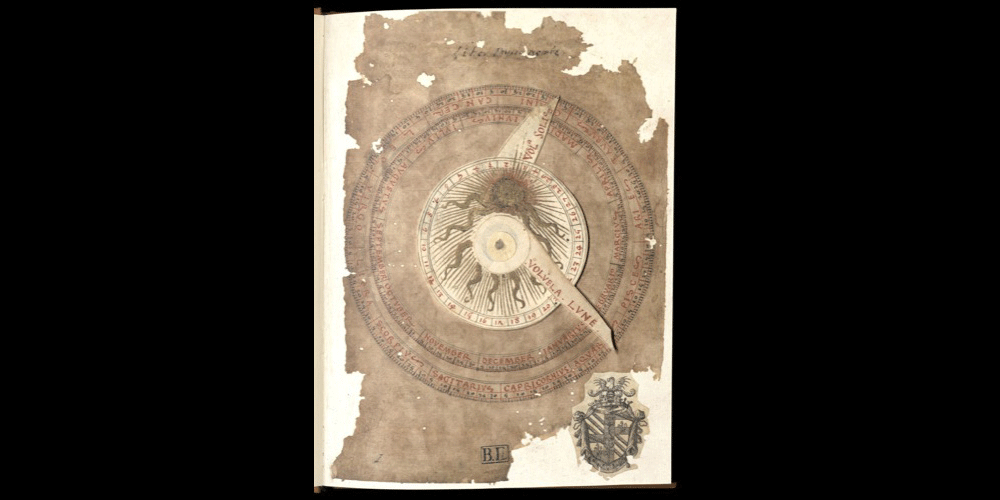 Venice: Erhardt Ratdolt, 1482
CE73 M8 1482
Regiomontanus' Calendarium was first printed at his own press in Nuremberg in 1474. In 1476, master printer Erhard Ratdolt published it in Venice, the capital of Italian printing, followed by this edition in 1482. These two Ratdolt editions rank among the most beautifully illustrated scientific books produced in the fifteenth century. Regiomontanus is one of the great figures in the history of mathematics and astronomy. The Calendarium represents the first application of modern scientific methods of astronomical calculation and observation to the problems of the lunar calendar, such as the timing of Easter, and the accurate prediction of eclipses. Regiomontanus' almanacs contain planetary positions for a particular year as calculated from astronomical tables, freeing astronomers from performing the laborious task themselves. This edition also contains verses by J. Sentius in praise of the author, and by Santritter in praise of the printer. Santritter would later become a printer himself. The last two leaves are printed on four pages of thick paper pasted together to incorporate vovelles, astronomical instruments. The ingenuity of the instruments demonstrates Ratdolt's technical skill in overcoming the challenges posed by early scientific publishing. This edition was not only technically innovative but artistically elegant as well. There are woodcut initials throughout the book. The title-page initial is printed in red and black and bordered with intricate decoration. Breaking with printing tradition, Ratdolt included imprint details – that is, the information that tells us when and by whom the book was printed – at the end of the opening verses on the verso of the title-page, rather than at the end of the book in the colophon, as was the usual practice.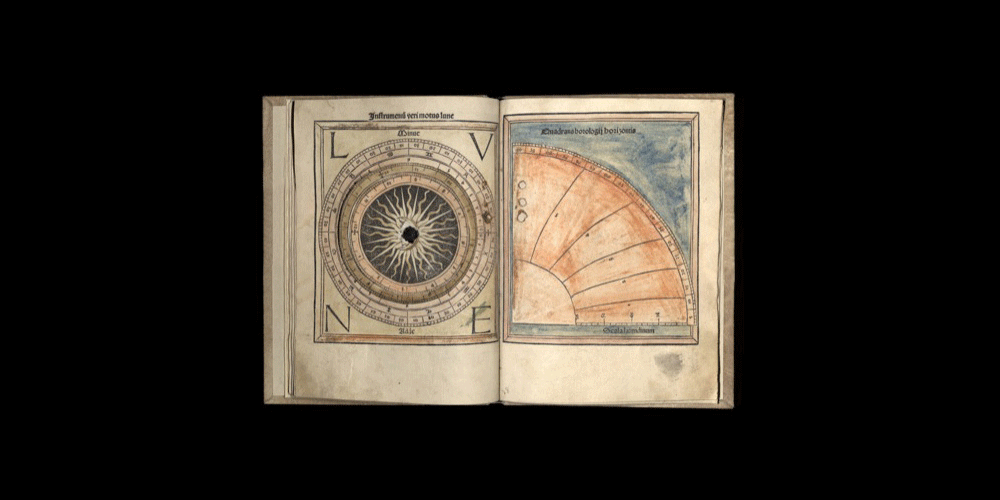 Inpresso en Granada en las casas de autor, por su industria, y a su costa por Sebastian Munoz, impressor de libros ano 1607
QB41 G1818
First published in Venice in 1588 as Theatrum mundi, et temporis, this book presents the forty-eight maps of the Ptolemaic constellations and depicts them as mythologic figures. The star positions are taken from Copernicus' De revolutionibus orbum coelestium. Giovanni Paolo Gallucci's Theatrum is considered the first modern celestial atlas because in its maps he used a coordinate system and a trapezoidal system of projection common among geographic cartographers of the time, allowing an exact determination of the star positions. The lively constellation figures overlay very accurate maps of the stars. Gallucci's text is an encyclopedia of astronomical knowledge. He describes the Ptolemaic theories of the movement of the planets, the sun, the moon, and eclipses. Tables illustrate the earth, a Dantesque hell, and a forecast of the equinoxes from 1588 to 1800. This edition contains several complex vovelles to aid in calculations.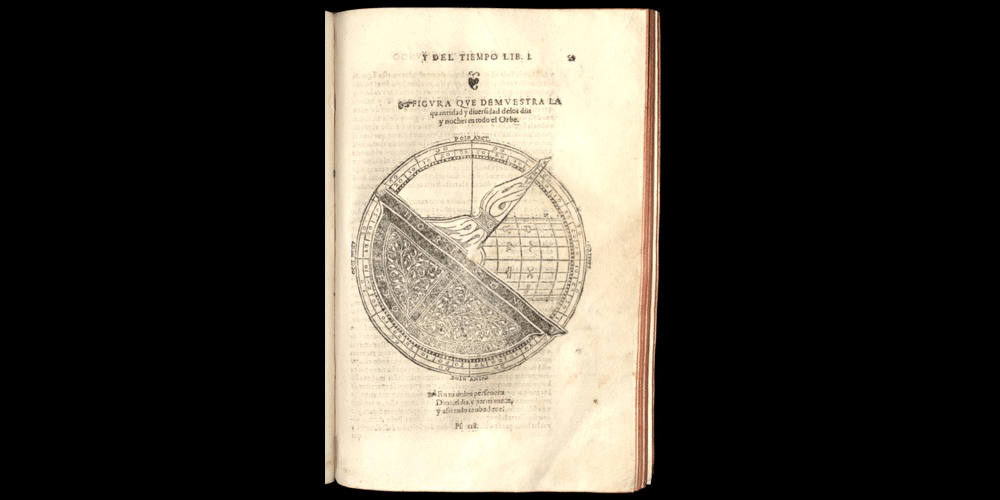 Bononiae: Typis S. Bonomij, sumptibus Hieronymis Tamburini, 1620
First edition
GA7 B57
One of the most immediate consequences of the telescopic observations of Galileo in 1609-10 was the intense discussion it generated among the mathematicians and astronomers of the Society of Jesus. They closely followed and reproduced Galileo's observations and debated the cosmological order of the universe considering the new information. The debate culminated with the adoption of Tycho Brahe's system and was made official with the publication of Giuseppe Biancani's Sphaera Mundi. The Jesuit Biancani fully accepted Brahe's amendation of the Copernican cosmography which acknowledged the heliocentricity of the planetary system while preserving the geocentricity of the universe. Biancani wrote his treatise in 1615, but it was not published until 1620, after the Decree of the Congregation of the Index in 1616. The censorship of a previous work affected the text of Sphaera Mundi. Written at the request of his students, Biancani respectfully cited Brahe, Copernicus, Galileo, and Kepler repeatedly. He discussed the satellites of Jupiter and Saturn, sunspots, and the new stars of 1572, 1600, and 1604, astronomical phenomena not observed before the development of the telescope. Biancani wrote that God made the earth a perfect symmetrical world. The earth emerged on the third day of creation as a smooth sphere. God then created the depths of the sea and formed the mountains. By the hand of God, however, the earth would not be destroyed by water, but by fire. Biancani included a crude diagram of the moon, complete with very inaccurately placed craters. One of the many woodcuts in the text is the first illustration of a thermometer.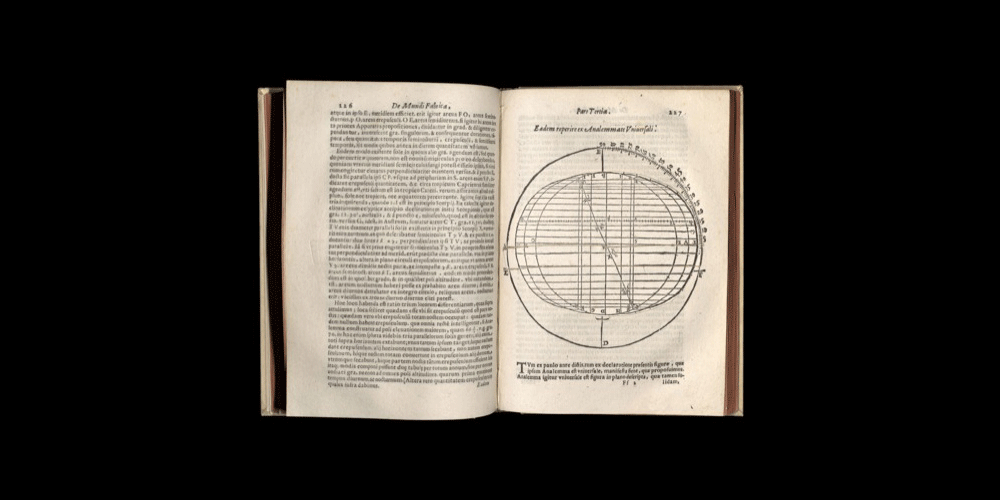 COMMERCIAL MECHANICS
Lothar Meggendorfer (1847-1925)
The most original movable picture books of the nineteenth century were devised by Lothar Meggendorfer, a Munich-based illustrator. Meggendorfer had a sophisticated humor that was transmitted both through his art and his innovative mechanical devices. Meggendorfer often had five parts of the illustration move simultaneously and in different directions. He devised intricate levers, hidden between pages, which gave his characters complex possibilities for movement. He used tiny metal rivets – tight curls of thin copper wire – to attach the levers, so that a single pull-tab could activate all of them, often with several delayed actions as the tab was pulled further out. Some illustrations used more than a dozen rivets. Meggendorfer maintained nearly complete control of his book works. He created an initial model of a book, complete with colored drawings, paper engineering, and assembly instructions for the craftspeople that put together individual copies. Because of the elaborate production and high quality, the steep retail price made these books affordable only for the wealthy. However, between 1880 and 1900, Meggendorfer's books enjoyed brisk sales and many reprintings.
FUR BRAVE KINDER: EIN ZEIHBILDERBUCH
Munchen: Braun & Schneider, 188-?
Second edition
Z1033 T68 M44 1880z
Printed on double pages. Includes eight hand-colored movable illustrations.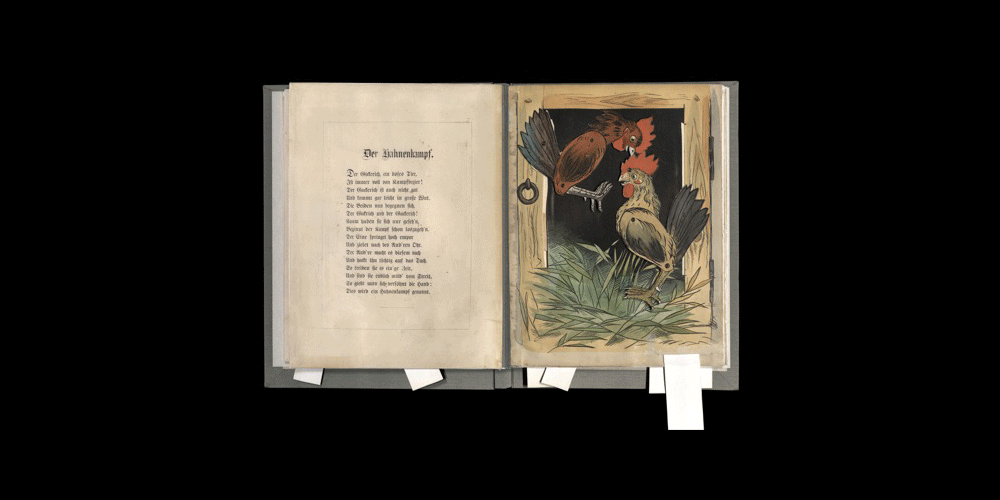 Tony Sarg (1882-1942)
Tony Sarg was a well-known children's book illustrator and the man who single-handedly revived the marionette theater in the United States. Sarg published more than a dozen children's books. He specialized in devising animal characters meant to educate as well as entertain young readers. He used his mechanical ingenuity as a puppeteer to add movable parts to some of his children's books.
TONY SARG'S SURPRISE BOOK : LOOK, LISTEN, SMELL, TASTE AND FEEL: OPEN THIS BOOK – IT WILL OPEN YOUR EYES – FOR EACH SENSES IT BRINGS A SURPRISE!
New York: Jay Publishing Company, 1941
PZ7 S27to 1941
Each page has a surprise: three have movable parts, other pages include an aroma or an inset of fuzzy material, or two pockets with a penny inside, or the remnants of stick candy. Printed on leaved folded double, Japanese style. Color illustrations.
TONY SARG'S MAGIC MOVIE BOOK
New York: B.F. Jay & Co., 1943
PZ7 S27To 1943
Produced by Uncle Ben Jay in collaboration with Emory I. Gondor. Contains moving parts and two pairs of 3-D viewing glasses. Stories include Cinderella, Rumplestiltskin, Sleeping Beauty, Chicken Little and others. Each page is illustrated in color by Tony Sarg. Each story has a movable, revolving picture which is tab operated.
PETER RABBIT THE MAGICIAN
Aurora, IL: The Strathmore Company, 1942
First edition
PZ7 R43Pe 1942
This book of magic tricks includes a magic carpet, envelope and wand. The mechanics illustrate each trick. Instructions for each trick are in the back of the book. Moving parts include a box office with removable tickets and programs, removable Peter Rabbit portraits, a removable knife, hats, and more. The blue back board is illustrated with Peter and his tricks on stars and yellow clouds. The book is spiral-bound with red plastic.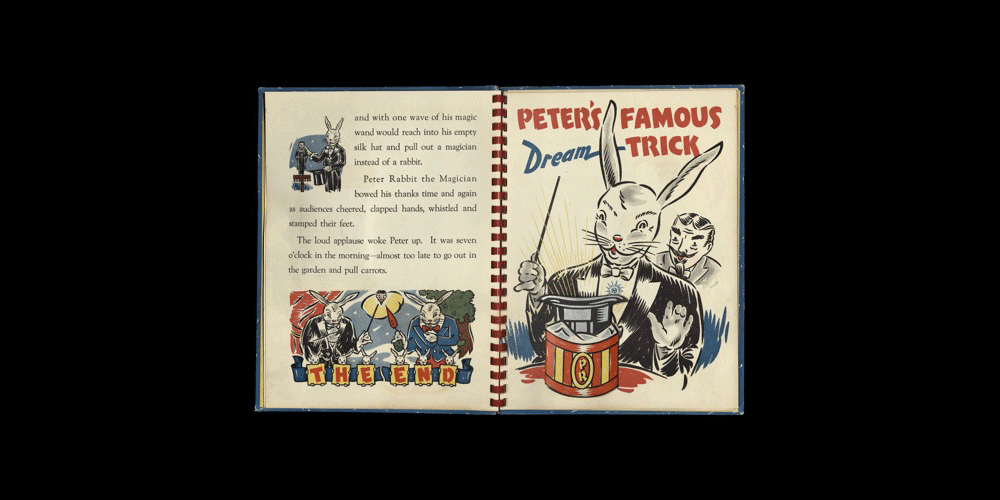 Dorothy N. King
HELP THE FARMER
New York: Morrow, 1943
PZ7 K56HE 1943
Help six cardboard animals go to the barnyard. Illustrations by William A. Koliker. Spiral bound pictorial boards hold French-fold pages.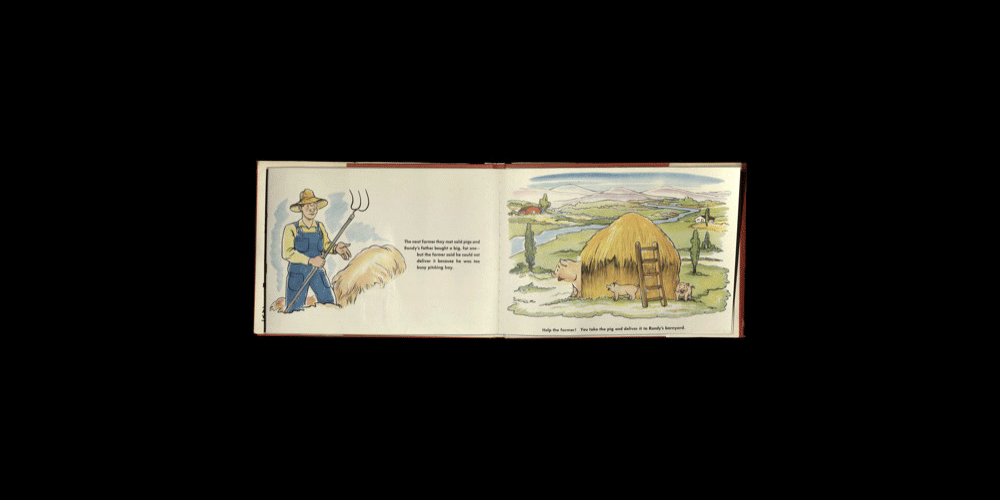 FIX THE TOYS
New York: William Morrow and Co., 1944
PZ7 K56Fi 1944
Tippet's Toy Store orders a crate of toys, but finds that they arrive headless. In another box are the toys' heads. The reader helps the store owner attach the proper head to each body. Toys include a sailor, bear, clown, rabbit, soldier and three dolls. Is the fun in matching head to body or putting the heads with the wrong bodies?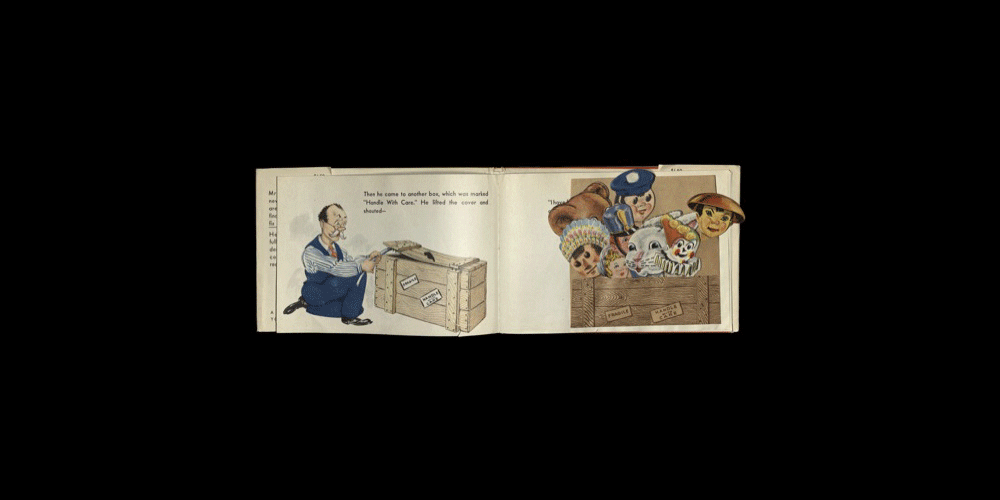 Julian Wehr (1898-1970)
Julian Wehr was born Juilan Wehrfritz. During the mid-twentieth century, he created more than thirty movable books for several United States publishers. Wehr's illustrations were printed on light-weight paper. His designs were operated by tabs which moved parts of his illustrations. Rather than pulling the tabs for action, Wehr's tab system operated by moving back and forth along slits in the pages. He patented his inventions for animating children's books.
ANIMATED ANIMALS
Akron, OH: Saalfield Publishing Co., 1943
PZ7 E76An 1943
Animation and illustration by Julian Wehr, including four full pages of farm animals that move with the pull of a tab. Spiral bound containing moveable parts.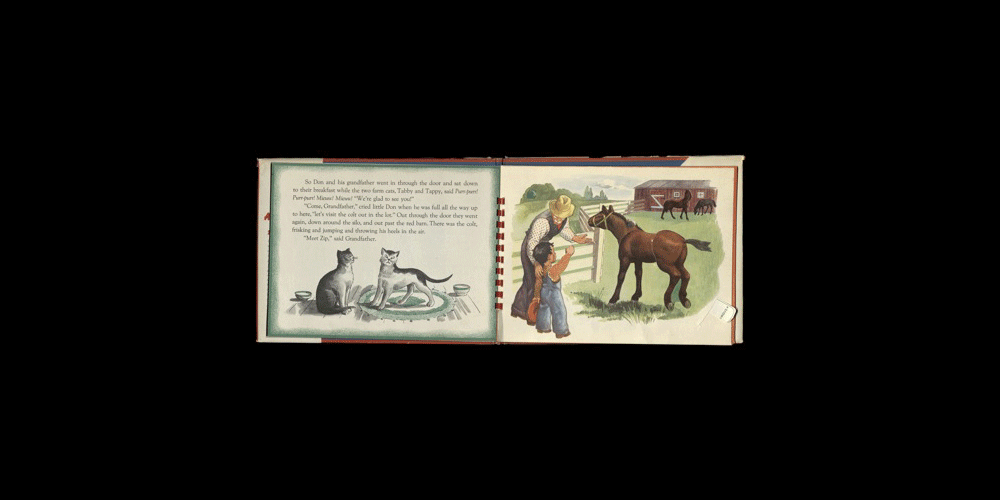 THE GINGERBREAD BOY
New York: Dunewald Printing Corp., 1943
PZ7 W45Gi 1943
Six movable plates animated by Julian Wehr. Spiral bound over boards.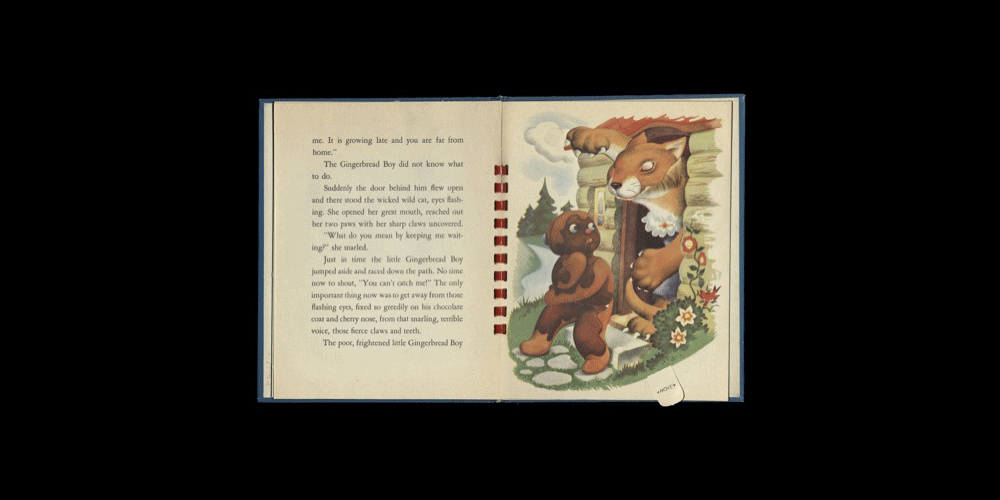 LITTLE RED RIDING HOOD
New York: Dunewald Printing Corporation, c1944
PZ8 L783We 1944
"Little Red Riding Hood," the famous story by Charles Perrault about a young girl's encounter with a wolf, has changed considerably over the years and is still subject to numerous modern adaptations. The version in this book is number 333 in the Aarne-Thompson classification for fairy tales. From the Dunewald Printing Corporation's "Blue Book Edition" series. Leaves with movable parts are double-folded. Spiral bound.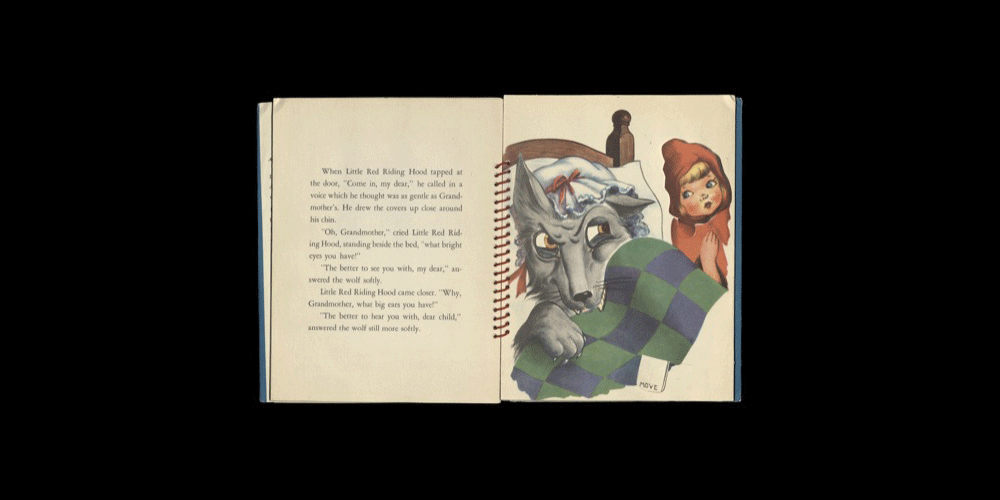 ARTIA
Beginning in the late 1950s, a series of innovative pop-up books was produced by ARTIA in Prague, Czechoslovakia, a state-run import/export agency. Voitech Kubasta was their premier artist and the creator of dozens of pop-up books. Bancroft & Co., a London publisher, marketed the Czechoslovakian books to Western Europe.
THE TOURNAMENT
London: Bancroft & Co., 195-?
PZ7 T68 1950z
This is one of many books designed by Voitech Kubasta. The front and back cover illustrations are signed by Kubasta. A full-spread pop-up scene is at the end of the book. Printed by ARTIA, Prague, Czechoslovakia.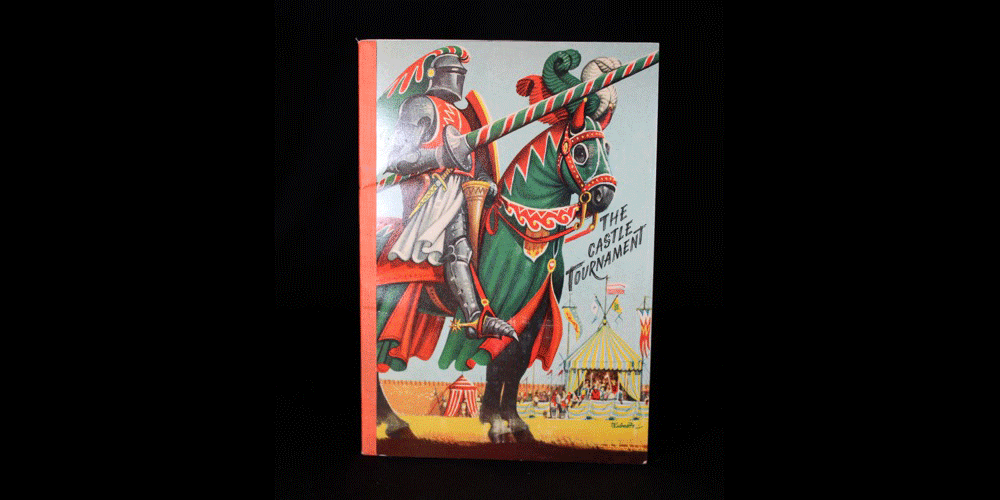 WINNIE-THE-POOH AND THE BEES: A POP-UP BOOK
New York: E. P. Dutton, c1952
PR6025 I65 W563 1952
Adapted by A. Schenk from the original illustrations by E. H. Shepard. Lithographed in the United States by Dunewald Printing Corporation.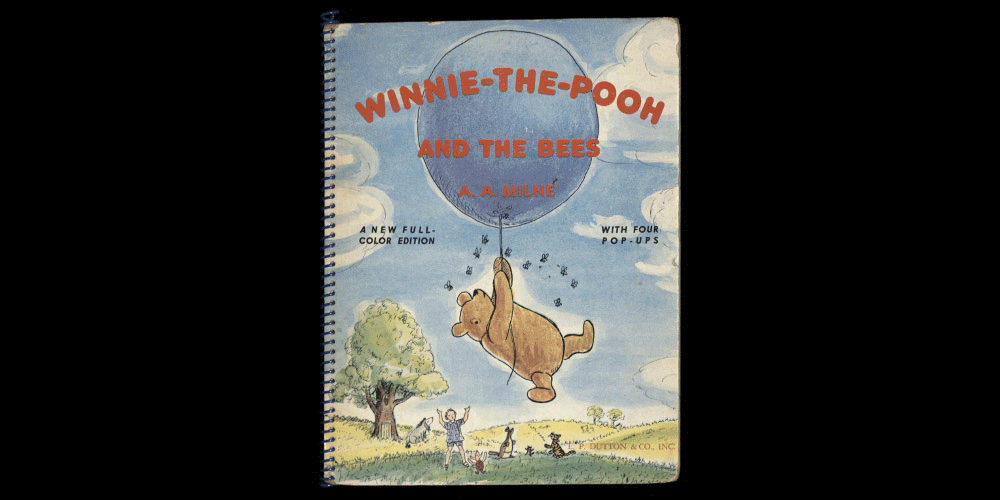 CREATURES OF THE DESERT WORLD
Washington, D.C.: National Geographic Society, 1987
QL116 G68 1987
A National Geographic action book, this describes the activities of various animals from Arizona's Sonoran Desert.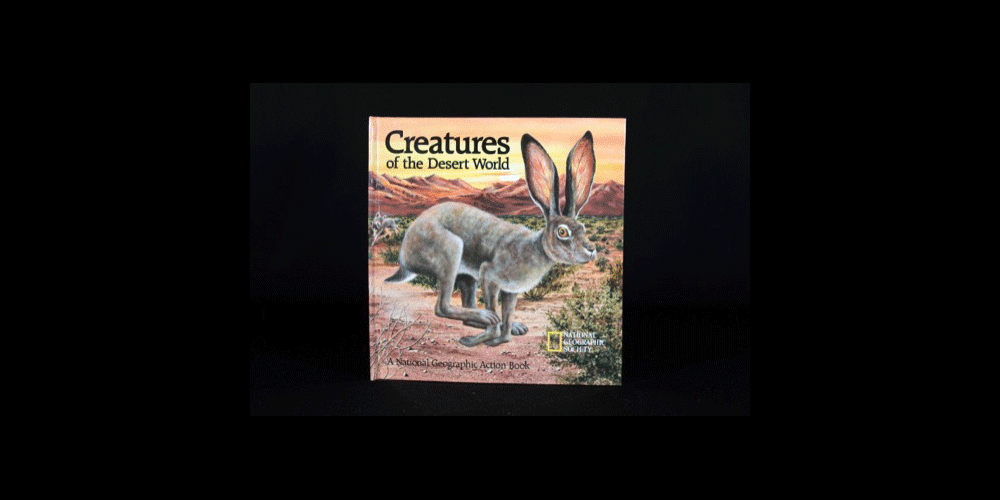 TINY KITTENS
New York: Abbeville Press, c1990
PZ10.3 I96 Tin 1990
University of Utah copy gift of Ann Tapia Johnson (Parris)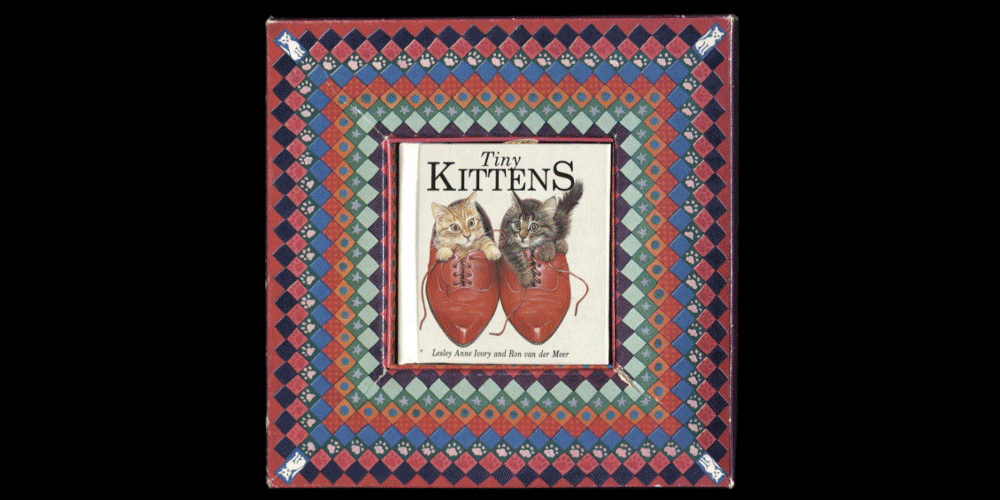 SKELETON IN THE CUPBOARD
New York: Dutton Children's Bks., 1998
First edition
PZ7 P454 Sk 1998
"Follow the spooky skeleton through a houseful of scary pop-ups and pull-the-tab surprises, including a pull-out Mister Bones of your very own." Paper engineer David Pelham studied at St Martin's School of Art in the 1950s. He worked for several magazines such as The Ambassador, Studio International and Harper's Bazaar, before joining Penguin Books as art director in 1968. Pelham is responsible for the distinctive Penguin paperback orange, blue or green spine and typographer Tschichold's symbol at the top right corner on the front and back covers. He created the artwork for many of Penguin's most memorable covers. He has won awards from the Designers and Art Directors Association of London and the Art Director's Club of New York. He left Penguin Books in 1980. A published author and illustrator, he has created numerous movable books for children.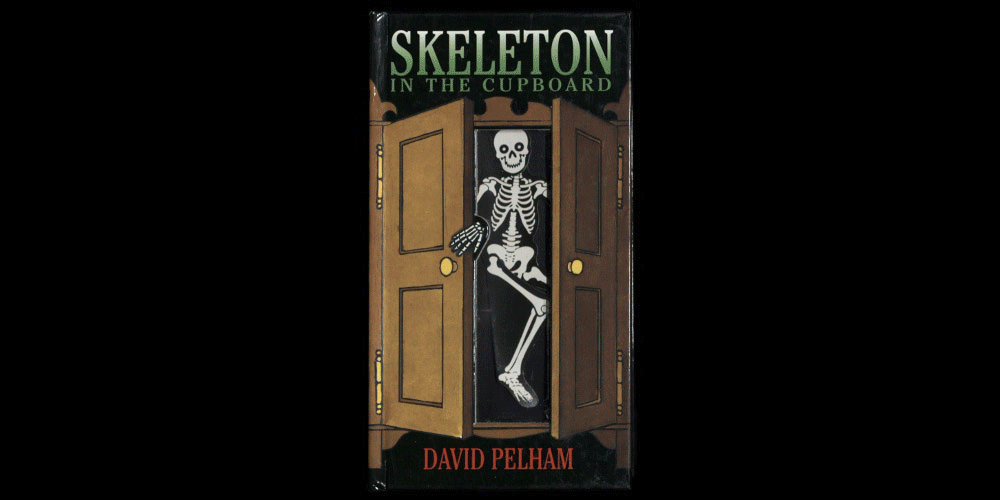 Robert Sabuda
Robert Sabuda grew up in a small town in Michigan. He began his study of art with crayons as soon as he could hold them. When he was able to use scissors, he included those in his repertoire of tools. Next came glue, then paint. And, always, lots of paper. He began to make pop-up books before he was out of elementary school. After he received his BFA in communications from Pratt Institute in New York City, he began working as a children's book illustrator, soon writing his own stories, and engineering his illustrations into pop-ups.
COOKIE COUNT: A TASTY POP-UP
New York, NY: Little Simon, 1997
PZ7 S1178Co 1997
A counting book from one to ten, each page is filled with illustrations of confections, concocted and counted by mouse chefs. Along with pop-ups of the "cookies," this book includes rhymed text and counting exercises.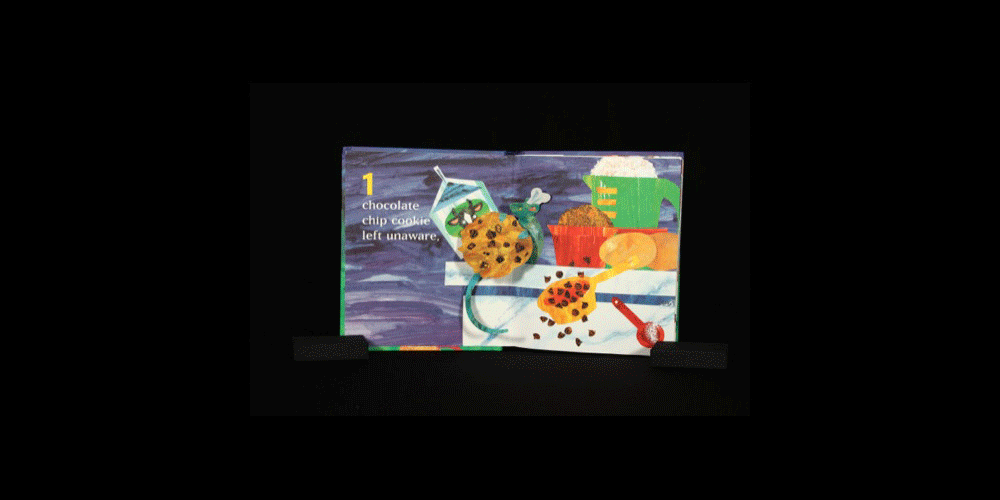 YOUNG NATURALIST'S POP-UP HANDBOOK. BEETLES
New York, NY: Hyperion Books for Children, 2001
First edition
QL576.2 S22 2001
Accompanied by a framed beetle.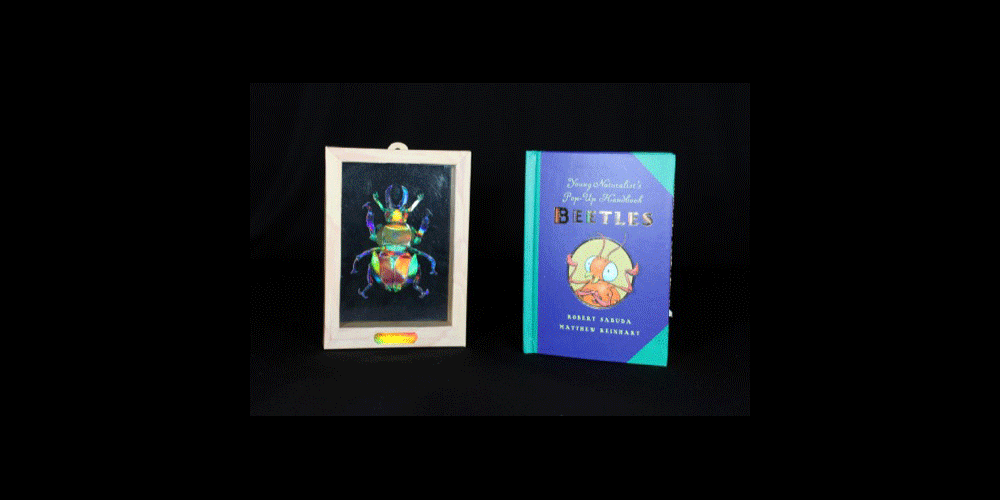 YOUNG NATURALIST'S POP-UP HANDBOOK. BUTTERFLIES
New York, NY: Hyperion Books for Children, 2001
First edition
QL544.2 S22 2001
Accompanied by a framed butterfly.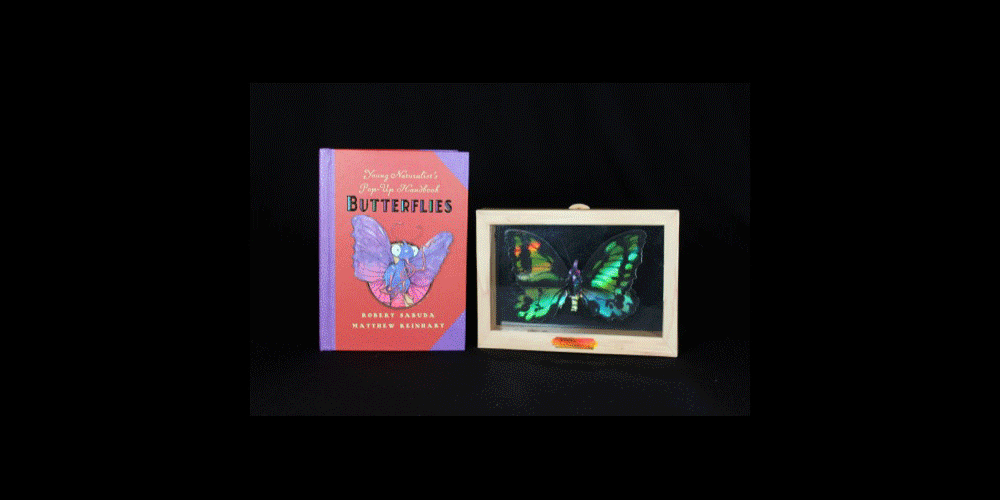 DINOSAURS: ENCYCLOPEDIA PREHISTORICA
Cambridge, MA: Candlewick Press, 2005
First edition
QE861.3 S33 2005
Includes more than thirty-five pop-ups.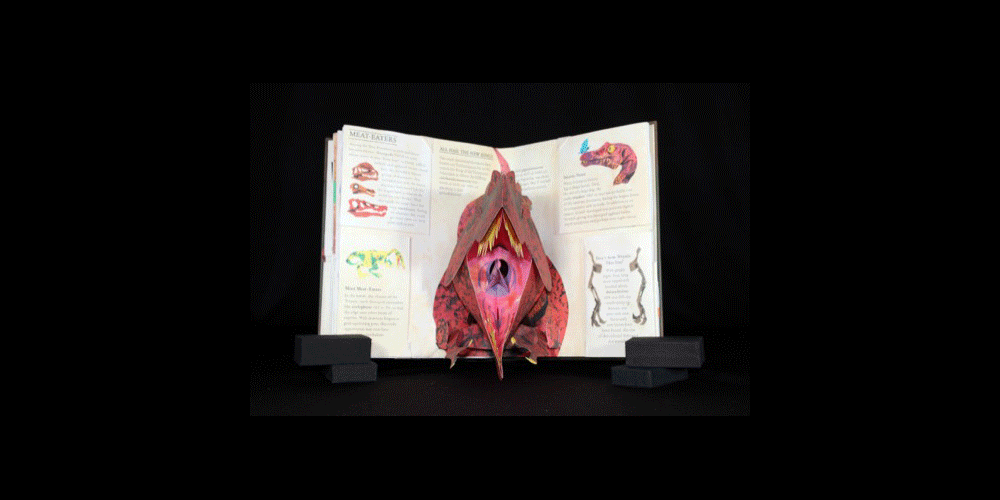 ARTISTIC MECHANICS
As early as the 1950s artists began experimenting with the format of the book as art. By the early 1960s the book was taken on by artists eager to express themselves using a three-dimensional object that combined artistic and literary disciplines within a historic, traditional background. Artists experiment with all the basic elements of the book and then expand on those elements. Form, content, and material are often used in ways that stretch the definition of "book."
A BRIEF BUT MOVING HISTORY OF PRINTING
Berkeley, CA: Poole Press, 1985
Z124 A52 1985
Designed, engineered, and printed by the author. Issued in case with a miniature printing forme glued to it, the types in which spell out the book title. The booklet of three leaves with the title Stamp Album, contains two United States postage stamps showing a hand press and commemorating printing in America. Edition of forty copies.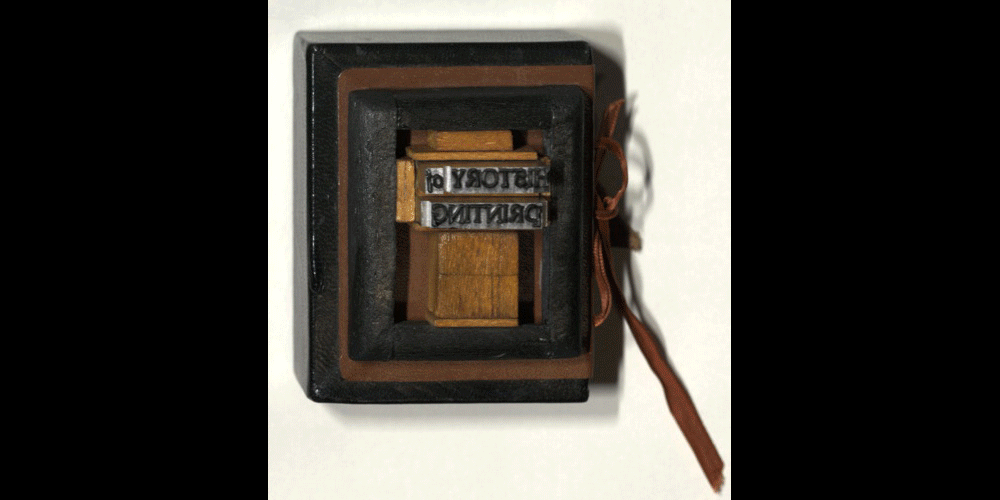 A MAZE IN MYSTERY: AN AMAZING PEEP-SHOW
Berkeley, CA: Poole Press, 1992
N7433.4 A23 M29 1992
The boards are connected by fan-folds. The views are through a door in the first boards. Edition of one hundred copies. University of Utah copy is no. 22.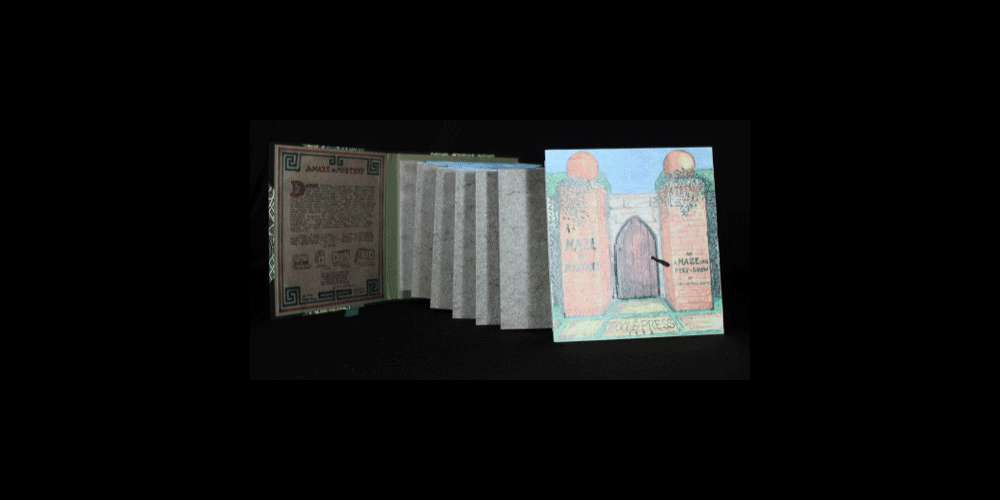 COULD I ASK YOU SOMETHING?
New York: Library Fellows of the Whitney Museum of American Art, 1984 (Cottondale, AL: Ex Ophidia)
PS3570 H566 C6 1984
Noted physician and biologist Lewis Thomas is most famous for his book of published essays, The Lives of the Cell, which won the National Book Award. Thomas called this collection of fourteen poems a combination of "…surrealism and biology." Illustrated with etchings by Alfonso Ossorio (1916-1990). Printed on bifolia, attached end-to-end and folded accordion-style. Edition of one hundred and twenty copies, signed by the author and artist.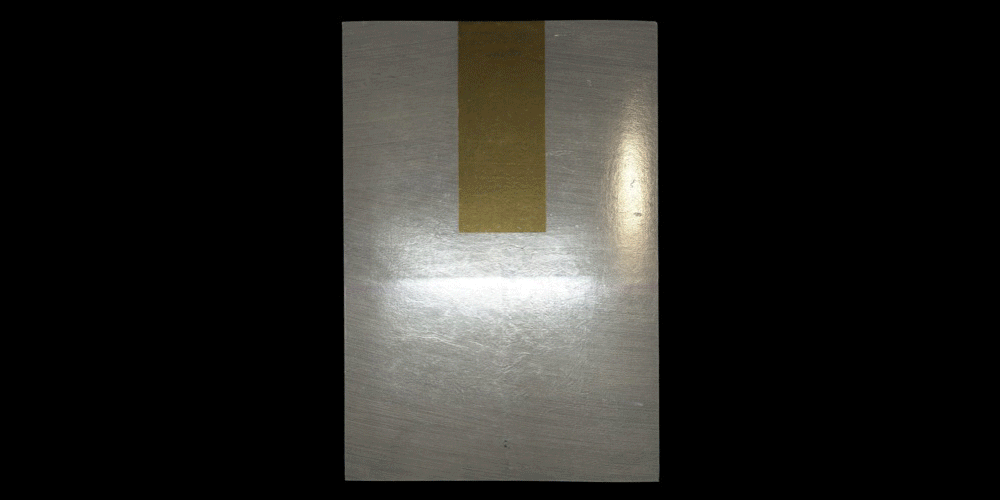 COOKBOOK FOR THE ENERGY CONSCIOUS
Madison, WI: Mango/Pterodactyl Press, 1985
TX763 R44 1985
Edition of thirty-four numbered and signed copies. University of Utah copy is no. 28.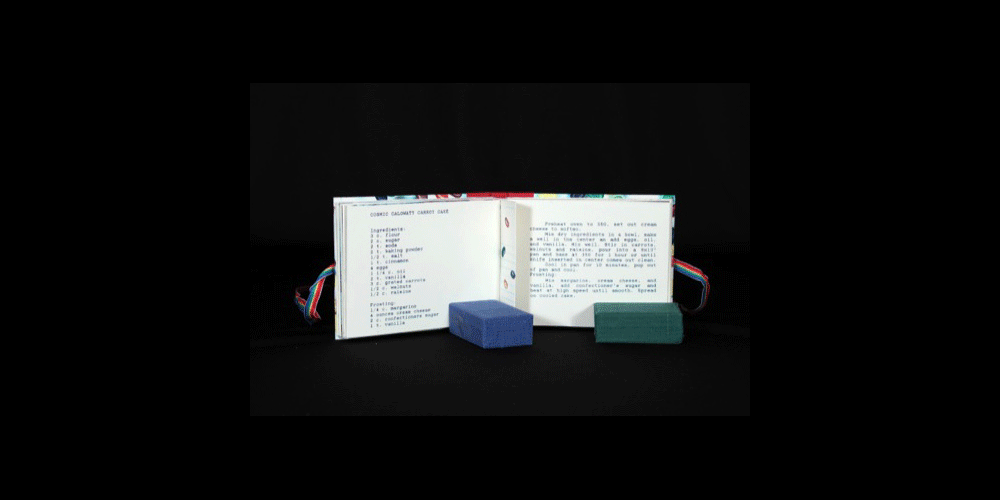 A LANDSCAPE OF EDNA ST. VINCENT MILLAY: SONNETS
Oakland, CA: Printed…at the California College of Arts and Crafts, 1987
PS3525 I495 A6 1987
Six sonnets, each printed on a movable slip.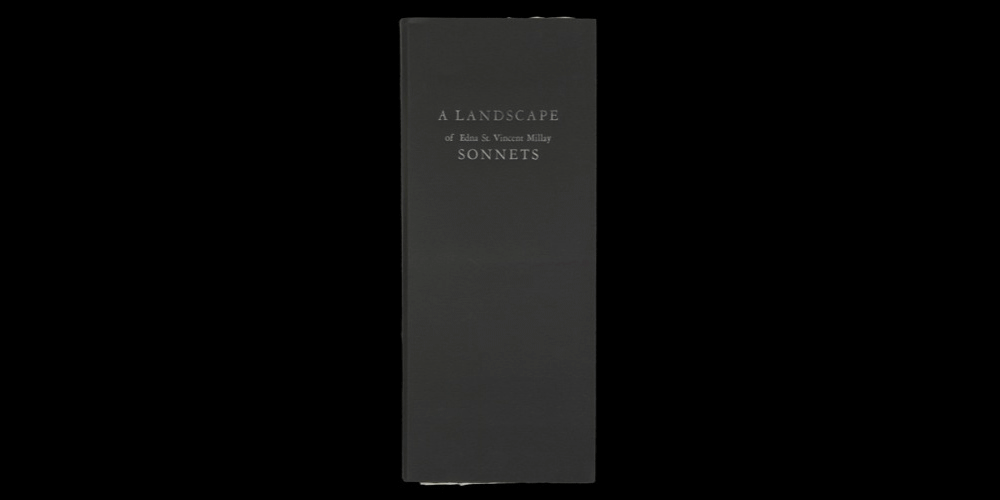 DECK OF CARDS
Pittsburgh: P.H. Beaman, 1989
PS3552 E147 D4 1989
Illustrations by Peter H. Beaman and Elizabeth Whitely. Loose sheets cut to resemble a deck of playing cards, printed with the text on the obverse and reverse in playing-card fashion. Edition of six hundred copies, of which nos. 1-100 are signed by the author and the artist.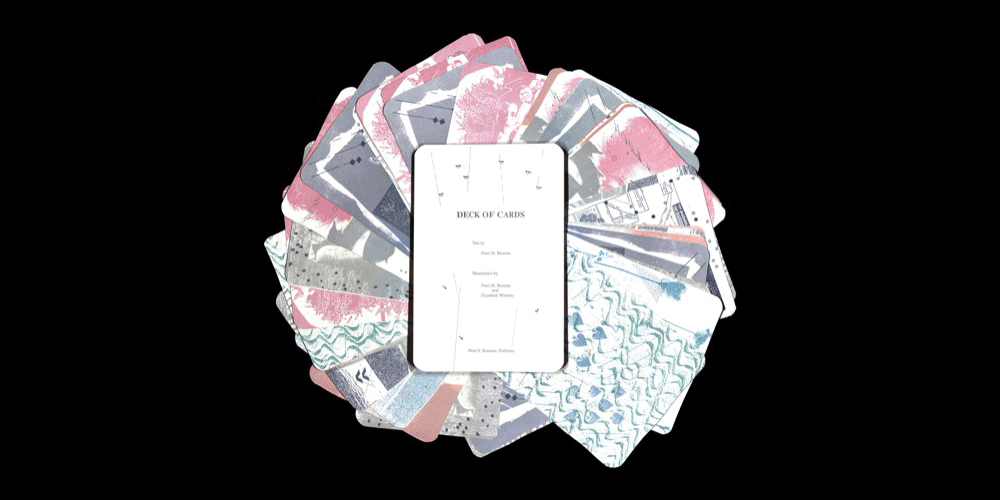 Lois Morrison
Lois Morrison was born in 1934 in Belgian Congo (now Zaire). She received a BA from Mary Baldwin College, Staunton, Virginia and an MA from Virginia Commonwealth University. Her books have been exhibited all over the world including Virginia, Connecticut, Chicago, England, and New Zealand. Morrison lives in the United States.
STE. OSTRICH IN MANHATTAN: THE VISITATIONS OF A MARTYR
Berkeley, CA: Flying Fish Press, 1990
PS3563 O87474 S74 1990
Designed and printed by Julie Chen. Edition of one hundred and twenty-five copies, numbered. University of Utah copy is no. 83.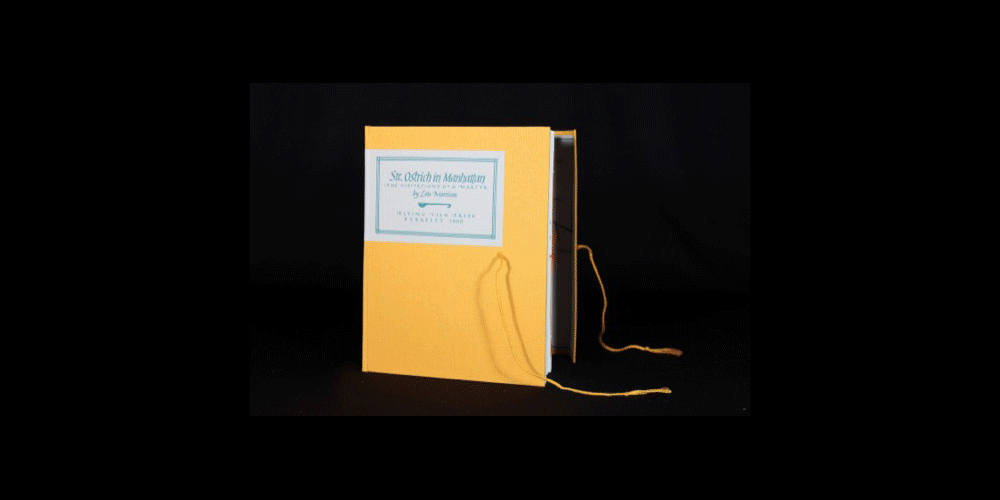 THE GADARENE SWINE: LUKE 8:26-33 & LATER
S.l. : L. Morrison, 1996
N7433.4 M66 G3 1993
The text of "Later" was written by Lois Morrison, who also illustrated, lettered, and bound this book. Two folding sections affixed to folded board cover, secured with string clasp. Edition of twenty-five copies. University of Utah copy is no. 22.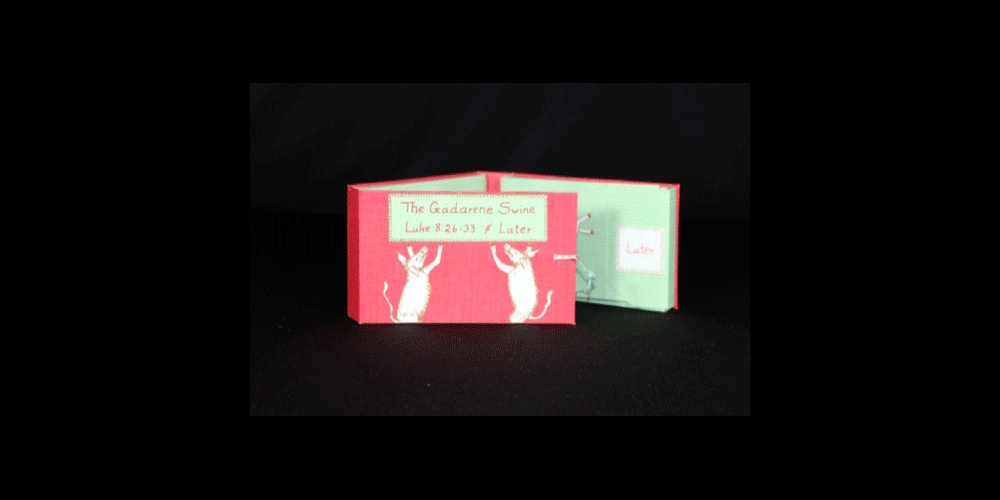 AMBER
S.l. : L. Morrison, 1996
N7433.4 M66 A43 1996
Text, illustrations, and binding by the author. Printed with a Gocco printer on distressed filter and cellophane paper, then hand-cut. Grommets allow the book to be hung on a cord which then turns the book into a necklace. The insects are spring debris from the author's cabin. Seventeen variously shaped pieces are enclosed in a slotted paper case. Edition of twenty-five copies. University of Utah copy is no. 16.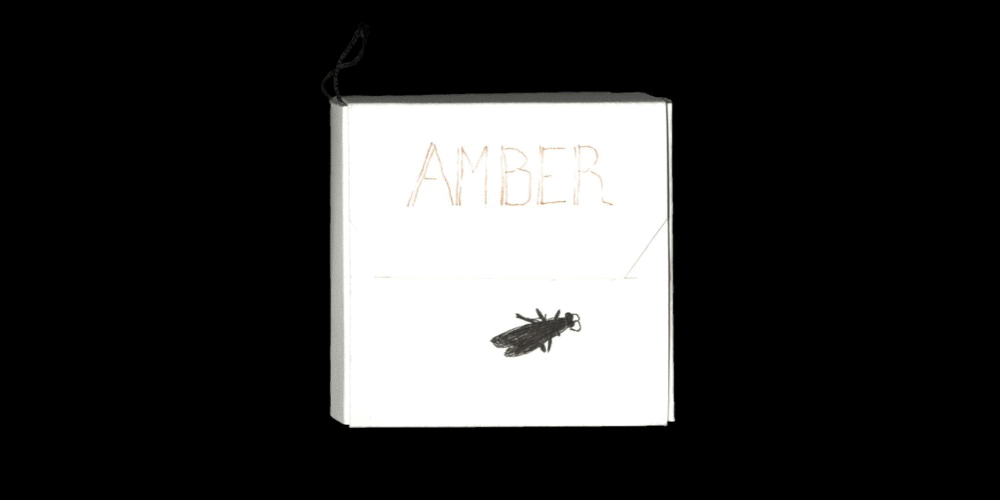 BAUCIS AND PHILEMON: FROM OVID'S METAMORPHOSES
United States: L. Morrison, 1996
N7433.4 M66 B38 1996
The text is a condensed version of Ovid's story. Printed with Cancun typeface on Tyvek and Strathmore's 400 series drawing paper with a Gocco printer, gone back into with watercolor and ink. Handcut and bound in a variety of Japanese stencil papers. Edition of twenty-five copies, signed and numbered. University of Utah copy is no. 8.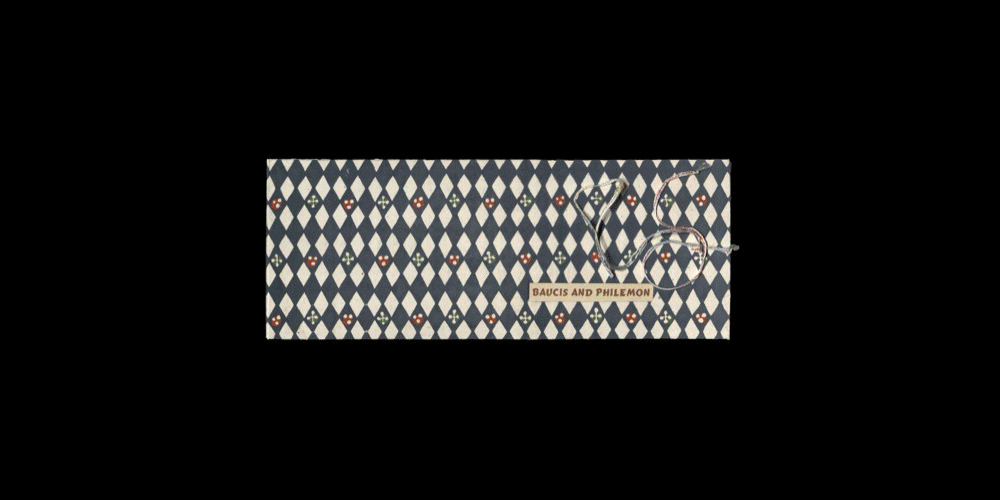 THE HOLLOW DOLLS
S.l.: L. Morrison, 1996
N7433.4 M66 H65 1996
Two flat boxes bound together. The text is in one box, paper cutout dolls in the other. Edition of eighteen copies, signed and numbered. University of Utah copy is no. 11.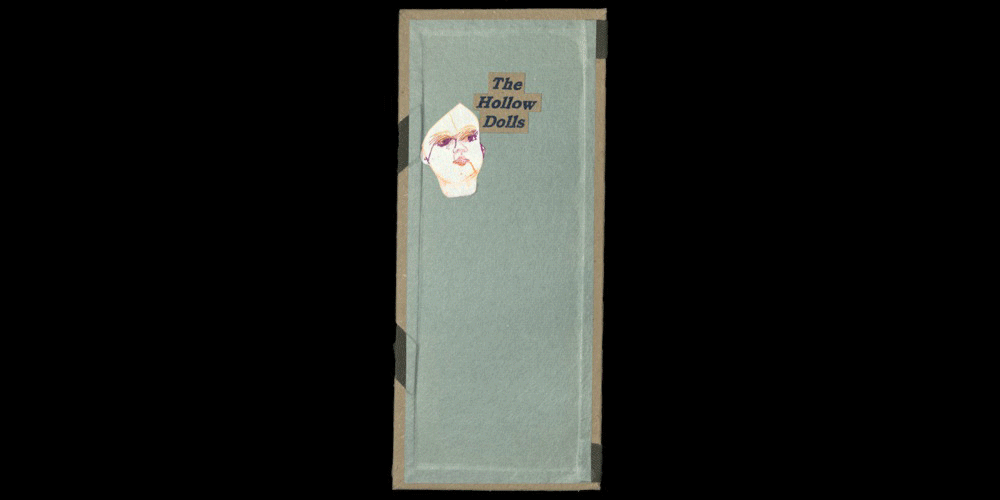 LOVE RE-TURNED
S.l.: L. Morrison, 1996
N7433.4 M66 L68 1996
Developed from an email from a woman in Chile to her father in the United States. Edition of twenty-five copies, signed and numbered. University of Utah copy is no. 13.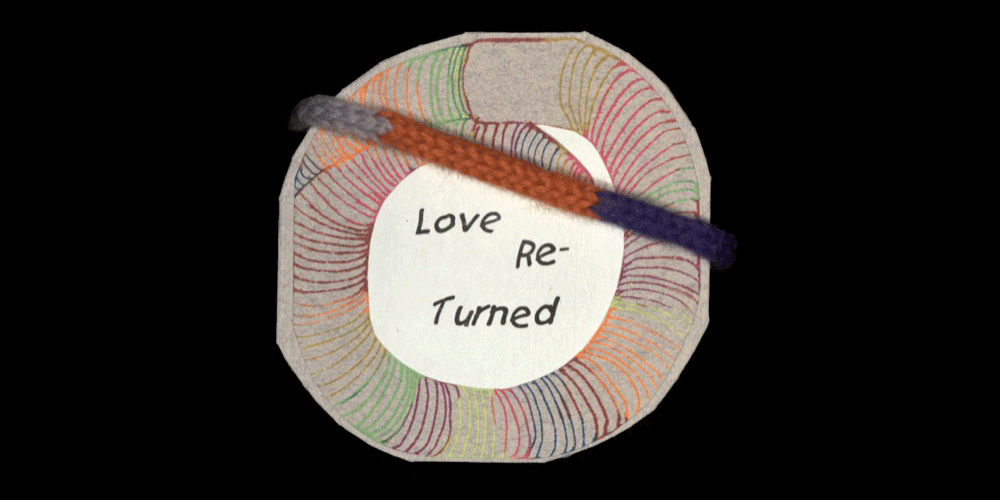 THE EGG QUEEN
S.l.: L. Morrison, 1998
N7433.4 M66 E34 1998
One folded leaf. Edition of twenty-five copies, signed and numbered. University of Utah copy is no. 25.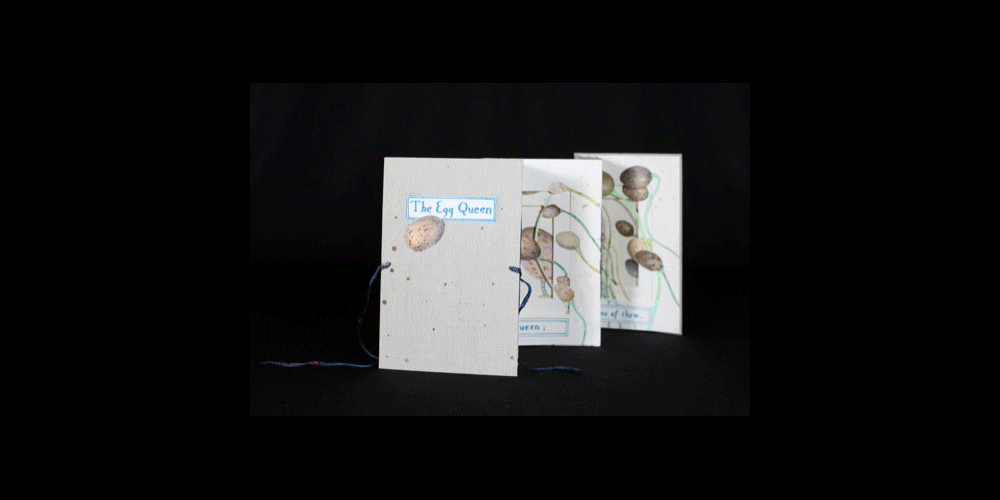 THE YELLOW GOAT
United States: L. Morrison, 1998
N7433.4 M66 Y45 1998
Edition of twenty-five numbered copies. University of Utah copy is no. 19.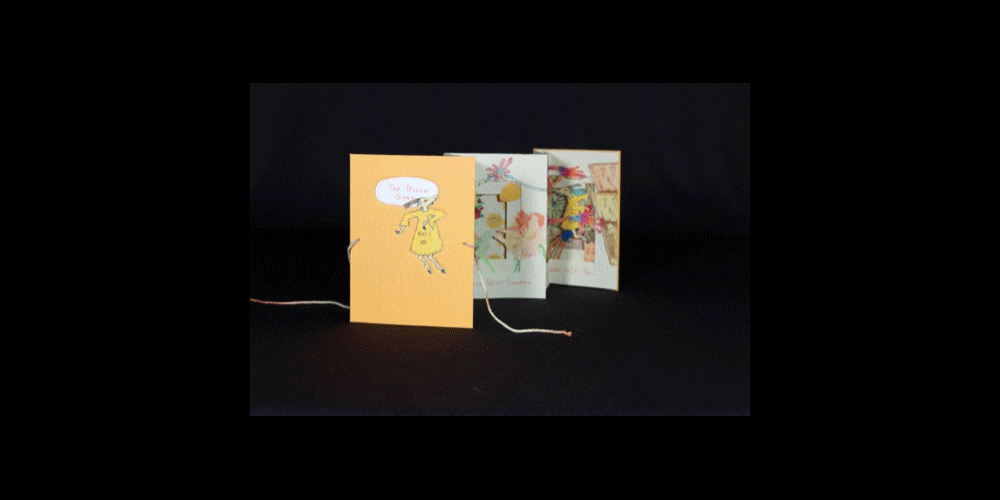 Carol June Barton
Carol Barton has taught at the Penland School of Crafts, the Virginia Museum of Fine Arts, the International Center of Photography and the Metropolitan Museum of Art. She is currently on the faculty at the University of the Arts in Philadelphia, where she teaches a book structures course. Her work can be found in numerous collections including the Library of Congress, the Museum of Modern Art, and the Victoria and Albert Museum in London.
INSTRUCTIONS FOR ASSEMBLY: THREE HOW-TO PROJECTS THAT WILL IMPROVE YOUR LIFE
Atlanta, GA: Nexus Press, 1993
N7433.4 B25 I6 1992
Pop-up. Edition of six hundred copies.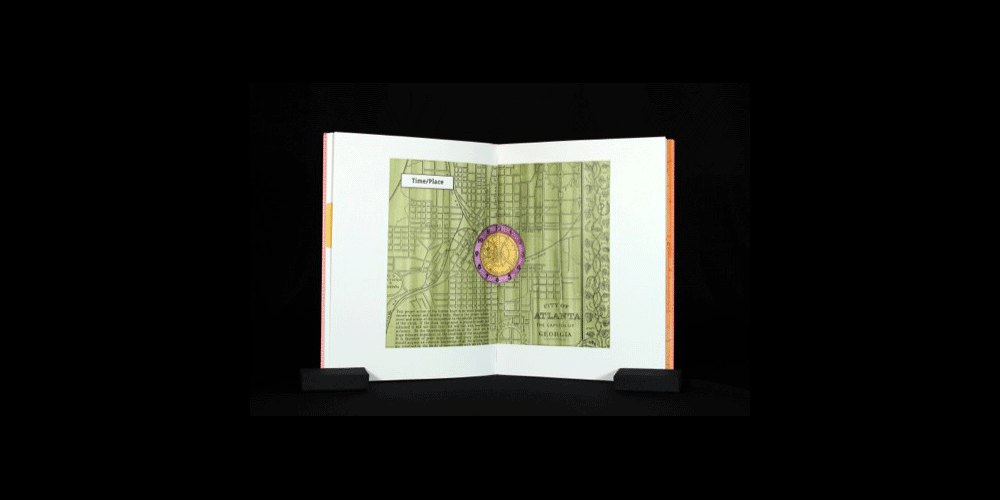 THE LOOKOUT: AN EXCERPT FROM FIVE LUMINOUS TOWERS
Philadelphia, PA: Popular Kinetics Press, 2001
N7433.4 B376 F58 2001
One pop-up tower, with light bulb and battery.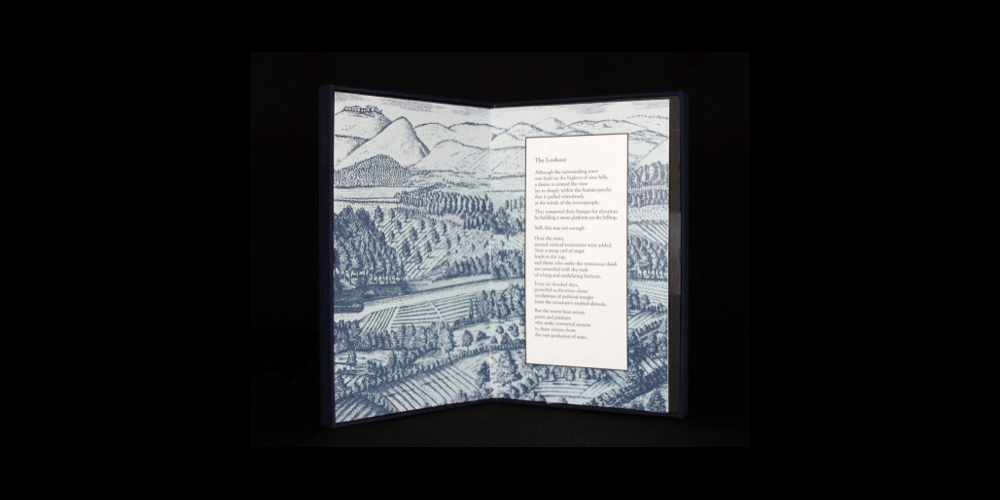 FORTUNE TELLER FISH
Berkeley, CA: Never Mind the Press, 1993
N7433.4 G65 F67 1993
Edition of forty copies.
THE ANTI-WARHOL MUSEUM: PROPOSALS FOR THE SOCIALLY RESPONSIBLE DISPOSAL OF WARHOLIA
Atlanta, GA: Nexus Press, 1993
N7433.4 O38 A6 1993
Folded, with pop-out text.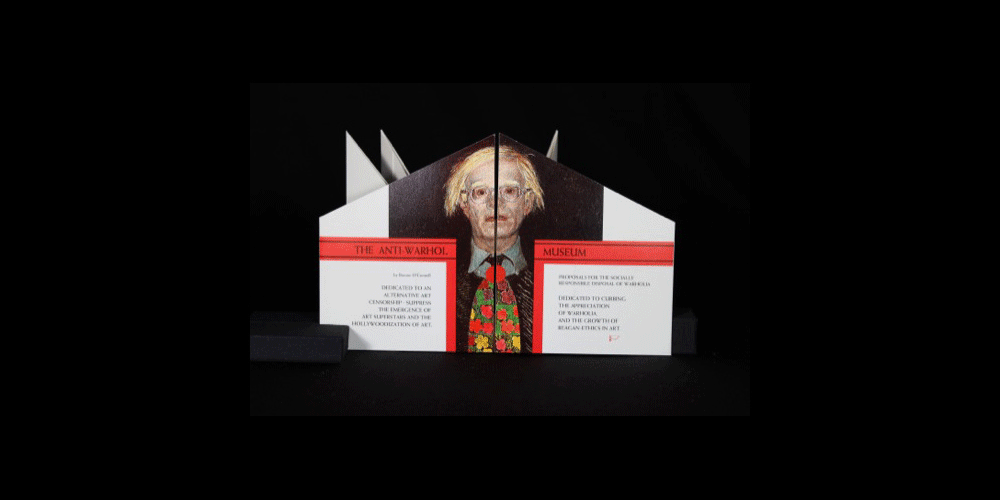 CARTESIAN DREAMS
Vinalhaven, ME: Old Funeral Parlor, 1994
N7433.4 M64 C27 1994
A response to Rene Descartes' Discours de la methode, published in Leyde in 1637.Silkscreened on Rives BFK 100% Rag printmaking paper. Produced for a traveling exhibition, "Science and the Artists' Book," produced jointly by the Smithsonian Institution Library and The Washington Project for the Arts. Issued in portfolio. Edition of twenty-five copies, signed by the artists.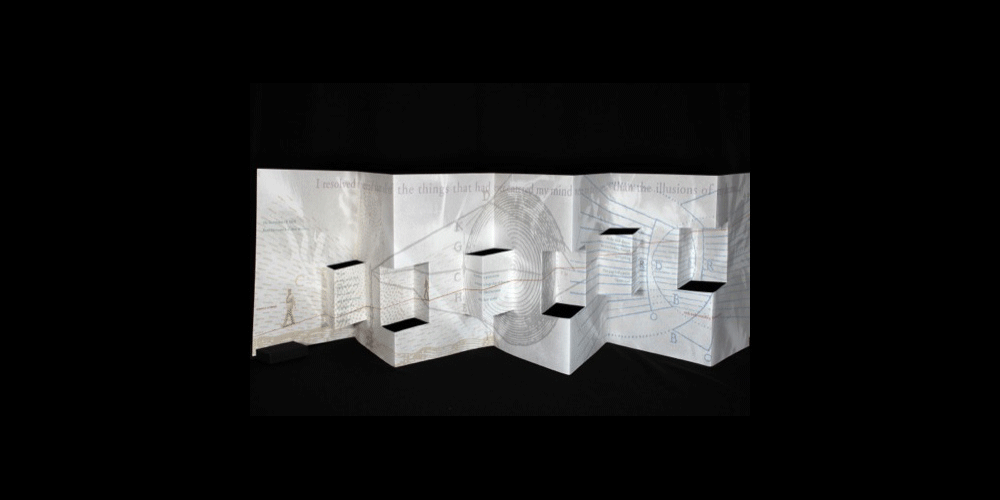 THE O OF OCTOBER
Lake City, CO: Ravenpress, 1997
N7433.4 B22 O6 1997
Poem by Carolyn Hall. Design and artwork by Alicia Bailey. Nideggen paper with laser, Japanese tissue with color inkjet, hand stamping and paint, paperboard cover with bone and wood closure in paper-covered box with bone, wood, shell adornment on top. Edition of twenty copies. University of Utah copy is no. 14, signed by the book artist.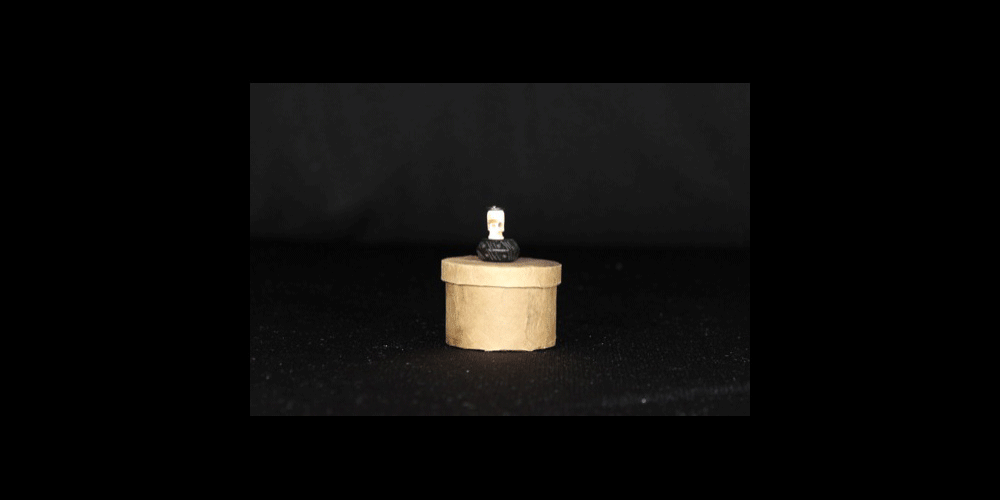 THE JEWEL IN THE LOTUS
Oakland, CA: Luna Press, 1997
N7433.4 B97 L68 1997
Accordion fold format with pop-up illustrations of Buddha and Christ. Issued in slipcase. Edition of twenty copies, signed and numbered. University of Utah copy is no. 9.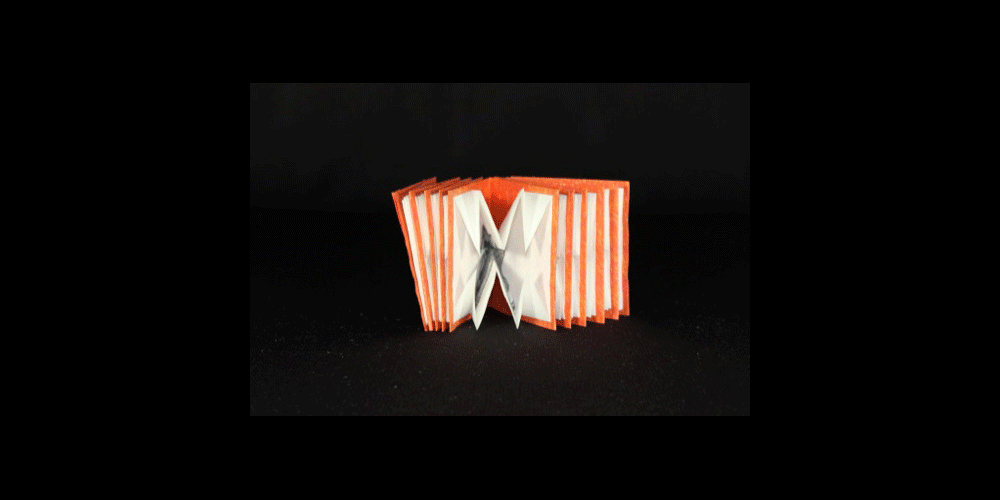 TALKING YOUR EAR OFF
Los Angeles, CA: C. Collicott, 1998
N7433.4 C647 Y35 1998
Folded pop-up cards mounted on blank pages. Edition of one hundred copies, signed and numbered. University of Utah copy is no. 55.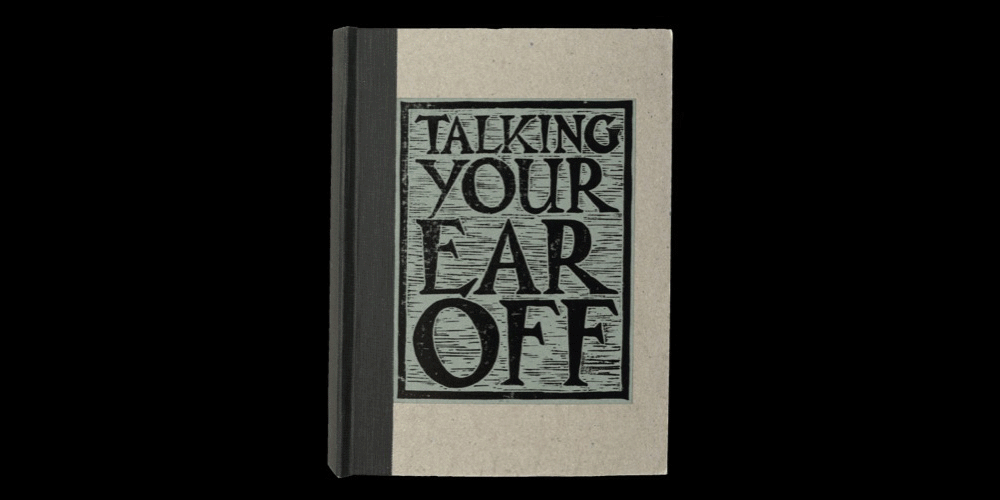 Paul Johnson
Englishman Paul Johnson creates remarkable three-dimensional bookworks, collected by museums throughout the world. He has published several books on developing literacy through the book arts. Johnson is widely recognized for his pioneering work in this field.
THE TREE HOUSE OF TIME
Cheadle, Hulme: Book Arts Project, 2003
First edition
N7433.4 J664 T74 2003
Three-dimensional tree containing a tree house. A verse is printed on the base: "Angels keep watch over the tree house and those, who climbing high into the tapestry of leaves, dance with the branches in the moving clouds of time." Laser printed on mouldmade 90lb Hahnemuhle Aquarell. Hand assembled. Hand bound with Canford. Edition of ten copies. University of Utah copy is no. 8, signed by the author.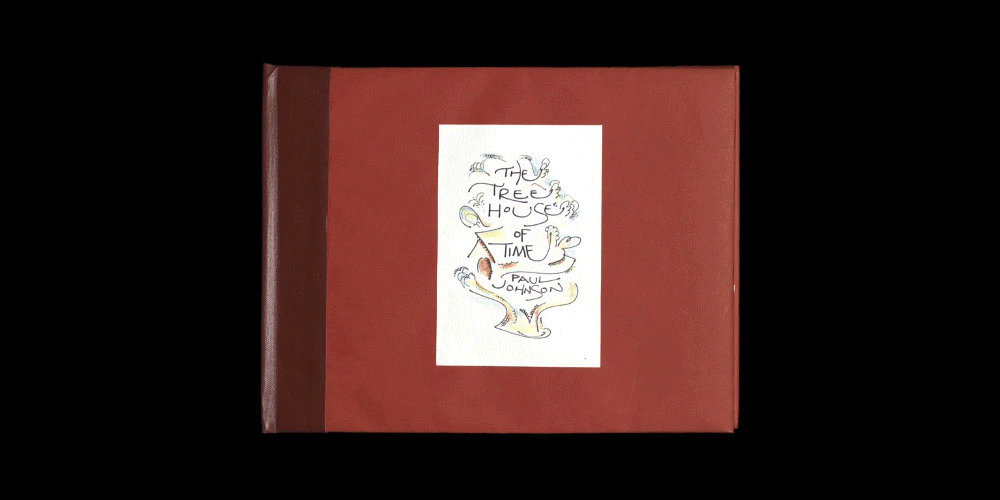 HEAVEN ON EARTH
Cheadle Hulme, England: The Book Art Project, 2005
First edition
N7433.4 J664 H43 2005
90-degree miniature pop-up inspired by devotional prayer books. With tabbed closure and five small paper ornaments dangling from colorful, hand-dyed platted cotton thread. Housed in handmade dark purple interlocking paper card box. Laser printed on mouldmade Hahnemuhle Aquarell. Hand-engineered. Edition of fifty copies. University of Utah copy is no. 27, signed by the artist.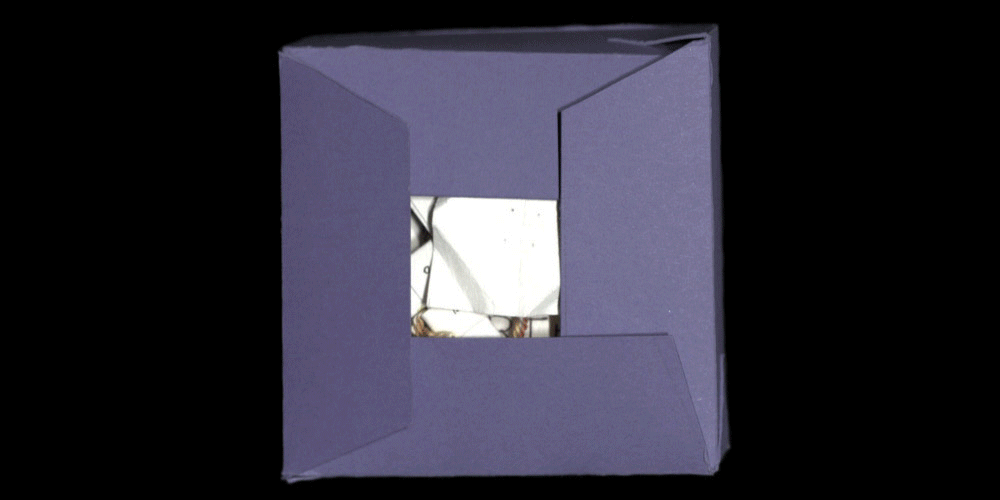 SAILING TO THE DANCE OF DAY
Cheadle Hulme, Cheshire, England: P. Johnson, 2008
N7433.4 J664 S25 2008
180-degree large, multi-colored, double-page pop-up of a sailing vessel on the sea inspired by medieval illumination. Laser printed on mouldmade Hahnemuhle Aquarell. Hand-engineered and assembled. Handbound hard cover. Edition of fifty copies. University of Utah copy is no. 26, signed by the artist.