Checklist for "Nahuatl Spoken Here" 
Curated by Luise Poulton, 2013
Exhibition poster designed by David Wolske, 2013
Digital exhibition produced by Alison Elbrader, 2015
Format updated by Lyuba Basin, 2020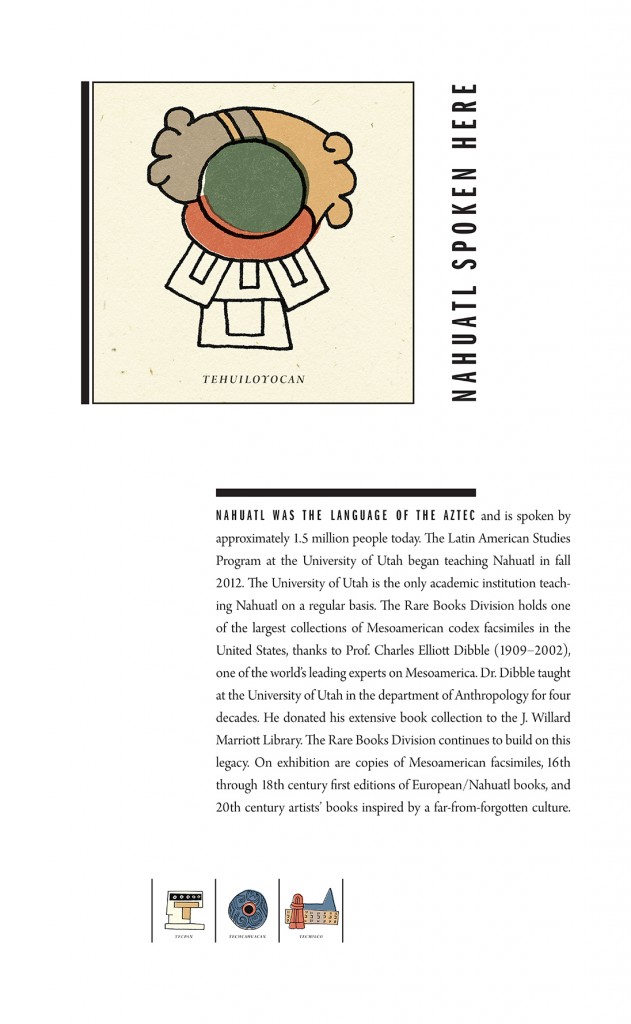 Nahuatl was the language of the Aztec and is spoken today by approximately 1.5 million people. In collaboration with the Latin American Studies Program, the Second Language Teaching and Research Center began offering instruction in Nahuatl in fall 2012. The University of Utah is only one of several academic institutions in the United States that teach Nahuatl on a regular basis. The Rare Books Division holds one of the largest collections of Mesoamerican codex facsimiles in the United States, thanks to Prof. Charles Elliott Dibble (1909-2002), one of the world's leading experts on Mesoamerica. Dr. Dibble taught at the University of Utah in the department of Anthropology for four decades. He donated his extensive book collection to the J. Willard Marriott Library. The Rare Books Division continues to build on this legacy. On exhibition are copies of Mesoamerican facsimiles, 16th through 18th century first editions of European/Nahuatl books, and 20th century artists' books inspired by a far-from-forgotten culture.
---